1836 O-104 R3 Capped Bust Half Dollar
Obverse: 2 (Second Marriage)
Reverse: C

O-104 R3? below, O-104a R3 at bottom

The earlier die state seems to be more scarce than the later die state, and combined should equal a relatively common R3 with survivors up to MS66. The earlier state does lack a large population of higher grade examples.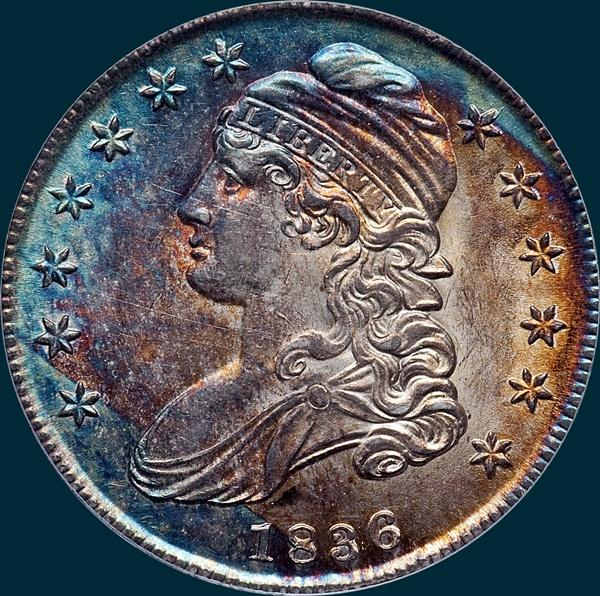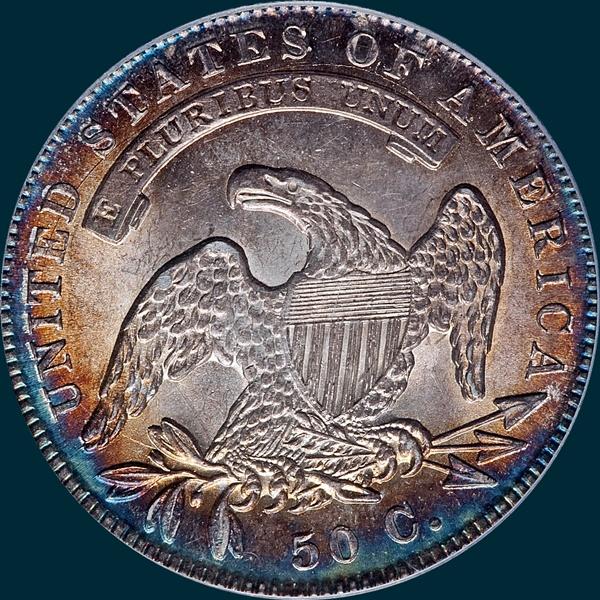 Variety Attribution: Obverse-Stars 7,8,11 and 13 show recutting. Date is 7 1/2 mm. and a shade low. The small 3 is lower than 8 or 6, tipped more to the left and nearly closed at top. 6 is larger and higher than 183. The stand of 1 extends clearly below the base.

O-104:Reverse- 50 C. is 1 3/4 mm. with a small C.. 5 shows recutting at tip. Arrow to A is 3/4 mm. A small center dot between crossbars 4 and 5. Lines 2 and 3 of stripe 3 are solid to crossbar 2. Left sides T-I are in line. This is die was used on 1834 O-110 (rev J) prior to the minting that marriage.
O-104a: There is a circular die crack that starts at the tail feathers and crosses upper pair of olive leaves, tip of left wing, through UNITED under first S, along top of scroll, then curving up under OF and down across corner of scroll to top of right wing. Thereby forming a large loop around the inner design of this variety.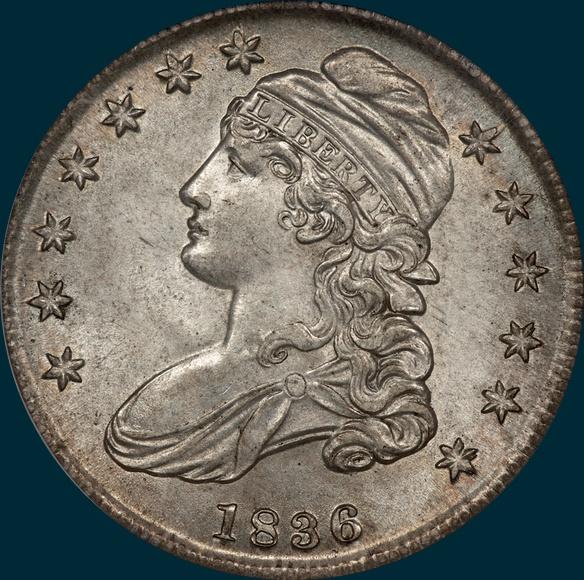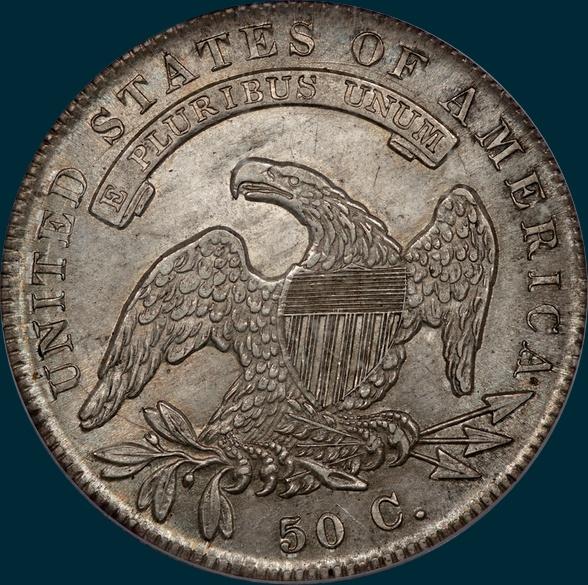 1836 Leaman-Gunnet Emission Sequence Number for O-104: 17
Overall Number: 443
Top five condition census coins from last 10 years of auction and sale records (O-104):
04/11 Heritage (CSNS-Cincinnati) NGC MS66 (Kaufman)
08/17 Heritage (ANA-Denver) NGC MS61
07/11 Heritage (FUN-Orlando) NGC MS61
06/14 Goldberg (Pre-Long Beach) NGC AU53
09/08 Heritage (On Line) NGC AU50 det cleaned
Top five condition census coins from last 10 years of auction and sale records (O-104a):
09/18 Legend (Regency-XXVIII) PCGS MS65 CAC (Newman, former NGC MS65 CAC)
10/08 Heritage (Dallas) PCGS MS65 CAC
05/07 Heritage (Long Beach) PCGS MS65
03/16 Stack's-B (Baltimore Rarities) PCGS MS64 CAC
09/15 Heritage (Long Beach) PCGS MS63