1834 O-121 R3 Small Date, Small Letters Capped Bust Half Dollar
Obverse: 18
Reverse: U
Minted in 1835

Somewhat common and available in all grades up through MS66.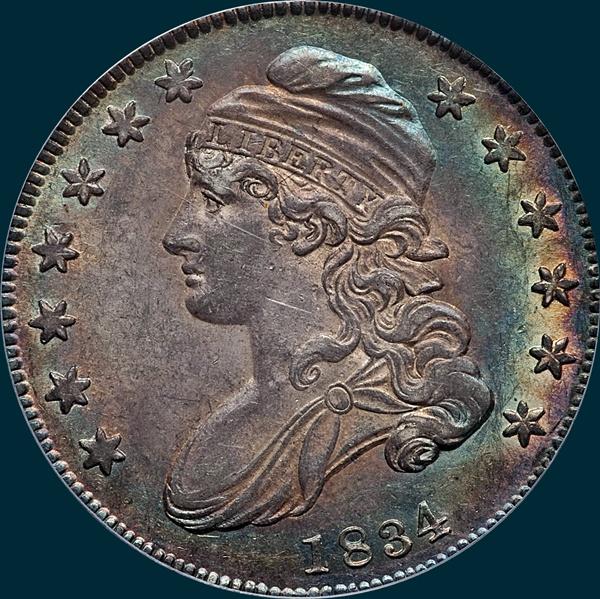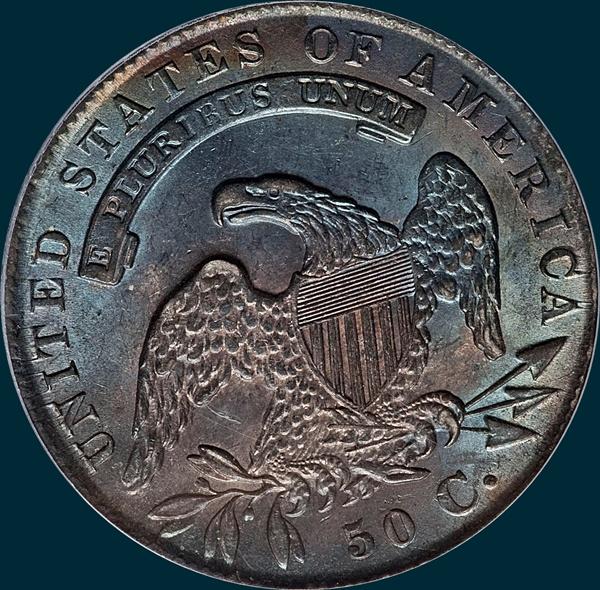 Variety Attribution: Obverse-Stair Step Date. Star 1 is 2 1/2 mm. from drapery. Date is 6 3/4 mm. with slender sharp figures that are progressively lower and closer together from left to right, hence the stair step designation. Mouth is slightly open and an ugly curl to upper lip. The most prominent nose to any 1834.
Reverse- 50 C. is 1 3/4 mm. and well centered. The 5 is higher than 0 and tipped more sharply to left. The horned top 5 of this variety has been punched over a 5 with a small straight top. The latter visible at top and outer loop. Arrow to A is 3/4 mm. Center line of stripe 3 extends below shield. line 3 of stripe 5 is bold to crossbar 2. Border of shield at lowest point extends right. Upper right serif of I in PLURIBUS is missing or filled. left side of T in line with right side of I.
1835 Leaman-Gunnet Emission Sequence Number for O-121: 9 (This variety was minted in 1835 after 1835 O-102)
Overall Number: 421
Top five condition census coins from last 10 years of auction and sale records:
07/13 Legend Morphy (Las Vegas) PCGS MS66 (Ex NGC MS66 Stack's-B Baltimore)
07/16 Heritage (FUN-Orlando) PCGS MS64
01/17 Heritage (FUN-Ft Lauderdale) NGC MS63
09/16 Legend (Regency XVIII) PCGS MS63
03/19 Heritage (Signature) NGC MS62