1809 O-108 R4 (III and XXX Edge) Capped Bust Half Dollar
Obverse: 5
Reverse: F (Second Marriage)
O-108 R4 (Prime, mostly III edge) is below, O-108a R4 (mostly XXX edge) is at bottom.
27 total appearances since 98? It is most likely that the overall R4 means both die states are R5 or rarer, with the possibility that this is an R5 overall because it almost never appears for sale. Nice examples seem to draw huge premiums, and the one or two problem free AU's along with the handful of problem free XF's will likely command big dollars when they show up at auction or on a dealers price list. A single AU55 tops out as finest.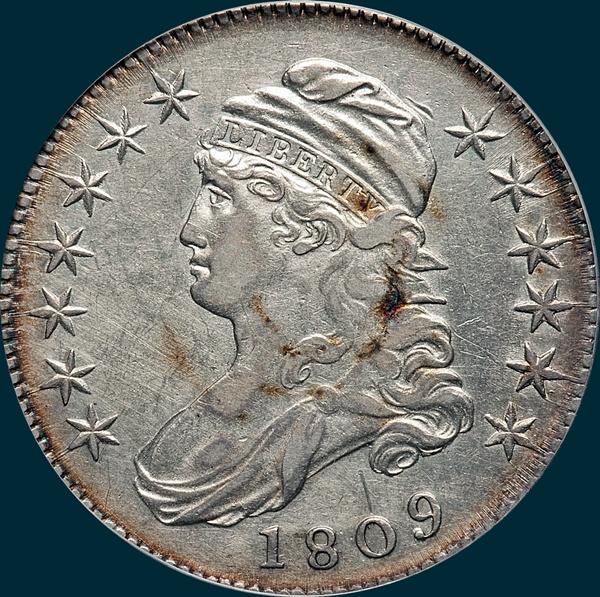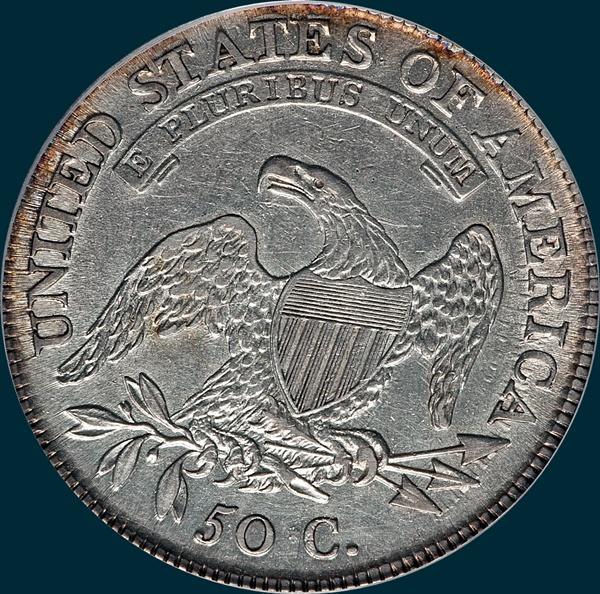 Variety Attribution O-108: Obverse-Star 13 scalloped point toward curl. Stars all large and sharp. Date is 9 3/4 mm. and well centered. 18 wider than 809.Curl clear of headband. A fine die crack from edge through lower points of star 4 on most specimens
O-108a: A die break forms from edge through star 4, ending in small irregular lumps in field.


Reverse-50 C. is 1 3/4 mm. and well centered. Arrow to A is 3/4 mm. A rough and more or less round lump or mound is just to left of curve of C. Arrowheads are separated. AM are even and lightly joined at base. Right side of D is centered over stand of E. Fine straight lines radiating from inner curve of eagle's neck and left wing are no longer visible on most specimens. Triple and quadruple rows of small segments embossed between letters of AMERICA, arrow points and in field between AMERICA and right wing, all point in toward eagle. On some specimens the top right serif of I in legend is filled.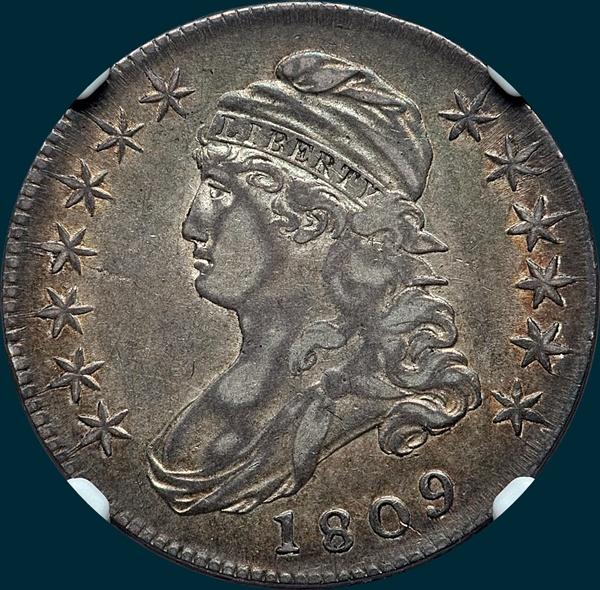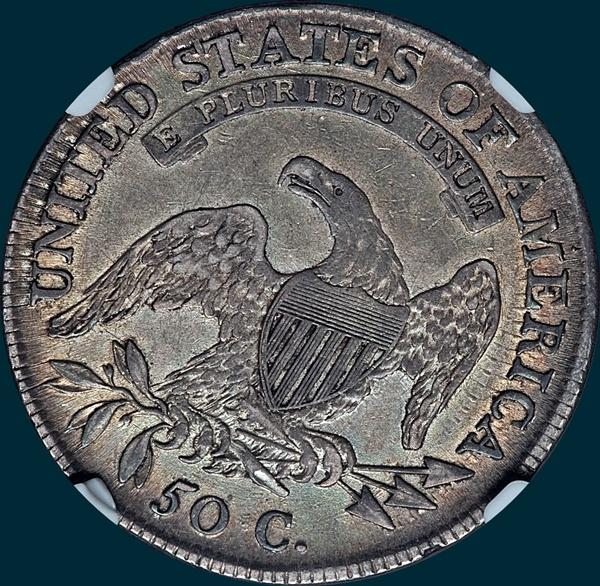 1809 Leaman-Gunnet Emission Sequence Number for O-108: 8
Overall Number: 22
Top five condition census coins from last 10 years of auction and sale records (O-108):
07/11 Heritage (FUN-Orlando) PCGS AU50 det cleaned
01/17 Heritage (FUN-Ft Lauderdale) PCGS XF45 CAC
08/09 Downey MBS 34 (Meyer/Bakke) PCGS XF45 Det wiped
10/08 Stack's (73rd Anniversary) PCGS XF45
08/17 Heritage (ANA-Denver) PCGS XF40
Top five condition census coins from last 10 years of auction and sale records (O-108a):
01/11 Heritage (FUN-Tampa) PCGS AU50 det cleaned
04/15 Heritage (CSNS-Chicago) NGC XF45 CAC
03/09 Bowers & M (Baltimore) PCGS XF45
01/20 Heritage (Downey MBS 50) PCGS XF40 (Link, Davignon)
01/18 Heritage (FUN-Tampa) PCGS (S) VF35 (Link)