1797 O-101 R4+ Draped Bust Half Dollar
Obverse 1
Reverse A (Third Marriage, first used in 1796)
O-101 R5 below, O-101a R4+ at bottom

It appears that research has documented approximately 100 examples of this die marriage, with between 30 and 35 101's and 65-70 101a's. Most of the higher grade examples are of the later die state.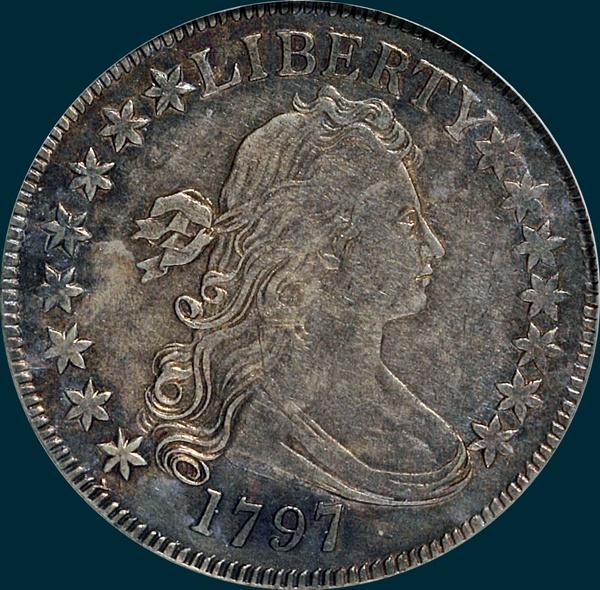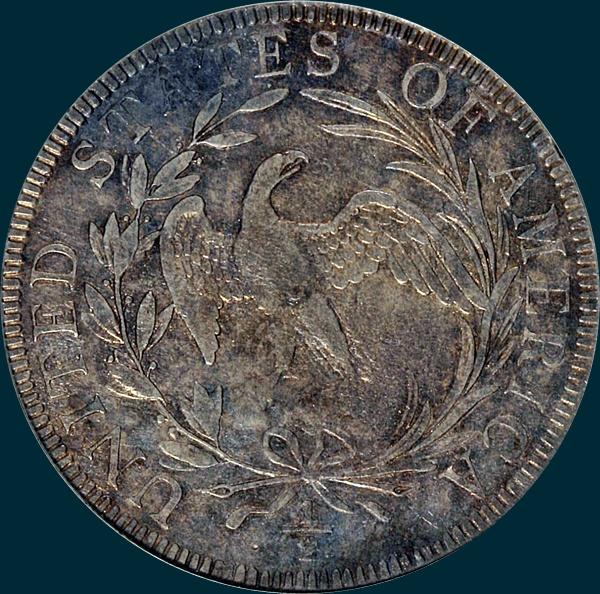 Variety Attribution O-101: Obverse-15 stars. Date close and high, with 1 and 7 close to curl and bust. Star 15 touches drapery. Star 9 very close to upper right serif of Y.

O-101a:
Die begins to break up, with one of the earlier cracks from edge through star 2 to the curls and cracks continue to develop, until in its final stages there are numerous and extensive breaks.

O-101: Reverse-Fraction 1/2 well centered below ribbon knot. 10 berries on laurel branch. A leaf is close to lower left serif of second T in STATES but does not touch. A palm leaf close below base of F extends halfway between OF. Small die defects at lower left base of C and above inside curve. Circular crack that runs from tip of palm leaf at base of F, through right side of O to segment of milling.

O-101a: Like the obverse, this reverse begins to break up, but even sooner. In addition to the small crack previously mentioned, a new one develops from edge between DS and across left wing. Another from edge through the first T in STATES to eagle's head and in its final states this reverse becomes a mass of die breaks.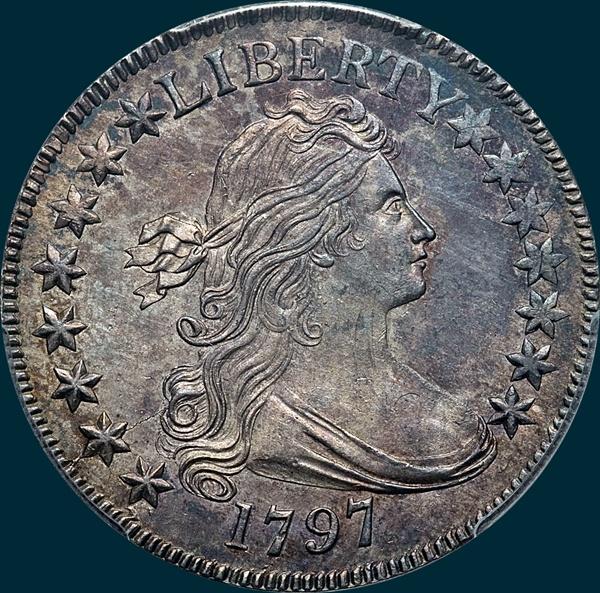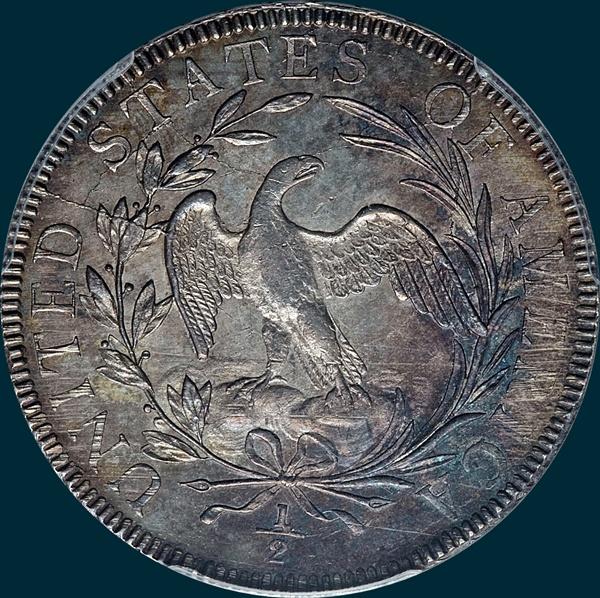 Top five condition census coins from last 10 years of auction and sale records (O-101):
04/09 Heritage (CSNS-Cincinnati) NCS XF40 det (pin scratches obverse, hairlines, ex Reiver)

01/09 Heritage (FUN-Orlando) NCS XF40 det (light clean mod adj marks ob

01/08 Heritage (FUN-Orlando) NCS VF details (repaired and cleaned)

03/08 Stack's (Gaziano-New York) NGC F15

01/08 Heritage (FUN-Orlando) PCGS VG06
Top five condition census coins from last 10 years of auction and sale records (O-101a):
05/15 Stack's-B (Pogue-New York) PCGS MS66
08/14 Heritage (Chicago) PCGS MS65+ CAC (Norweb)
04/15 Heritage (CSNS-Chicago) PCGS MS64
06/14 Heritage (Gardner-New York) PCGS MS63
08/10 Heritage (Witham-Boston) PCGS AU58 CAC