1814 O-102 R2 Capped Bust Half Dollar
Obverse: 2
Reverse: B

O-102 R2 Below, O-102a R3 at bottom

A common variety of an uncommon year. There are a few very high grade examples along with a group of MS coins with a couple MS66's at the top. In fact, problem free AU examples seem to be a problem right now. The 102a die state has been popping up in AU and MS problem free holders with a little more frequency of late.

PCGS Graded XF40. Had this one raw for a while in my DANSCO album after cracking it from an ANACS XF40 holder. Then the values on these '14s went up to the moon and it is now worth more than double what I paid, so I figured I would put it back in a tomb. Its a cool coin!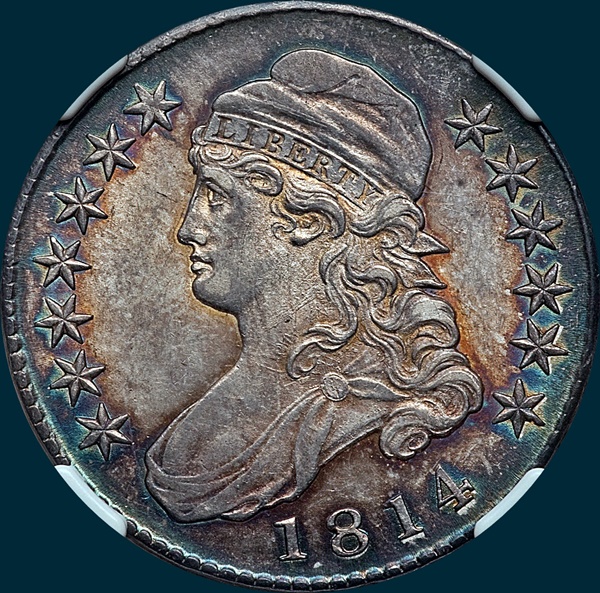 Variety Attribution: Obverse- Milling is usually narrow and incomplete. Star 13 is 1/2 mm. from the curl. Star 1 is 1 mm. from drapery. Date is 9 3/4 mm. and top of second 1 is lower than 184. Struck from dies which obviously became quite rusted, since substantial die pitting is still evident as lumps and dots on finished coinage even though some mint employee has scratched the die with a wire brush at neck and curls to remove rusting, The result is coarse straight lines on the die.
O-102a: Milling almost gone and stars drawn to edge.


Reverse- 50 C. is 2 mm. and low. Arrow to A is 1/2 mm. Left sides of T-I are in line. Some letters of LIBERTY are clash marked under stripe of shield and below right wing on all seen.

O-102a: Sinking die has left a nearly smooth area on part of left wing.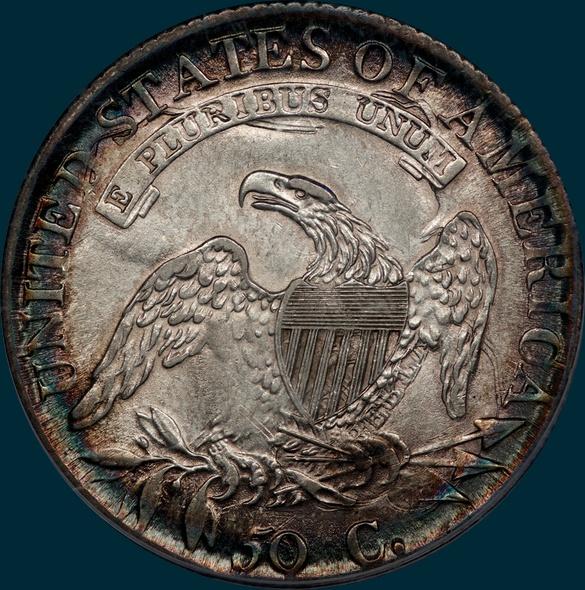 1814 Leaman-Gunnet Emission Sequence Number for O-102: 7
Overall Number: 79
Top five condition census coins from last 10 years of auction and sale records O-102:
09/15 Stack's-B (Pogue Part II) PCGS MS66
04/09 Heritage (CSNS-Cincinnati) NGC MS66
07/17 Heritage (FUN-Orlando) NGC MS64
08/16 Heritage (ANA-Anaheim) NGC MS63
04/11 Heritage (CSNS-Rosemont) NGC MS63
Top five condition census coins from last 10 years of auction and sale records O-102a:
​​​​​​​01/20 Heritage (FUN-Orlando) PCGS (S) MS66 (Friend)

01/13 Heritage (FUN Orlando) PCGS MS65
04/10 Heritage (CSNS-Frederick) NGC MS65
04/18 Heritage (CSNS-Chicago) PCGS (S) MS64 (former NGC MS63)
12/19 Heritage (Dec-Signature) NGC MS63