1806 O-120 R3 Draped Bust Half Dollar
Obverse: 10 (Fifth Marriage)
Reverse: P
O-120 R3 is below, O-120a with some breaks and a broken shield R4 in middle, O-120a with all breaks R5 at bottom
In August 2015, the Garrett specimen of the O-120 (PCGS MS66 CAC) re-appears and is the finest known in all likelihood for all of the O-120's. It last sold as a PCGS MS64! This die marriage can be interesting to examine in depth as there are examples to be had showing the many progressions of the shield cud, from its very small beginning to the gaping chasm at the end. There is a PCGS MS65 out there that last appeared in 1990 that has some of the cracks as an O-120a. Will be interesting to see that one re-appear.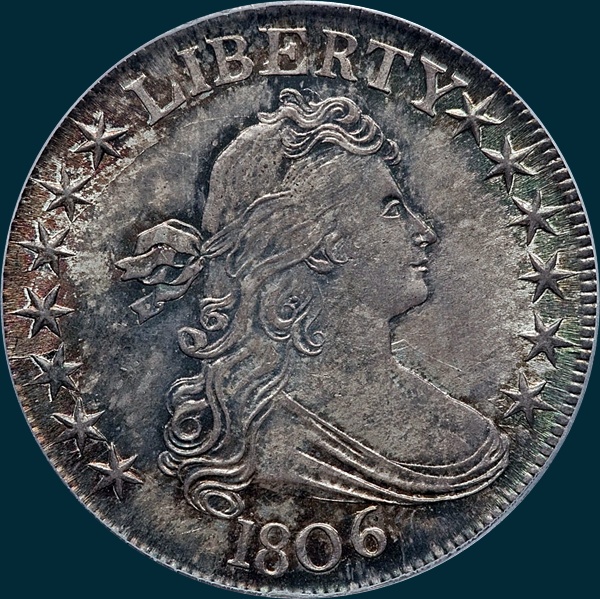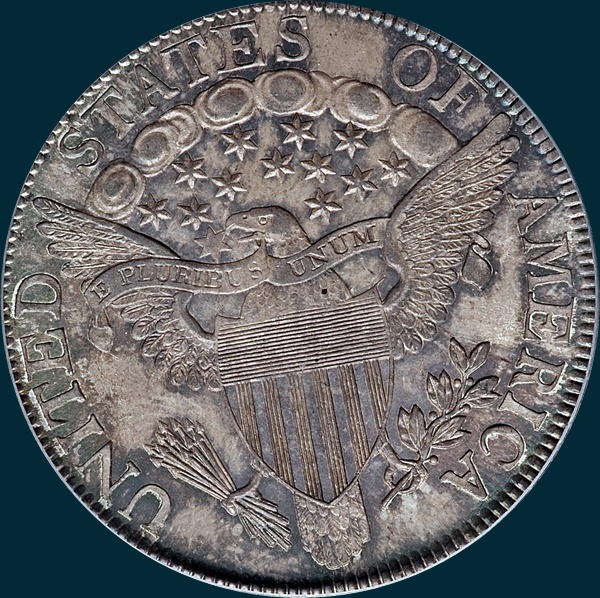 Variety Attribution: Obverse-All stars have sharp points. S7 is 1 mm. from L. Star 8 is only 1/2 mm.from Y, and Star 13 is 1/2 mm. from bust. Date is a close 7 3/4 mm. and high. 1 and 6 nearly touch curl and bust. Y has been recut, but at this stage is barely visible at lower left base of Y, if at all. Some hair and ribbon details may be weak due to the sinking of the die. There are usually several die cracks, at lower curl, along stars at left curving to hair wave at top of head, etc. (above example does not have these cracks with the exception of small cracks at stars one and three).

Reverse-O-120: 5 berries, only the two lowest ones below branch have stems. Lower right base of F missing. Point of leaf below I is just left of center. Star point attached to front of beak. AM close but do not touch. A2 well above fourth feather and far distant from third feather. Vertical die defect line from left corner of shield to scroll, another from right corner points to inner curve of wing. Most specimens show a die crack from top of A2 curving through M, another from edge above M.

O-120a: There is now a flake type die break that begins at top of stripe 4 to 5 and progressively enlarges, until it covers tops of stripes 2, 3, 4, 5, and part of 6. Another small break fills space between the two crossbars above stripe 1. The cracks through AM get much heavier, extend to ribbon and wing, with broken patches at end of ribbon and to right of A. Another crack from arrows across tail feathers to A3. Another fine one from leaf to base of RI. With beginning of the flake in stripes it is R4. With all of the full breaks described it is R5.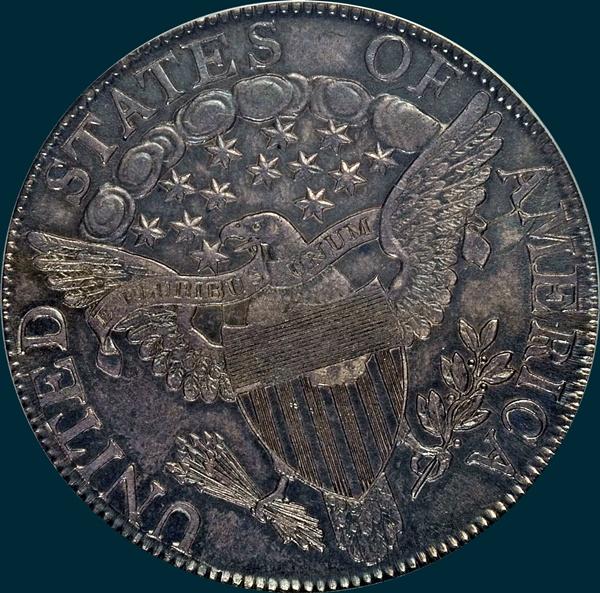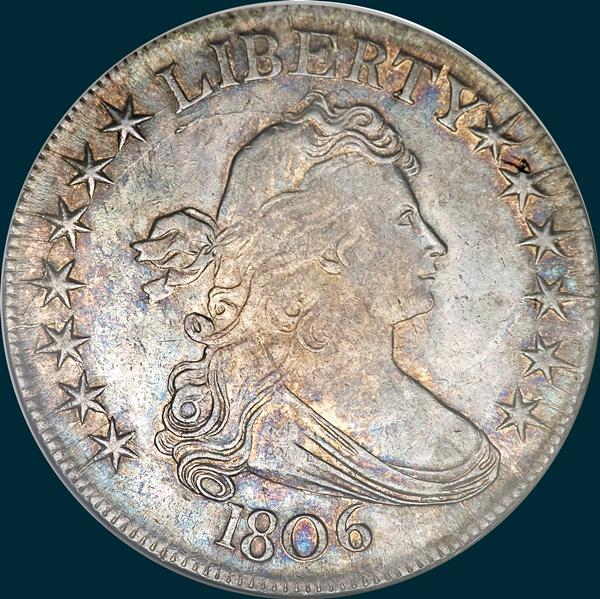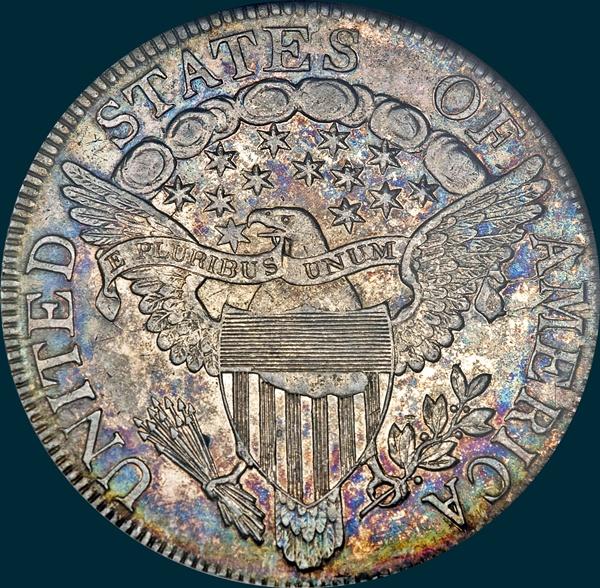 1806 Leaman-Gunnet Emission Sequence Number for O-120: 25
Top five condition census coins from last 10 years of auction and sale records (O-120):
08/15 Heritage (ANA-Chicago) PCGS MS66 CAC (Ex-Garrett)
11/14 Heritage (Beverly Hills) NGC MS64
​​​​​​​01/20 Heritage (FUN-Orlando) PCGS MS63
08/17 Heritage (ANA-Denver) PCGS MS63
02/15 Heritage (Long Beach) NGC MS62
Top five condition census coins from last 10 years of auction and sale records (O-120a, Broken Shield R4):
07/09 Heritage (FUN-W. Palm Beach) PCGS MS63
01/17 Heritage (FUN-Ft Lauderdale) PCGS AU58
01/14 Heritage (FUN-Orlando) PCGS AU58
04/08 Heritage (CSNS-Rosemont) PCGS AU58
02/20 Heritage (Long Beach) NGC AU55
Top five condition census coins from last 10 years of auction and sale records (O-120a, Brkn Shld, All Breaks R5):
08/11 Stack's-B (Pre-ANA) NGC AU53
08/12 Stack's-B (ANA-Philly) ANACS AU50
07/08 Heritage (ANA-Baltimore) NGC XF45
11/05 Heritage (Pam Beach) NGC XF45
10/05 Stack's/ANR (Atlanta) NGC XF45