1809 O-113 R5 Capped Bust Half Dollar
Obverse: 7 (Second Marriage)
Reverse: J
O-113 R5 (Prime) is below, O-113a R5 is at bottom. It seems like both die states are actually low R6's or maybe one die state is an R5+. A single MS62 is at the top very few examples above VF.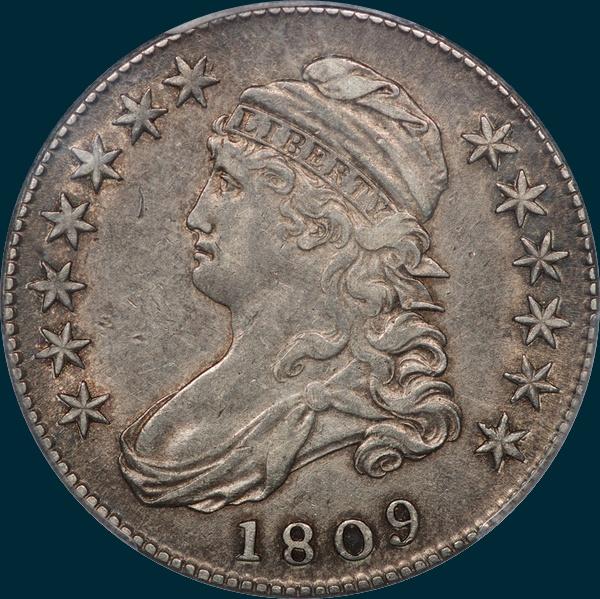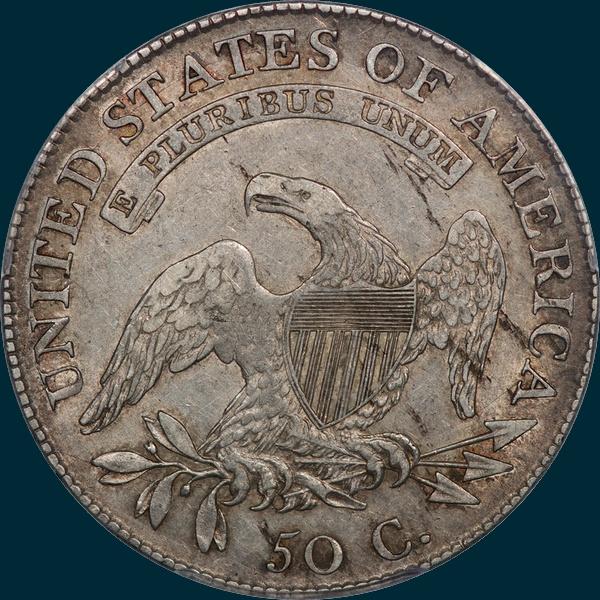 Variety Attribution O-113: Obverse-Star 13 has a scalloped point toward curl. Mouth broad and slightlyopen. Date is 9 3/4 mm figures with small and relatively thick figures. Stars 1 and 13 each 3/4 mm. from drapery and curl respectively.


O-113 Reverse-50 C. is 1 3/4 mm. A to arrohead is 3/4 mm. Left side of D and right side of E in line. I is centered under left side of T. Eagle's head and part of left wing are usually quite smooth. All observed specimens have shown extensive die cracks. A primary one is contiguous to nearly the entire legend. Another crosses olive leaves and claws to CA.

O-113a: Additional die cracks, one from edge at lowest arrowhead through 50 C. to edge below center pair of leaves and one from lowest left pair of olive leaves across feathersw, shield, neck, scroll and connects to primary crack left of scecond S in STATES.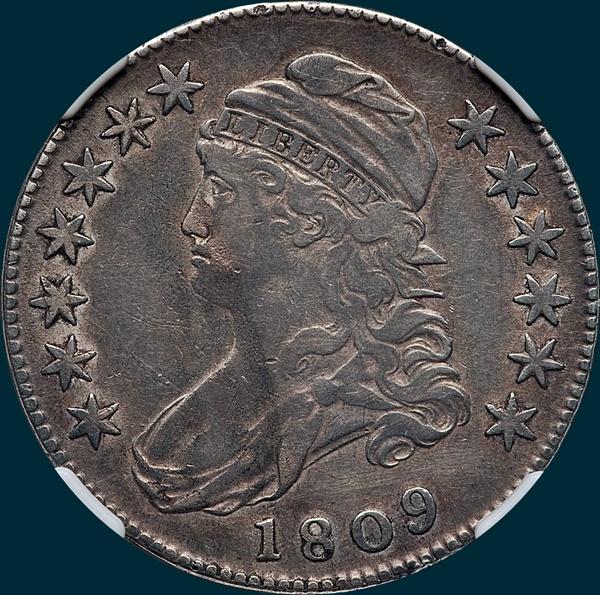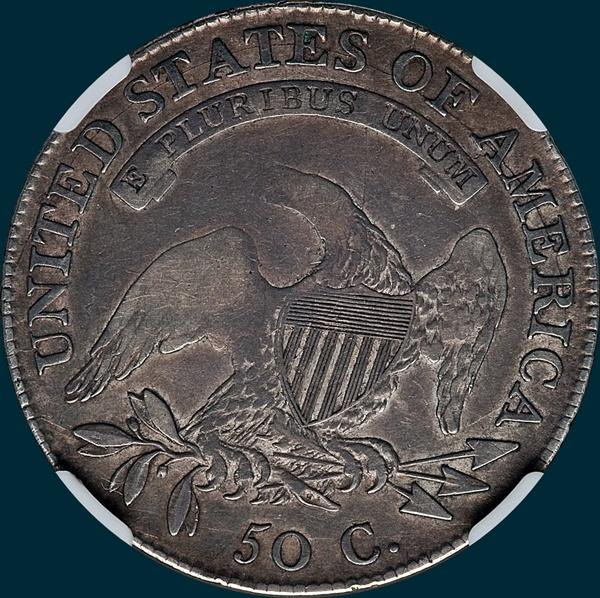 1809 Leaman-Gunnet Emission Sequence Number for O-113: 2
Overall Number: 16
Top five condition census coins from last 10 years of auction and sale records (O-113):
11/19 Stack's-B (Baltimore) PCGS (S) XF40
01/16 Downey MBS 42 NGC XF40
01/18 Heritage (FUN-Tampa) PCGS VF30
04/19 Heritage (CSNS-Chicago) PCGS VF20
03/15 Heritage (Internet) NGC VG08 Det (cleaned)
Top five condition census coins from last 10 years of auction and sale records (O-113a):
07/08 Downey FPL (ANA-Meyer) PCGS AU53
04/10 Heritage (Frederick-CSNS) PCGS AU50 Det cleaned
08/14 Downey (Davignon) PCGS XF40
04/12 Heritage (Chicago) NGC XF40
02/18 Heritage (Long Beach) PCGS VF30