1809 O-114 R5 Capped Bust Half Dollar
Obverse: 7 (Second Marriage)
Reverse: K
O-114 R5 (Prime) is below, O-114a R5 is at bottom.
Another extraordinarily tough marriage, where most are low grade or have problems or both, and there may only be a pair that would qualify as AU. It is likely that the 114a is more common than the 114.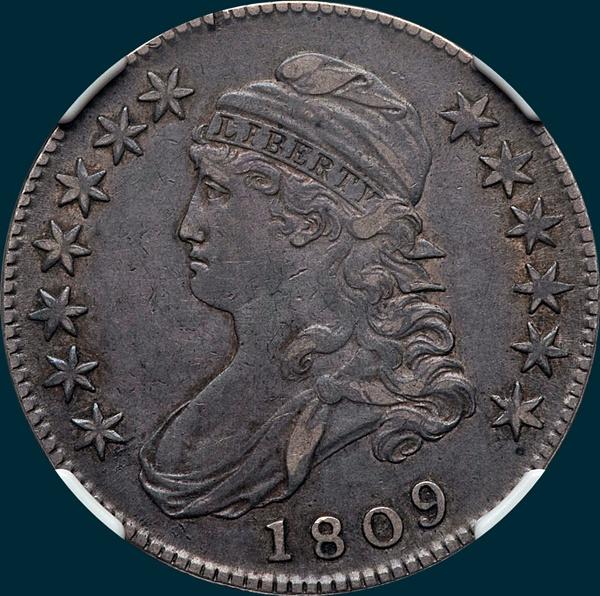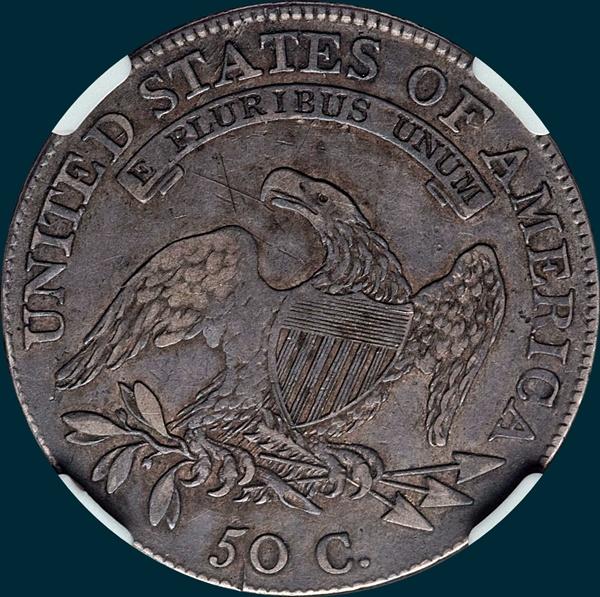 Variety Attribution O-114: Obverse-Star 13 has a scalloped point toward curl. Mouth broad and slightlyopen. Date is 9 3/4 mm figures with small and relatively thick figures. Stars 1 and 13 each 3/4 mm. from drapery and curl respectively.
O-114a: Chin is notoriously weak in this die state.


O-114 Reverse-50 C. is 1 1/2 mm. A to arrohead is 3/4 mm. Stand of E is centered under left side of D and I is centered under left side of T. AM close but do not touch. Top of 5 is 1 1/2 mm. from feather, on reverse H and I it is just slightly over 1 mm. A fine vertical die crack from edge below lowest pair of olive leaves up through line 1 in stripe 4 up across the crossbars, eagle's neck and into field. Another from abovesecond T in STATES through E and scroll into field. A die line through D and an array of straight die lines from edge between TA in STATES with the heaviest extending though P in PLURIBUS.

O-114a: Crack now progresses to bottom of shield along tip of lower leaf to edge. A die line through TA and through D. Another crack from edge toward left wing tip which stops abruptly and turns left along top of UNITED and right into olive leaves.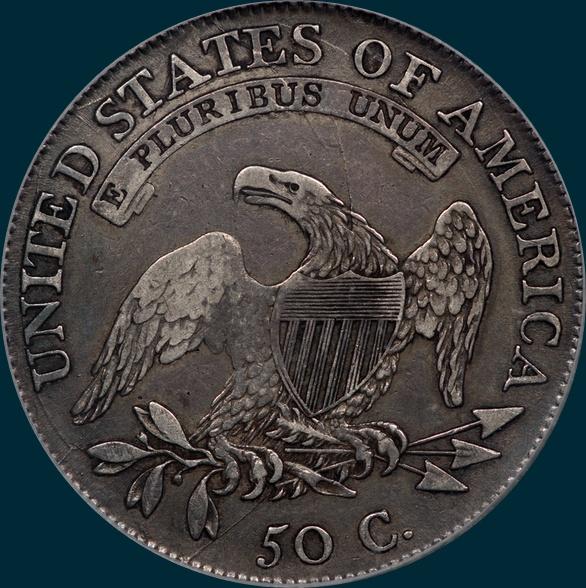 1809 Leaman-Gunnet Emission Sequence Number for O-114: 3
Overall Number: 17
Top five condition census coins from last 10 years of auction and sale records (O-114):
06/09 Private Treaty AU55 lightly cleaned
03/15 Heritage (Dallas) NGC XF40 rev graffiti
05/09 Stu Keen FPL VF35 scratch on face
02/18 Heritage (Long Beach) PCGS VF30
01/11 Heritage (FUN-Tampa) NCS VF20 det cleaned
Top five condition census coins from last 10 years of auction and sale records (O-114a):
​​​​​​​11/19 Stack's-B (Baltimore) PCGS (S) AU58 CAC

08/16 Downey MBS 43 (ANA-Anahem) PCGS XF45
08/14 Stack's-B (ANA-Chicago) PCGS XF45 CAC
01/14 Downey (Davignon) PCGS XF45
06/11 Downey FPL PCGS XF45 Details cleaned (Ex-Tidwell)