1809 O-115 R2 Capped Bust Half Dollar
Obverse: 7 (Third Marriage)
Reverse: L
O-115 R2 (Prime) is below, O-115a R3 is at bottom.
Only 8 problem free examples above XF have appeared the past 10 years placing this one on the toughest R2 list. There are a few MS examples with a pair of '65's at the top, but this one is very tough in grades above VF.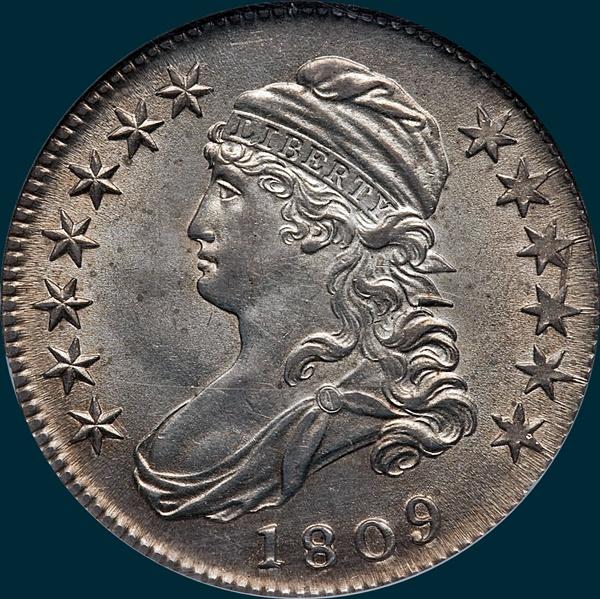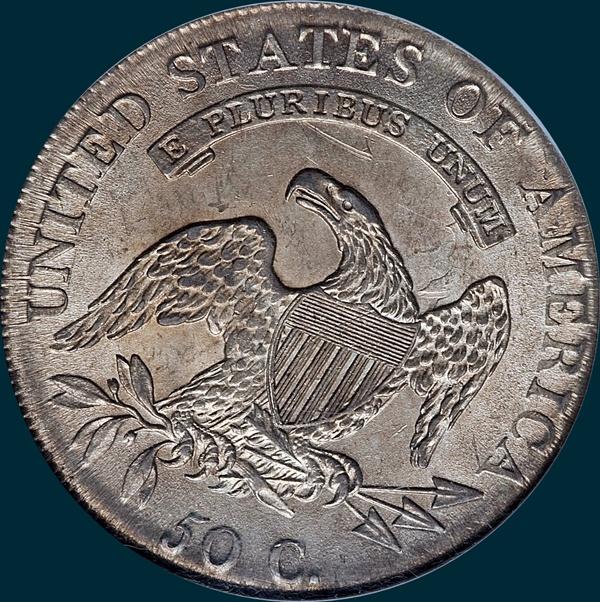 Variety Attribution O-115: Obverse-Star 13 has a scalloped point toward curl. Mouth broad and slightlyopen. Date is 9 3/4 mm figures with small and relatively thick figures. Stars 1 and 13 each 3/4 mm. from drapery and curl respectively.
O-115a: There is a die crack from lower edge up through 0 in date and into curls. Another crack from this one just above 0 runs horizontally above 8 through top of 1 and into field below drapery. Another crack crosses end of bust and joins first four stars on left. Still another from esge crosses star 6, upper forecurl and LIBERTY.


O-115 Reverse-Usually no milling or at best a trace. 50 C. is 1 1/2 mm.and low. A to arrohead is 3/4 mm. Legend is struck ranther flat, especially AMERICA. Right side of D is in line with left serifs of E. I is centered under right side of T. Small center dot between crossbars 4 and 5. Line 1 of stripe 5 exstends slightly below border of shield and is diagnostic.

O-115a: there is no milling and the legend is all very flat and drawn heavily to the flat smooth edge. Multiple clash marks are usual.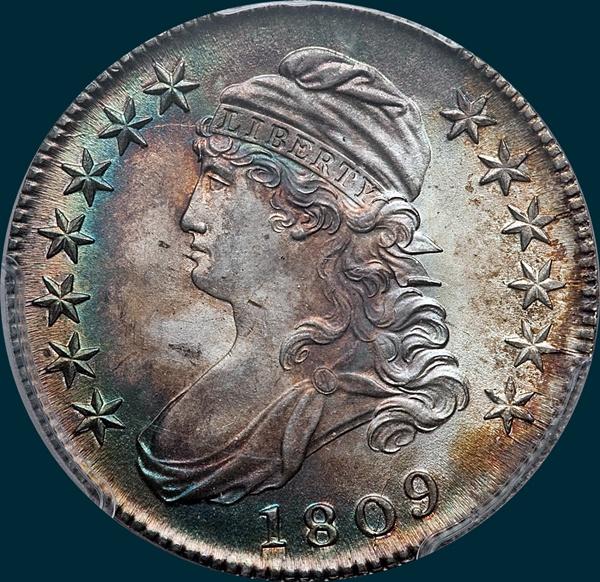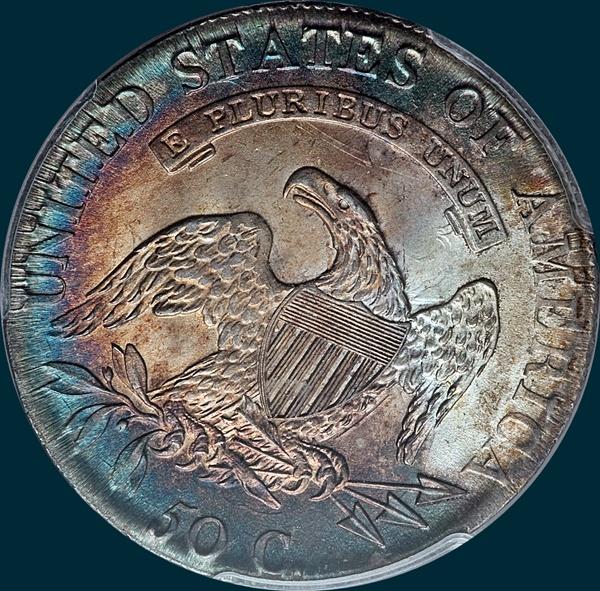 1809 Leaman-Gunnet Emission Sequence Number for O-115: 4
Overall Number: 18
Top five condition census coins from last 10 years of auction and sale records (O-115):
07/13 Heritage (FUN-Orlando) PCGS MS64+ (Ex NGC MS64)
04/11 Heritage (CSNS-Chicago) NGC MS61
03/15 Heritage (Dallas) NGC AU58 det stained
08/17 Heritage (ANA-Denver) PCGS AU55
12/14 Heritage (Houston) PCGS AU53
Top five condition census coins from last 10 years of auction and sale records (O-115a):
10/12 Heritage (ANA-Dallas) PCGS MS65+
05/07 Heritage (Long Beach) PCGS MS62
08/17 Heritage (ANA-Denver) PCGS AU55

09/08 Heritage (Long Beach) ICG AU50
05/07 Heritage (Online) ANACS AU50 det cleaned