1834 O-112 R3 Small Date, Small Letters Capped Bust Half Dollar
Obverse: 11
Reverse: L
Daisy Star 7 variety

This marriage is rather tough above AU, with MS64 being at the top of the census and there may only be around 4 or so MS examples total. AU's are a bit more common.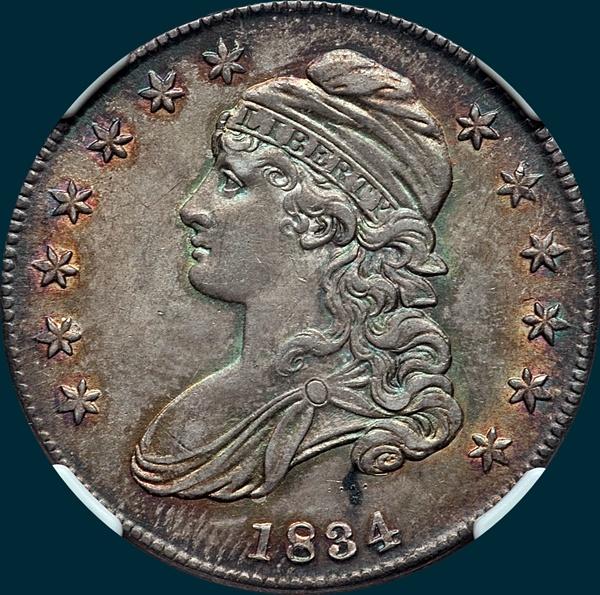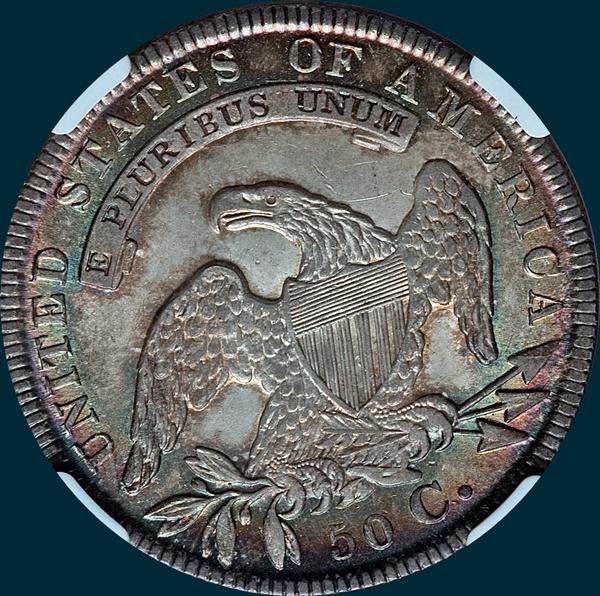 Variety Attribution: Obverse-Star 7 with its slender points has the appearance of a daisy. The difference from other stars on O-112 or any other 1834 star is pronounced. Date is 7 mm.with the numerals widely and evenly spaced. Mouth is open and the upper lip has a sharp curl, might be called a harelip. Lates states show little milling and stars drawn to edge.
Reverse- 50 C. is 1 mm. and high. 5 is small with a straight top and the loop is nearly closed. Arrow to A is 1 1/4 mm. Besides the two 3 stripe lines to the fith crossbar, several other lines penetrate to the second and third crossbars. Line 3 of stripe 3 extends below shield. Left side of I under right side of T. Some early die states show a die lump in field between eagles beak and scroll and 0 in 50 C. widely recut top. Lapping of die in late states has remoced the lump and evidence of recutting at 0 in 50 C. Milling also disappears in late states.
1834 Leaman-Gunnet Emission Sequence Number for O-112: 13
Top five condition census coins from last 10 years of auction and sale records:
01/17 Heritage (FUN-Ft Lauderdale) PCGS MS64
01/16 Heritage (FUN-Tampa) PCGS MS64+ CAC
10/15 Heritage (New York) PCGS MS64
11/16 Heritage (New York) NGC MS63
04/18 Heritage (CSNS-Chicago) PCGS (S) MS62