1805 O-108 R4+ Draped Bust Half Dollar
Obverse 4
Reverse B (Third Marriage)

There appear to be only 2 MS survivors, one with adjustment marks. Beyond that, there are 3-4 AU examples, the rest being XF40 and below. Only 16-18 (not sure if a couple are dupes) examples have shown up in sale and auction records, so this die marriage may fall short of the 80 required to make it a high R4.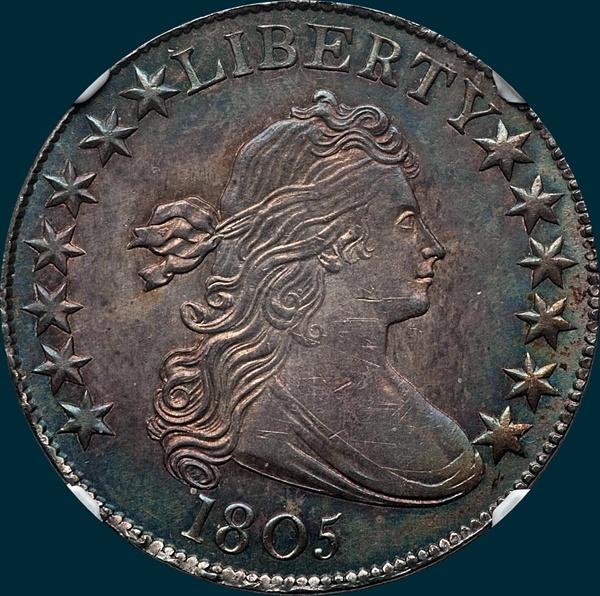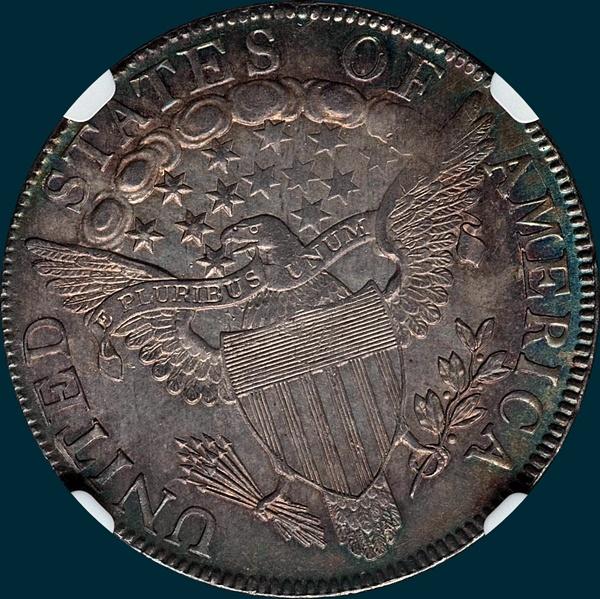 Variety Attribution : Obverse-Stars are large, S7 is 1/2 mm. from base of L. Date is 8 mm. and high, with large 0 and slender 5. Top of 1 close to curl.


Reverse-4 berries and the two center ones have long stems, the upper and lower ones no stems. 12 arrows and the second arrow point is below the left stand of N. Beak abd star are attached solid point to point. end of leaf close to right base of I. Most specimens show a fine die crack from tip of right wing to top of AM.

1805 Emission Sequence Number for O-108: 7
Top five condition census coins from last 10 years of auction and sale records :
11/13 Heritage (Newman) NGC MS63
04/20 Heritage (CNST-Dallas) PCGS AU50 CAC
04/16 Heritage (CSNS-Chicago) PCGS AU50 CAC
02/18 Heritage (Long Beach) PCGS XF40 (Meyer)
08/18 Downey MBS 47 (ANA-Philly) PCGS XF40 CAC (Osborne/Link)