1796 O-102 R5+ Draped Bust Half Dollar
Obverse 2
Reverse A (Second Marriage)

O-102 R5+ below, O-102a R7? pics needed

Current research has revealed somewhere around 65 examples surviving, which is more of an solid to low R5 than a high R5. There are also a small amount with obverse die cracks which is listed as an R7?.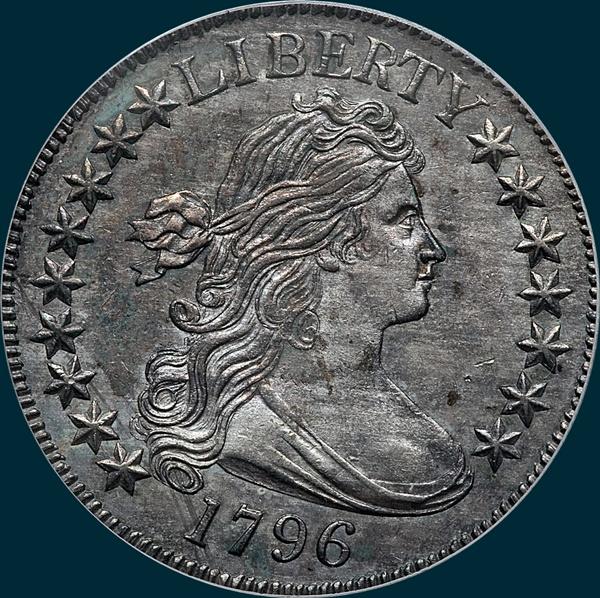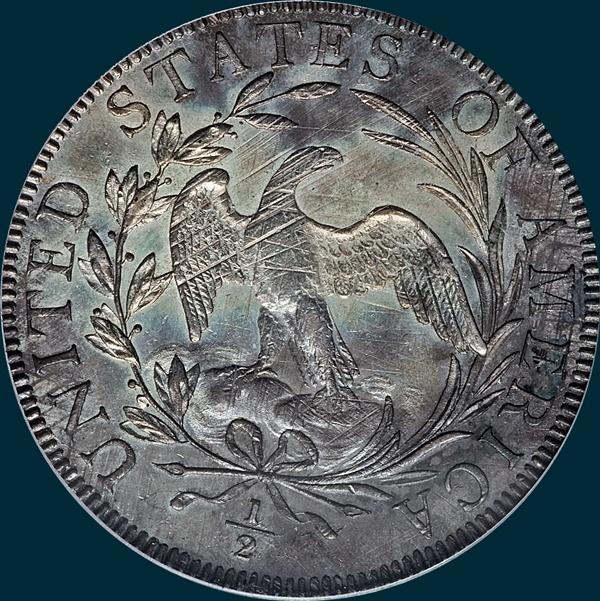 Variety Attribution O-102: Obverse-16 stars, 9 on left, 7 right. Large date set rather high. Broad six pointed stars with short points.Most specimens show a heavy die crack from milling between date and star 1, that joins the first four stars then out to milling.
O-102a: Circular die crack from the front of bust, through star 14 to edge.

O-102: Reverse-Fraction 1/2 well centered below ribbon knot. 10 berries on laurel branch. A leaf is close to lower left serif of second T in STATES but does not touch. A palm leaf close below base of F extends halfway between OF. Small die defects at lower left base of C and above inside curve.
O-102a: Circular crack that runs from tip of palm leaf at base of F, through right side of O to segment of milling.
Top five condition census coins from last 10 years of auction and sale records:
05/15 Stack's-B (Pogue-New York) PCGS MS66
05/15 Heritage (Gardner III-New York) PCGS MS64 (Adj Marks, Prooflike)
11/13 Heritage (Newman) NGC MS63 CAC
01/13 Heritage (FUN-Orlando) PCGS AU55
09/19 Heritage (ANA-Chicago) PCGS (S) VF35 (Miles-Robinson)