1805 O-105 R5 Draped Bust Half Dollar
Obverse 4
Reverse C (Third Marriage)
O-105 R5 below, O-105a R6? at bottom

The finest known of this marriage comes in only at XF40, with a couple examples. The later die state develops a reverse cud.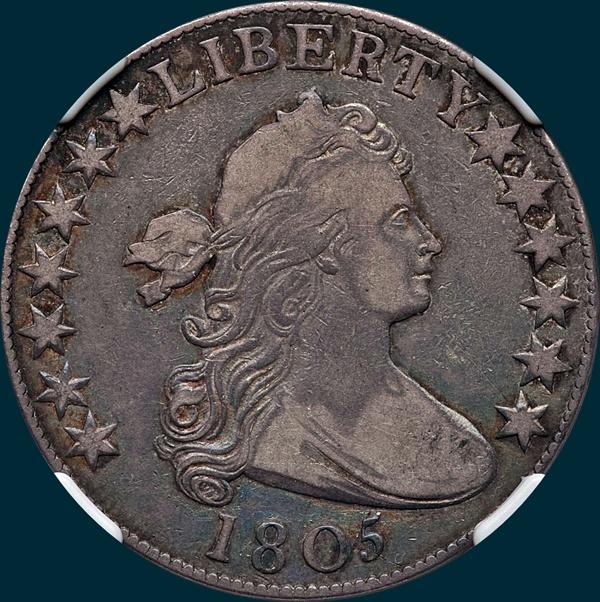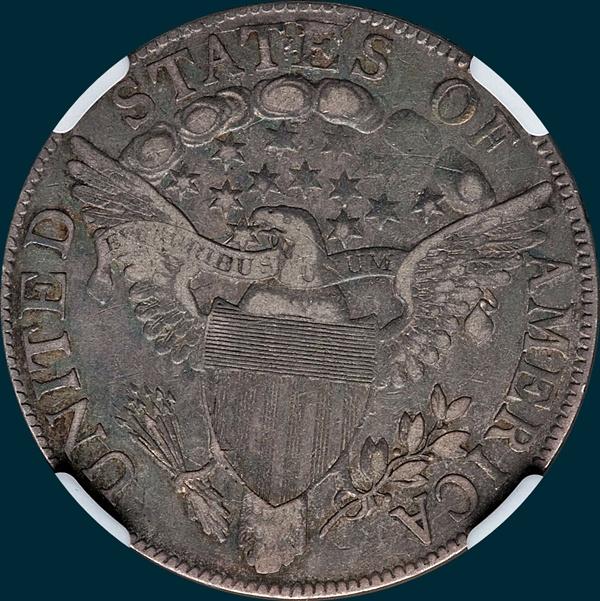 Variety Attribution : Obverse-Stars are large and close together, especially on the right, with 2 points of stars 8 and 9 nearly touching. Narrlow milling. Date is 8 3/4 mm. and high. 05 is much closer than 180. This die is re-used on 1806 O-104 (6/5 overdate)

O-105: Reverse-4 berries on olive branch, three below have long stems and one above no stem. 13 arrows, second arrowhead below right stand of N, ME joined at base. Eagle's beak comes down on upper side of star point. Right base of F missing. Leaf nearly touches base of I just right of center Several fine die cracks contiguous to the legend. Heavy rim break above ATE that engulfs the tops of TE. Several more fine die cracks also appear.

O-105a: Heavy break develops initially at the top of ITE and finally into a cud from the top of the first S to the right side of E.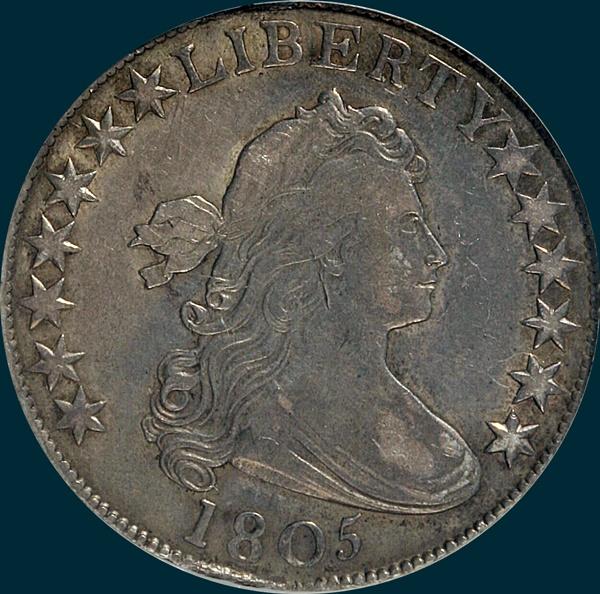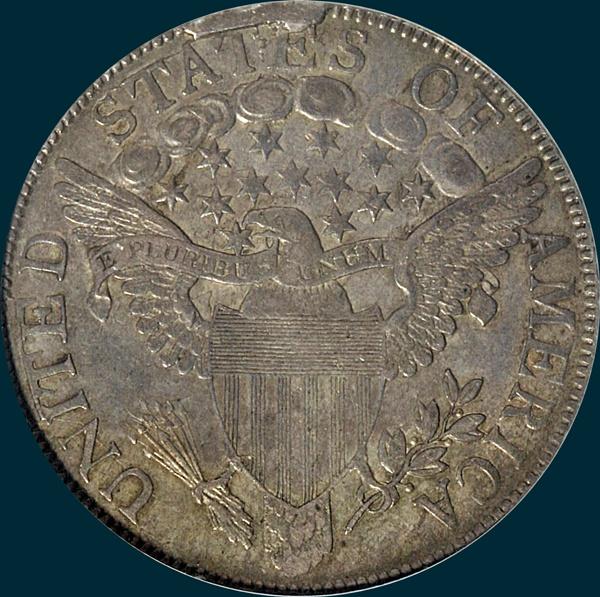 1805 Emission Sequence Number for O-105: 12 (based on O-114 being 8th)
Top five condition census coins from last 10 years of auction and sale records (O-105):
07/08 Heritage (ANA-Baltimore) NGC XF40
03/12 Heritage (New York) NGC VF25
12/09 Heritage (Houston) NCS VF20 det (obv damage)
02/18 Heritage (Long Beach PCGS VG10
01/13 Downey FPL PCGS VG10
Top five condition census coins from last 10 years of auction and sale records (O-105a):
11/19 Stack's-B (Nov Baltimore) PCGS (S) VF20
01/13 Downey FPL VF20 det (old light polish)

11/17 Heritage (Dallas) PCGS F12 CAC
01/18 Heritage (FUN-Tampa) PCGS VG10 ​
11/19 Stack's-B (Baltimore) PCGS (S) VG08