1818 O-112 R1 Capped Bust Half Dollar
Obverse: 9
Reverse: I
O-112 R1 below, O-112a R5 bottom.

The early die state is common, with an MS64 or three topping the census. Specimens with the 112a die crack are somewhat rare and even more rare in higher grades.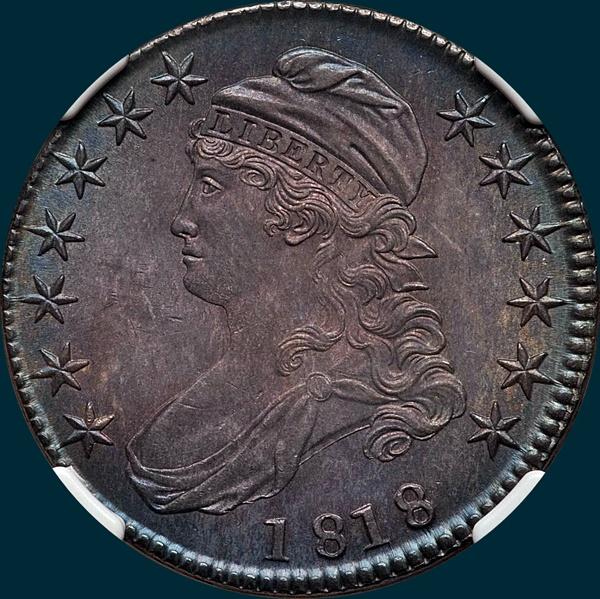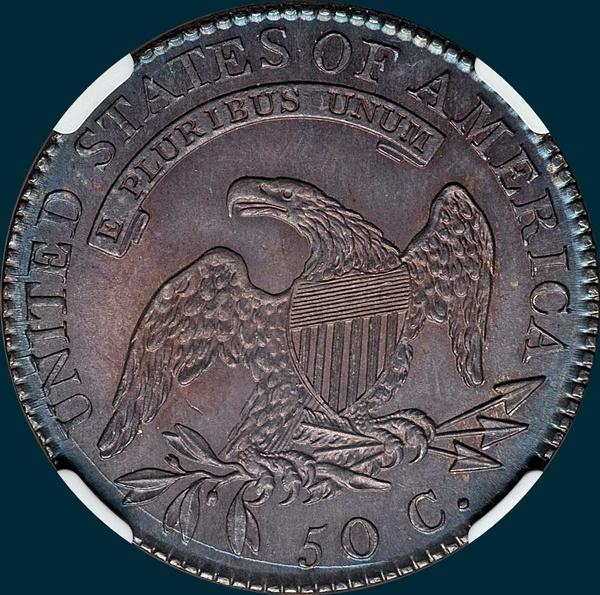 Variety Attribution O-112: Obverse- All stars large, well formed and close to milling. Date is 9 mm. with 81 close and first 18 wider than second 18.
O-112a: Die crack from edge below first 8 up through last 18 of date to edge of lower curl, inner point of star 11, across star 10-8 and to cap then to star 7-6 and to edge. Very late states also show crack extending to all stars on left. RARE with this crack.

Reverse-50 C. is 2 mm., and pretty well centered with a slender well formed 5 and a heavy bold 0. Arrow to A is 3/4 mm. ost specimens show a crack from edge below 50 C. to top of UNI and to milling above D.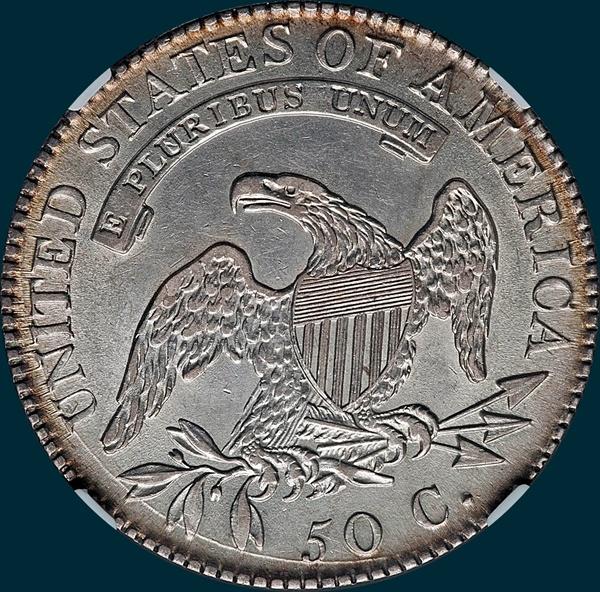 1818 Leaman-Gunnet Emission Sequence Number for O-112: 14
Overall Number: 109
Top five condition census coins from last 10 years of auction and sale records (O-112):
04/20 Heritage (CNST-Dallas) PCGS (S) MS66
08/18 Stacks-B (ANA-Philly) NGC MS65
​​
04/11 Heritage (CSNS-Chicago) NGC MS64
07/18 Heritage (FUN-Orlando) PCGS MS62
11/13 Heritage (New York) NGC MS61
Top five condition census coins from last 10 years of auction and sale records (O-112a):
​04/19 Heritage (CSNS-Chicago) PCGS (S) MS66 (Dale Friend, Eliasberg)
03/15 Heritage (Dallas) NGC AU58
08/18 Downey MBS47 (ANA-Philly) PCGS AU Det (Cleaned. Ex-Link)
01/20 Heritage (Downey MBS 50) PCGS XF45
04/18 Heritage (Dallas) PCGS XF Det (Cleaned)