1815 Capped Bust Half Dollars
Design Type 3: 1812-1817

Mintage: 47,150

Overton Numbers and Rarity Ratings:
O-101 (R2) O-101a (R3)

Redbook Varieties:

Obverse: 1
Reverse: A
O-101 R2 top, O-101a R3 bottom

It seems as if there are more survivors of the 1815 than what an R2 would normally have, with many high grade examples and many problem free circulated specimens. Everybody wants one though, as these were some of the few coins minted in 1815.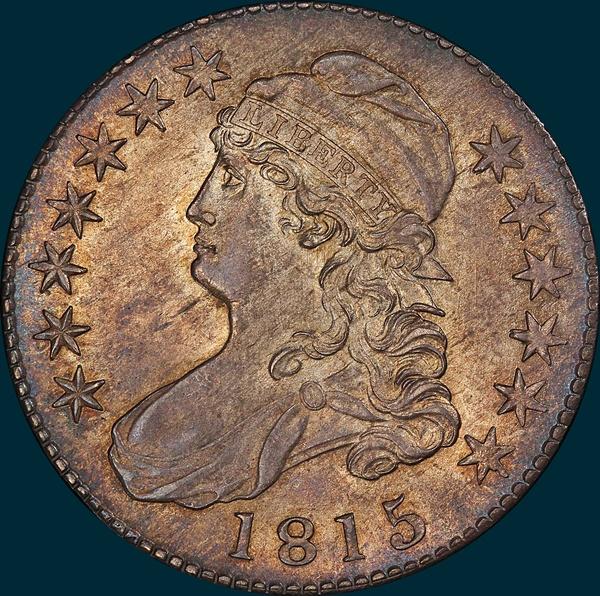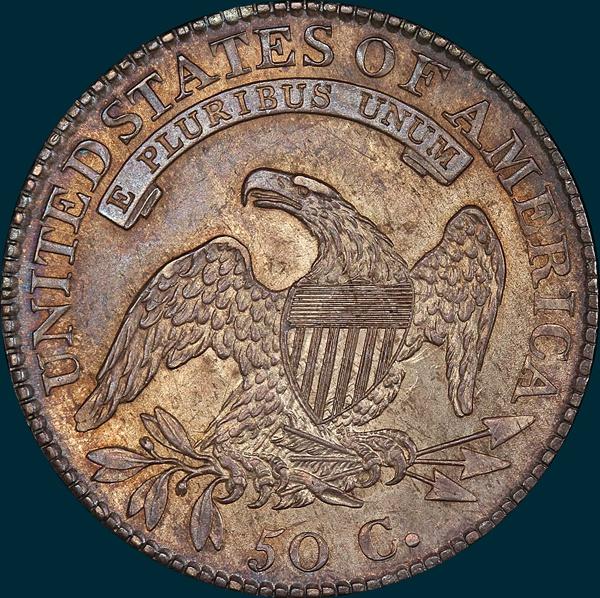 Variety Attribution: Oberse-5 punched over 2. Date is 10 mm. and traces of the 2 show at stand and between upper curve and crossbar of the 5. A small die crack from upper side of curl near center of neck. Star 8 and Star 11 recut.

Reverse-50 C. is 1 3.4 mm. Arrow to A is 3/4 mm. A small defect in the right angle of N in UNITED. Left side of D and right side of E are in line and I is centered under left side of T. Clash lines to a greater or lesser degree on all specimens, but on early states they are very light.
101A shows die cracks. One from olive leaves up through UN and around legend to OF, then down through F and serif of A to scroll. Another from edge above M down through ERICA, across arrowheads and 50 C. to edge below olive.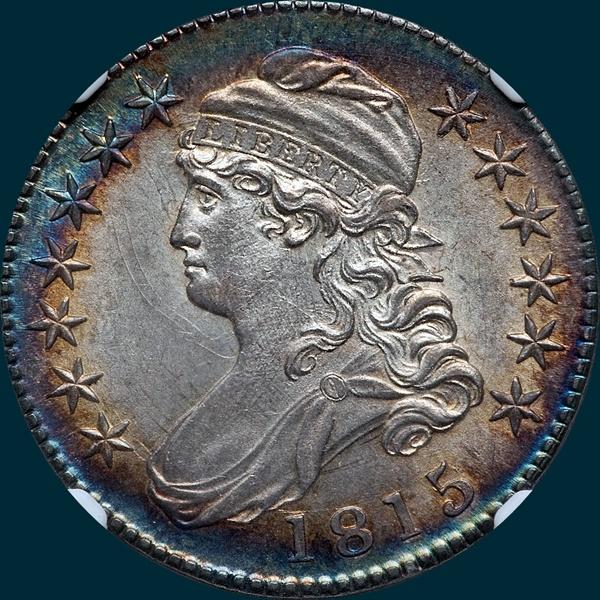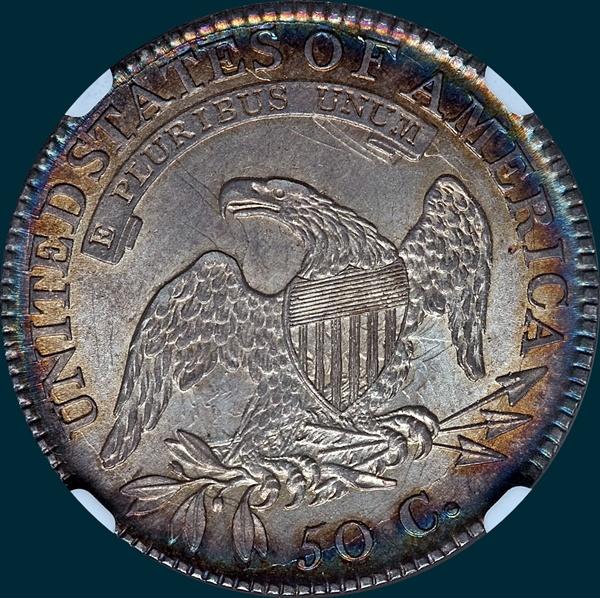 1815 Leaman-Gunnet Emission Sequence Number for O-101: 1
Overall Number: 82
The 1815 dated Capped Bust Half Dollars were actually delivered in January of 1816, just prior to the mint fire. The war of 1812 caused silver bullion hoarding and there was no silver available through most of 1815 to mint coins.
Top five condition census coins from last 10 years of auction and sale records (O-101):
08/12 Heritage (Philadelphia ) NGC MS66+ (Kaufman)
09/15 Stack's-B (Pogue Part II) PCGS MS65
08/19 Heritage (ANA-Chicago) PCGS MS64 CAC (Friend)
05/12 Heritage (Long Beach) NGC MS62
08/19 Heritage (ANA-Chicago) PCGS (S) MS61
(O-101a)
11/13 Heritage (Newman) NGC MS64+ CAC
05/15 Heritage (Gardner III-New York) NGC MS64
09/18 Legend (Regency-XXVIII) PCGS MS63 (Link)
04/09 Heritage (CSNS-Cincinnati) NGC MS63
02/12 Heritage (Long Beach) NGC MS62
Important Historical events of 1815
Battle of New Orleans fought even though War of 1812 had ended. US victorious over British with furture President Andrew Jackson leading.

John Stevens issued the first US railroad by New Jersey.

US Navy hero Stephen Decatur defeats Algerian pirates in a brief war.

Important Historical events of 1816
James Monroe elected 5th President of the United States.

US mint in Philadelphia is damaged by fire with the smelt and mill houses being destroyed.

Indiana becomes 19th state.