1813 O-101 R2 50 C. over UNI Capped Bust Half Dollar
Obverse: 1
Reverse: A
O-101 R1 is below, O-101a R4 is at bottom
The 50/UNI variety is highly sought by collectors. There are many MS examples up to MS64 in both early and late die states. It does seem to me like the 101a die state appears more often than one would explect for an R4.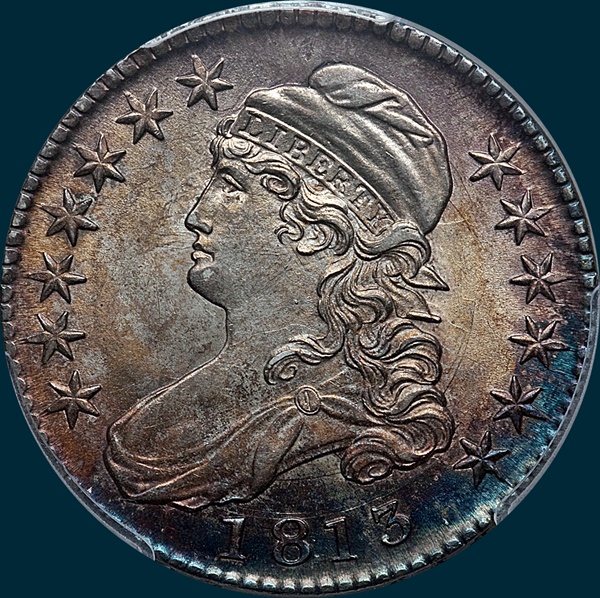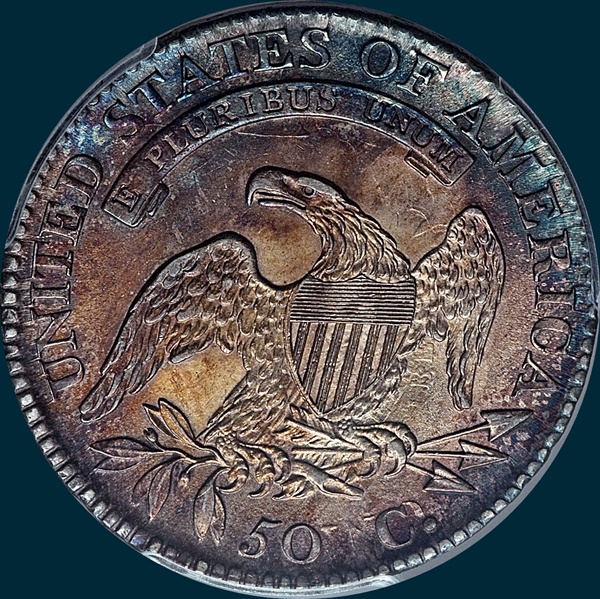 Variety Attribution: Obverse-Stars are sharp. Date is 9 3/4 mm. and well centered, with a broad 8. 81 a little closer than 18 or 13.
O-101a: Milling weak.

Reverse- 50 C. is a wide 3mm. Arrow to A is 1/2 mm. The most outstanding feature of this variety are the struck portions to the right of C and between 0 and C.
O-101a: This variety has had a mint employee try to lap off the UNI blunder and while doing so, weakened the olive stem and part of the claw, while portions of UNI still show. Milling is weak on most specimens.

PCGS Graded XF45. Snagged this out of a Bowers auction when Mike King had his sale. Nice original coin, that is very close to AU. Maybe the scratches near stars 3 and 4 prevented it? From Bowers:
Rich charcoal-gray patina with a tinge of lavender toning intermingled over the obverse. Soft striking detail at the borders is characteristic of this late die state, but the central devices are quite bold despite having acquired light wear. There are none but a few well-scattered abrasions, and most areas are remarkably smooth for the grade. Scarce!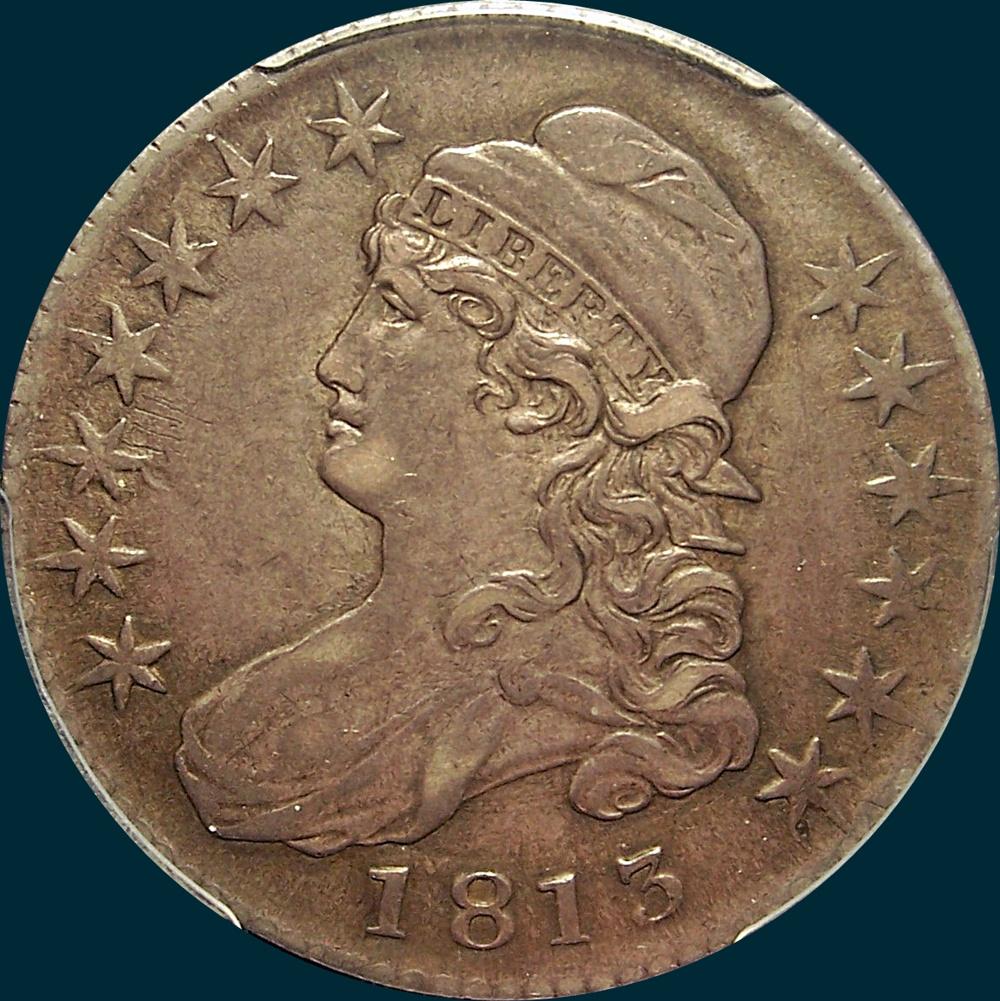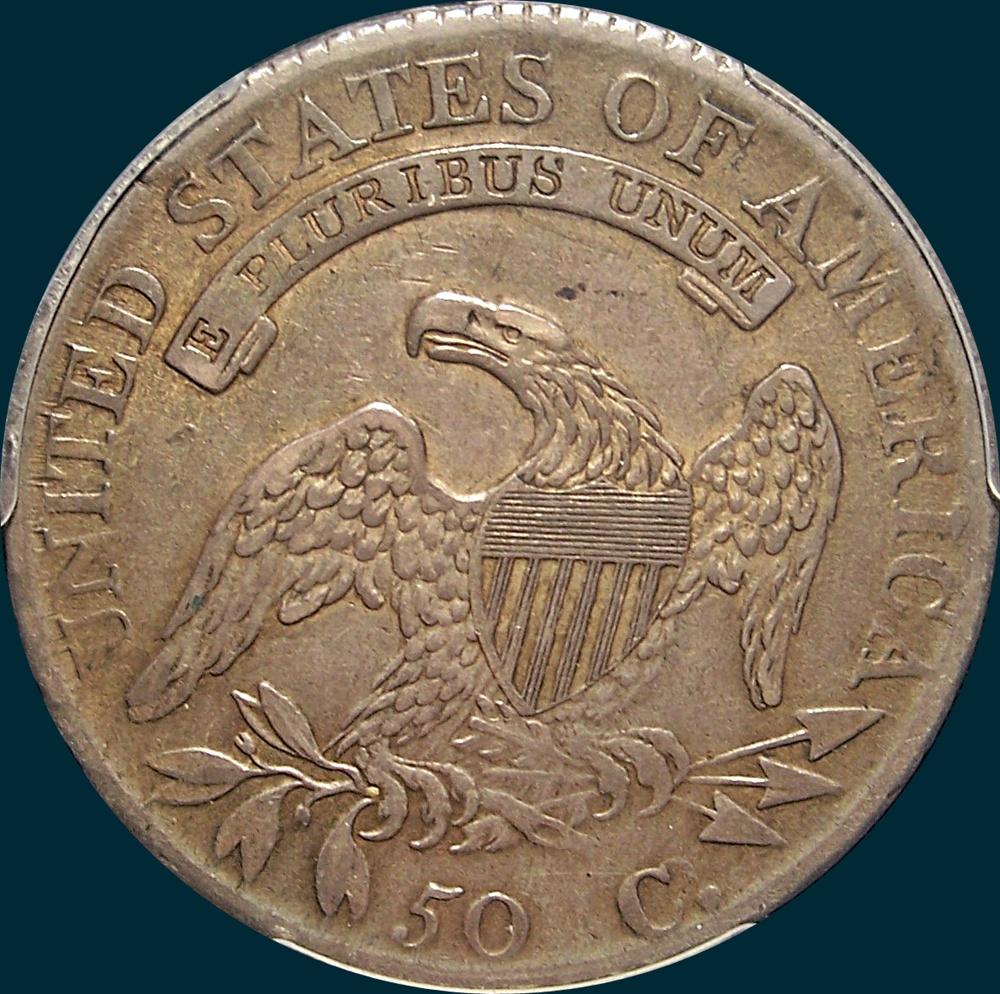 1813 Leaman-Gunnet Emission Sequence Number for O-101: 2
Overall Number: 64
Top five condition census coins from last 10 years of auction and sale records O-101:
​​​​​​​04/19 Heritage (CSNS-Chicago) PCGS MS64 CAC
06/19 Heritage (Long Beach) PCGS (S) MS64 (ex-Friend)
​09/18 Legend (Regency-XXVIII) PCGS MS64 (Link)
01/17 Heritage (FUN-Ft Lauderdale) PCGS MS64
10/15 Heritage (New York) PCGS MS64+ (Former PCGS MS63 and MS64)
Top five condition census coins from last 10 years of auction and sale records O-101a:
09/15 Stack's-B (Pogue Part II) PCGS MS65
07/13 Heritage (FUN-Orlando) NGC MS64
08/16 Heritage (ANA-Anaheim) PCGS MS63
01/14 Heritage (FUN-orlando) NGC MS62
08/09 Downey MBS #34 PCGS MS62