1818 O-115 R4+ Capped Bust Half Dollar
Obverse: 12
Reverse: F
O-115 R5 below, O-115a R4+ bottom.

A tough die marriage where an AU58 may be finest. Few AU survivors are available and XF examples are scarce. The later die state develops a very neat crack obverse.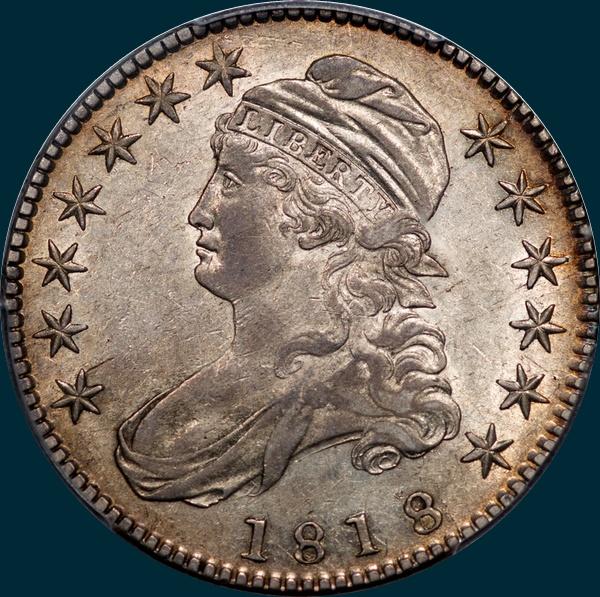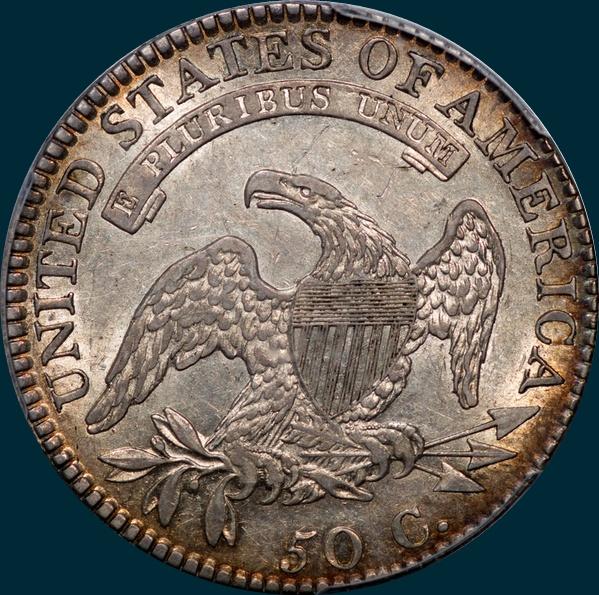 Variety Attribution O-115: Obverse- Stars are large with long points. Date is 10 1/4 mm. last 18 wider than 181. Most specimens show a die crack from edge just right of last curls.
O-115a: Die break form edge just right of last 8 to curls becomes heavier and now spans the obverse across curls andhead emerging below eye to edge across left two points of star 7. A second crack from top of last 8 curves above date and across bust into field. A third from drapery curves upward inside of first three stars, to stars 4, 5, and 6.

Reverse- 50 C. is 1 3/4 mm. with a slender 5 and rather low.. Arrow to A is 3/4 mm. Right sides D-E in line and I is centered under T.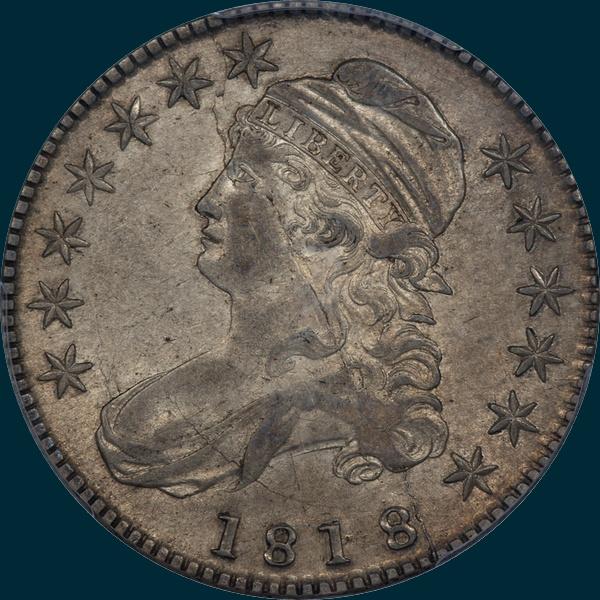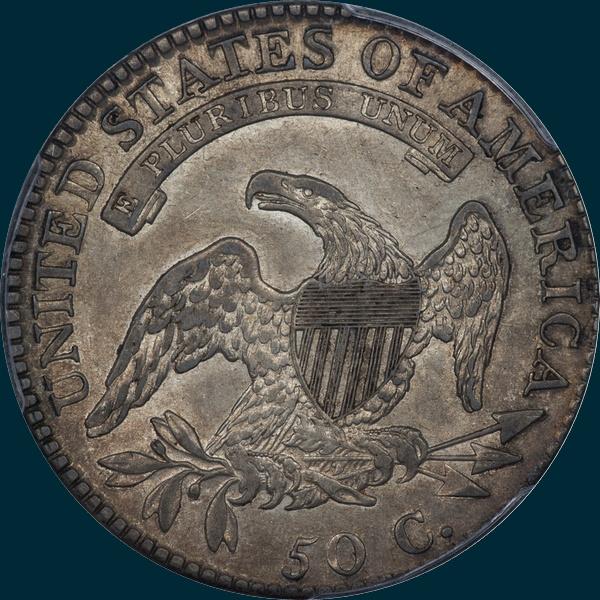 1818 Leaman-Gunnet Emission Sequence Number for O-115: 8
Overall Number: 103
Top five condition census coins from last 10 years of auction and sale records:
08/15 Downey MBS 41 PCGS AU55 (former PCGS AU53)
01/10 Stu Keen FPL AU50
07/08 Downey FPL (ANA-Meyer) PCGS XF45
02/18 Heritage (Long Beach) PCGS XF40
08/17 Heritage (ANA-Denver) PCGS VF35
Top five condition census coins from last 10 years of auction and sale records:
07/08 Downey FPL (ANA-Meyer) PCGS AU55
05/07 Heritage (CSNS-St Louis) ANACS AU53 (dipped, few marks, good luster)
08/14 Downey MBS39 (Davignon) PCGS AU50 (Frederick, Link)
11/18 Heritage (Dallas) PCGS AU50 det (quest color, Witham)
03/07 Heritage (ANA-Charlotte) ANACS AU50 det cleaned