1814 O-105 R2 Capped Bust Half Dollar
Obverse: 5
Reverse: E
O-105 R2 below, O-105a Single Leaf Variety R4 at bottom
1814's in general are tough in grades XF and above and this is no exception. Few high grade examples hit the market, though there is a decent group of MS examples with an MS66 topping the census. This marriage may be found in many different stages from an early state with no clashes to many clashes and finally the single leaf 105a variety which is more scarce.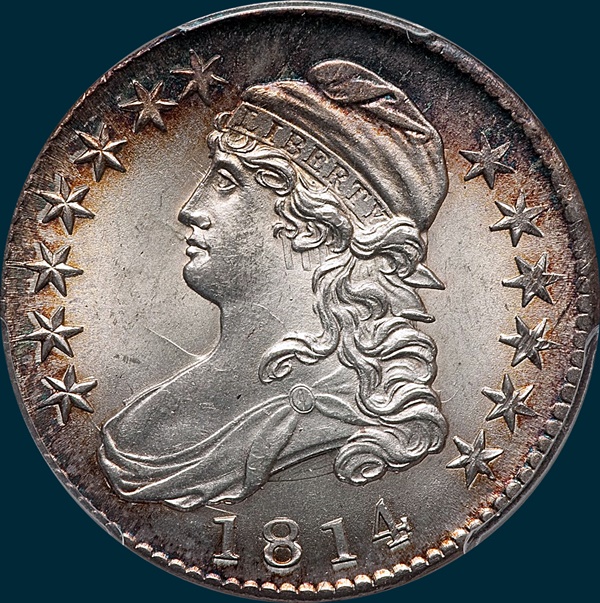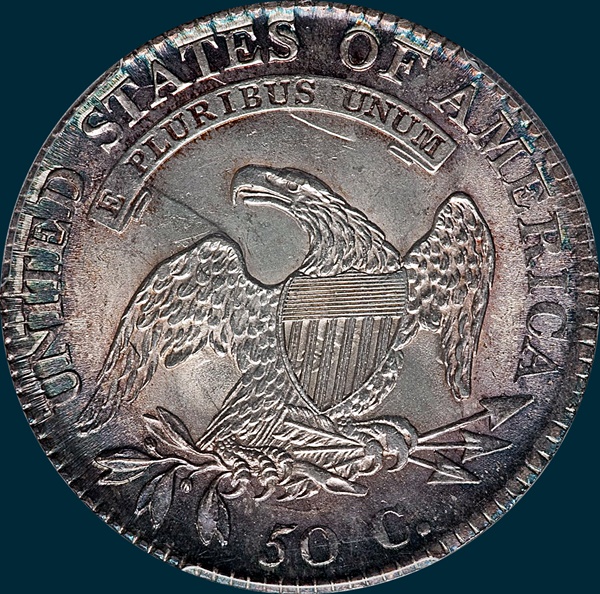 Variety Attribution: Obverse-Date is 9 1/4 mm. with broad 8 and second 1 low. three bars from stripes of shield are boldly clash marked at ear on all specimens seen. Numerous other clash marks are common to this obverse.

O-105a: The die has now been, (reground or lapped), on the high portions, removing all the old clash marks except a tiny line at front of the bust and of course the bars at ear which would not be affected.


Reverse- 50 C. is 2 mm. Arrow to A is slightly over 1/2 mm. The left side of E is centered under D and right side of T in line with left side of I. Clash lines and marks also common to this reverse.
O-105a:
The refinishing also performed on the reverse of this die marriage hasleft only a single narrow leaf in place of the normal upper pair, thus creating the famous single leaf variety (formally called three leaf). The upper berry now appears to be stemless, only a faint line is still visible with a glass. the main olive stem, left claw and edge of tail feathers are all thinner and lighter than normal.
Single Leaf Red Book Variety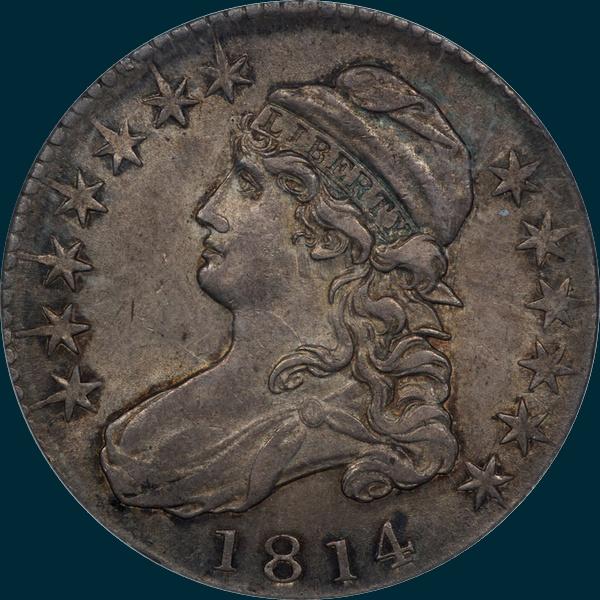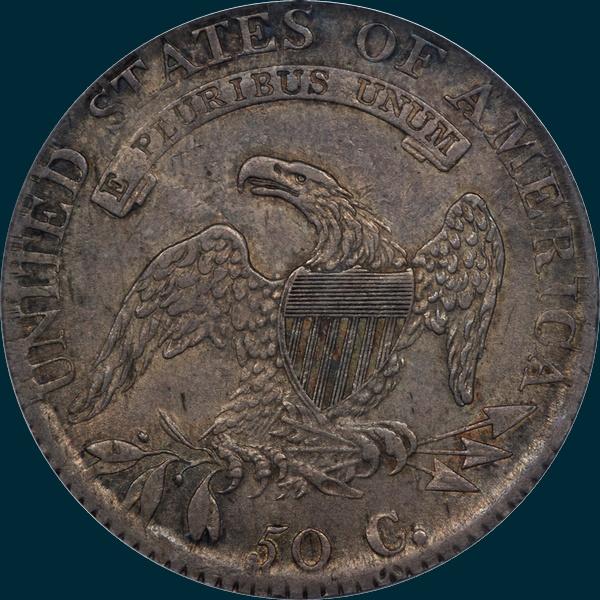 1814 Leaman-Gunnet Emission Sequence Number for O-105: 5
Overall Number: 77
Top five condition census coins from last 10 years of auction and sale records O-105:
12/15 Heritage (Houston) PCGS MS65
08/16 Heritage (ANA-Anaheim) PCGS MS64 CAC
02/16 Heritage (Long Beach) PCGS MS64 (former NGC MS63 CAC)
07/10 Heritage (FUN-Orlando) PCGS MS64
01/17 Heritage (FUN-Ft Lauderdale) PCGS MS63
Top five condition census coins from last 10 years of auction and sale records O-105a Single Leaf:

08/16 Heritage (ANA-Anaheim) NGC MS62
08/11 Downery (Solomon-Sel Rarities) PCGS MS62
​01/19 Heritage (FUN-Orlando) PCGS AU58

08/14 Downey MBS 39 (Davignon) PCGS AU55
01/11 Heritage (FUN-Tampa) PCGS AU55