1814 O-106 R4+ Capped Bust Half Dollar
Obverse: 5 (Second Marriage)
Reverse: F
O-106 R5 Below, O-106a R4+ bottom.

A tougher marriage with many clashes and a very neat die breakup reverse. There are a couple of MS later die states, topped by an MS63.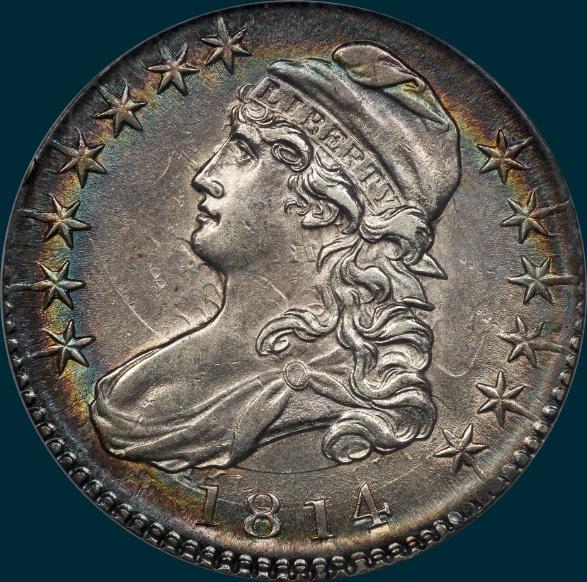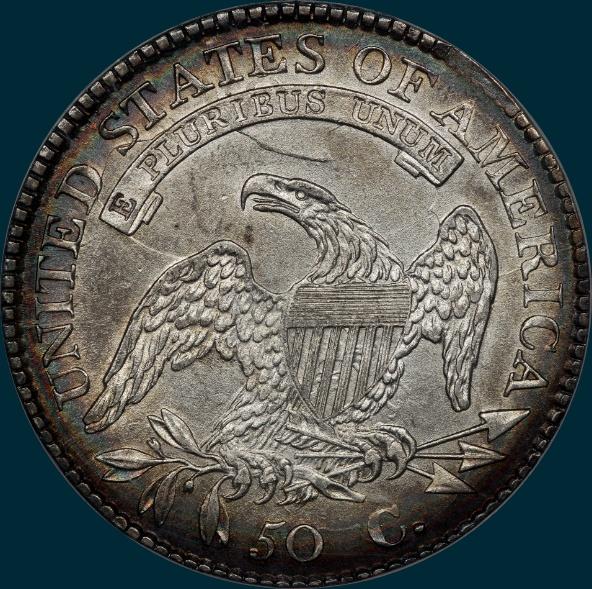 Variety Attribution O-106/O-106a: Obverse-Date is 9 1/4 mm. with broad 8 and second 1 low. three bars from stripes of shield are boldly clash marked at ear on all specimens seen. Numerous other clash marks are common to this obverse. The die has been lapped before the o-105a state. Now it has been further re-lapped. The mouth is well open and forecurl stands away from headband. A phenomina that often came about with deterioration of the die. A second group of multiple clash marks have developed, but different from the ones on the O-105. Some of the field has a mottled look, there are multiple letters under bust and additional bars at the ear.


O-106: Reverse- 50 C. is 2 1/2mm. and low. Arrow to A is 3/4 mm. Center dot between crossbars 4 and 5. Left sides of T-I are in line.

O-106a: Severe die cracks. A break from rim near left wing tip divides into two main branches, the lower break crosses leaves, top of 50 C. and arrowheads to edge near middle arrowhead. A small branch from top of C. crosses arrow points to edge above C. the other main branch crosses shield, right wing and R to edge. Still another from base of R in AMERICA to top of right wing curves under scroll.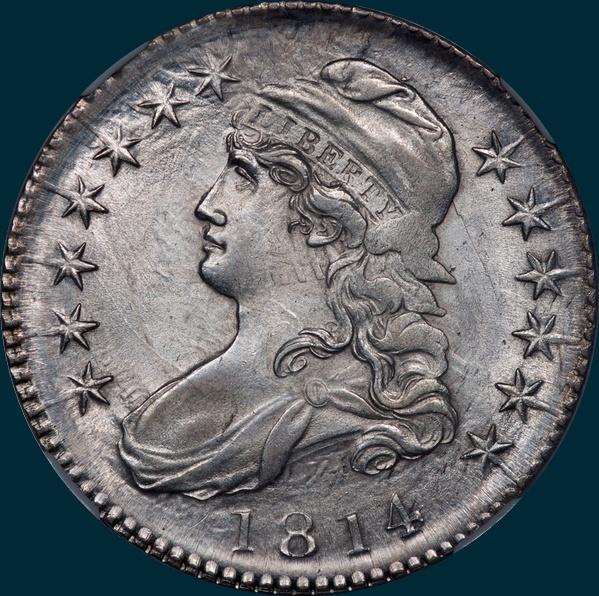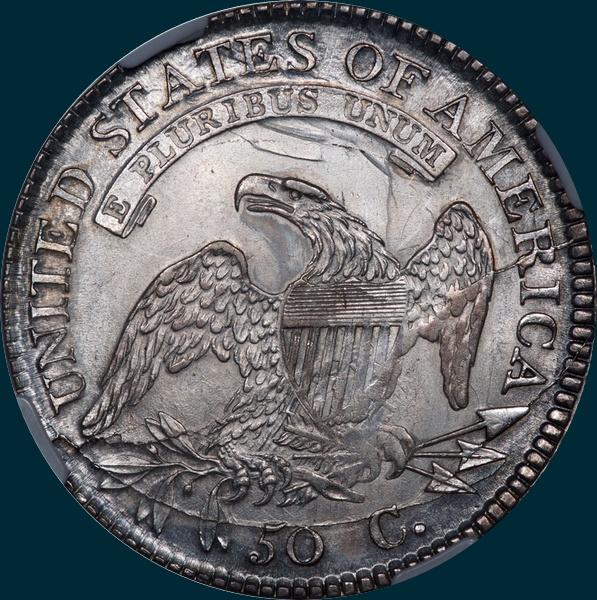 1814 Leaman-Gunnet Emission Sequence Number for O-106: 9
Overall Number: 81
Top five condition census coins from last 10 years of auction and sale records (O-106):
​​​​​​​01/20 Heritage (Downey MBS 50) PCGS AU55

08/16 Heritage (ANA-Anaheim) PCGS AU55
06/14 Downey MBS 39 (Davignon) PCGS AU55
11/19 Stack's-B (Baltimore) ANACS AU50 (Older Holder and label)
08/12 Downey MBS 36 (ANA-Philly) PCGS AU50
Top five condition census coins from last 10 years of auction and sale records (O-106a):
01/15 Downey MBS 40 (Davignon-FUN) NGC MS62
11/13 Heritage (New York) NGC MS62
07/08 Downey (Meyer-Sel Rarities) PCGS MS62
11/13 Heritage (Newman) NGC AU58 CAC
08/10 Heritage (Witham-Boston) PCGS AU58