1810 O-101 R1 Capped Bust Half Dollar
Obverse: 1
Reverse: A
O-101a (R1) is below, O-101 (R1) is at bottom
MS examples are available as well as all other grades. The finest may be a pair of MS64's. Look for the latest die states with the most pronounced cracks. The earlier die state with fewer cracks may be somewhat less common than later die states.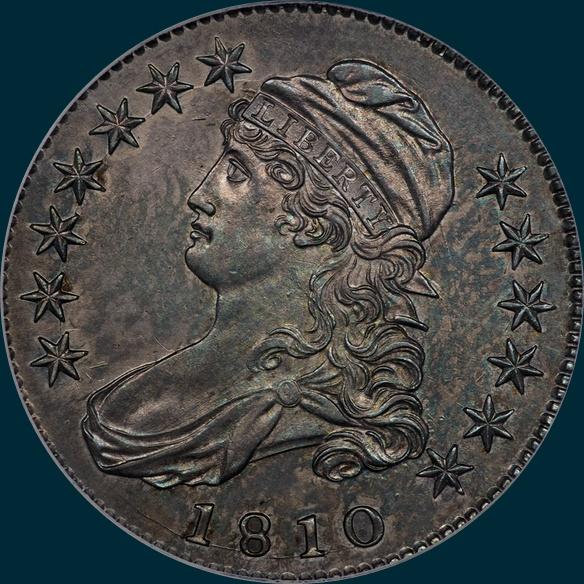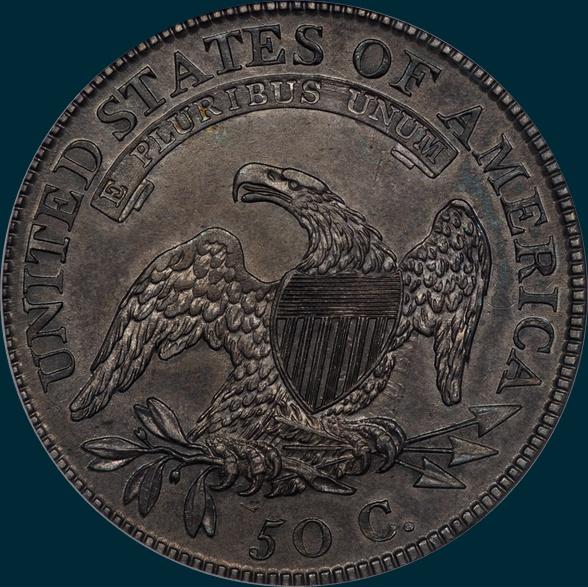 Variety Attribution: Obverse-(O-101) Star 13 nearly touches curl. Stars are sharp and well clear of the milling. Small raised dash-like marks are close to several stars. Date is 10 mm. A tiny die lump midway between zero of date and star 13. A die crack at base of date. Another joins end of bust and all stars on left. Two or more fine spear-like lines are downward from back of the cap.

O-101a At the "A" stage of die wear, the cracks are more pronounced like the above coin. The one from stars on left now crosses cap to star 8. the one at base of date extends well to left and right. A short crack from milling to star 1 and in late states this short crack becomes a heavy break. Two cracks from the top of and above the date cross the bust and join in an elongated lump near edge of drapery.

Reverse-(O-101) 50 C. is 1 3/4 mm. Arrow to A is 1/2 mm. Arrowheads well separated. Line 1 of stripe 1 extends in a fine line to the seventh crossbar. Some letters of LIBERTY are usually cross marked below right wing and stripes of shield.

O-101a A die crack form olive leaves to top of UNITE to edge above D. Another through ES. At the "A" stage as in the coin above, cracks are more extensive. The one trough ES now extends along scroll and to right wing. Another through ERICA, a third at TA. three dots and a dash below left claw.
Examples with no die cracks (Prime die state) are considered extremely rare (R7?)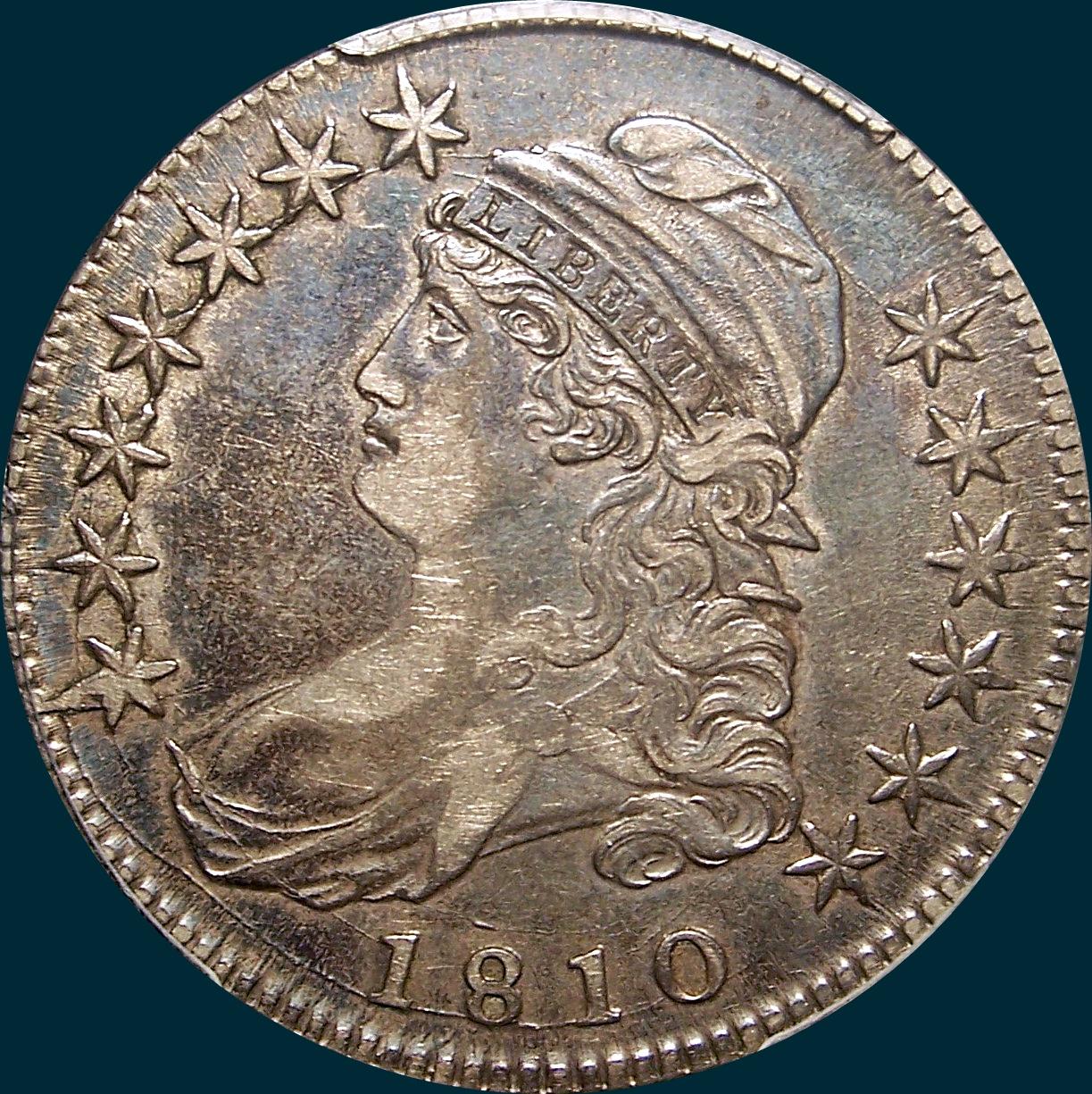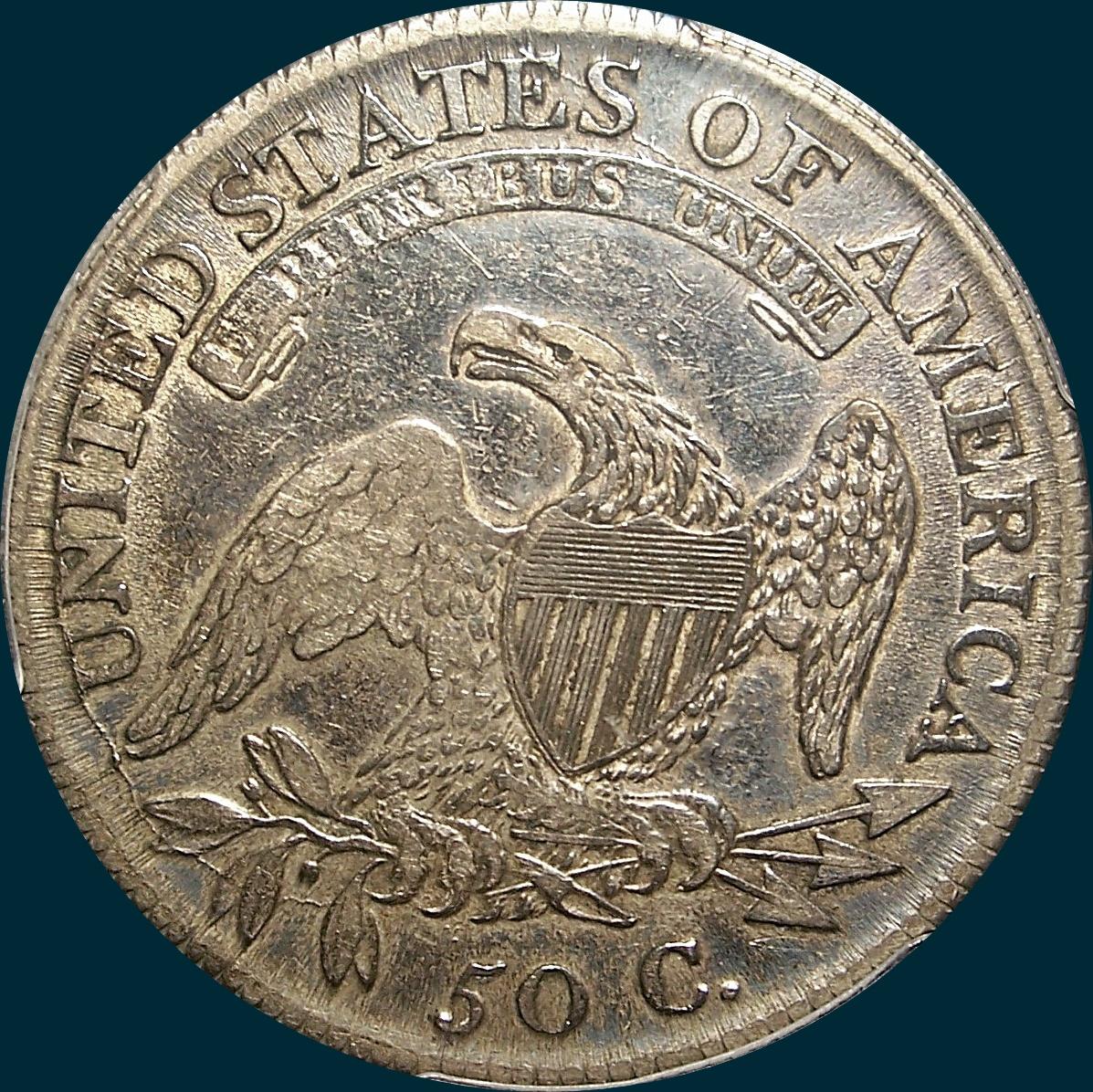 1810 Leaman-Gunnet Emission Sequence Number for O-101: 1
Overall Number: 30
Top five condition census coins from last 10 years of auction and sale records (O-101):
10/17 Legend (Regency XXXIII) PCGS MS63 CAC
08/17 Heritage (ANA-Denver) PCGS MS63 CAC
07/08 Downey FPL (ANA-Meyer) PCGS MS60
01/18 Heritage (FUN-Tampa) PCGS AU58
06/18 Heritage (Long Beach) PCGS (S) AU58 CAC
Top five condition census coins from last 10 years of auction and sale records (O-101a):
09/16 Heritage (Long Beach) PCGS MS63
06/14 Heritage (Gardner-New York) NGC MS63
01/12 Heritage (FUN-Orlando) NGC MS63
08/15 Stack's-B (ANA-Chicago) NGC MS62
02/19 Heritage (Long Beach) PCGS AU58 CAC