1806 O-125 R5 Draped Bust Half Dollar
Obverse: 5
Reverse: T
O-125 R5 below, O-125a R5 at bottom
I tend to think this one to way be more tough than an R5, with 24 appearances counted, and far fewer 125a's, this is a very tough marriage with but a single problem free AU example (58). Over half that have appeared the past 15 or so years have issues. This may be an R6- or R5+, with the 125a being a high R6 or low R7. Just speculating of course, and time shall tell!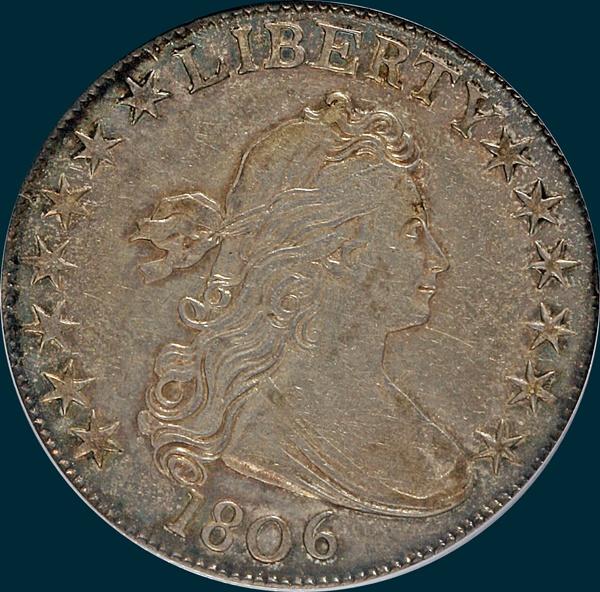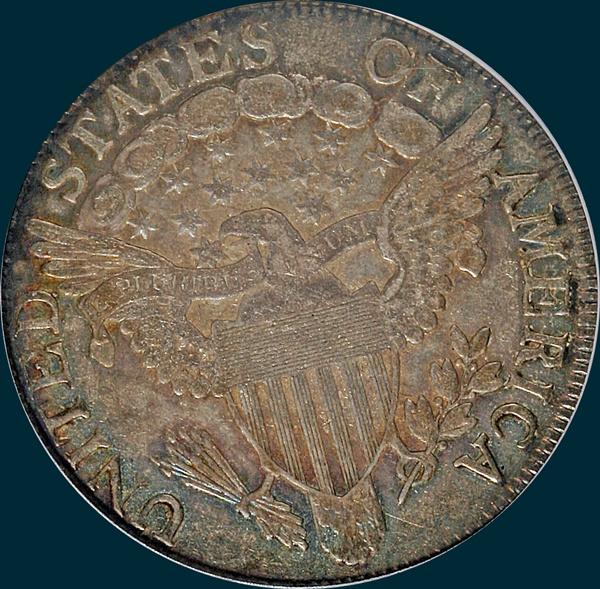 Variety Attribution: Obverse-Stars are sharp pointed and close to milling. Date is 8 1/2 mm. and large, with 6 higher than 180. 1 close to curl. Spikelike segment between star 7 and L, a similar one between L and I is closer to I. Some specimens begin to show a die crack at base of 180 and like many of these early halves may or may not show various clash marks.

O-125: Reverse-5 berries all with stems, the two center ones touch leaves above. Point of leaf close under right base of I. Star point attached to beak just above point of same. A2 clear of both feathers and M. A fine die crack from milling joins right side of O in OF with small lump and extends through clouds into stars.
O-125a: Die crack though O in OF develops into a break with chips connecting break to side of O. Another crack from right side of M to ribbon to right wing across wing to eagles head. Another from edge through D to fourth feather of left wing. Another from D tbrough NITE to arrow tips. Another crack through ER to top of olive leaves..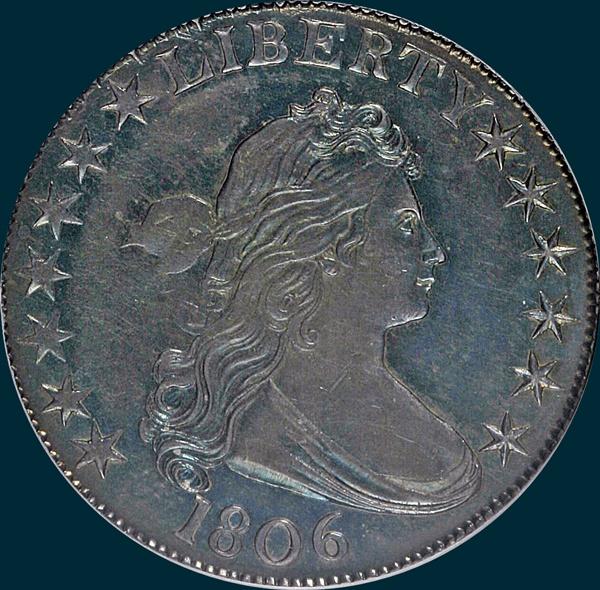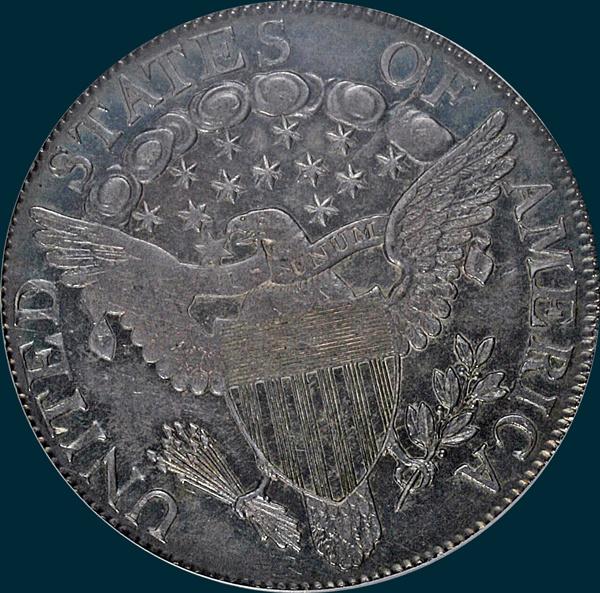 1806 Leaman-Gunnet Emission Sequence Number for O-125: 14
Top five condition census coins from last 10 years of auction and sale records (O-125):
07/09 Stack's (SS NY Los Angeles) PCGS XF45
01/19 Heritage (FUN-Orlando) NGC XF40
03/18 Stacks-B (Baltimore) NGC XF Det (whizzed, Sutton Court, Tompkins' Plate coin)
02/18 Heritage (Long Beach)
PCGS VF35
10/10 Heritage (Coinfest-Stamford) NGC F12 details (cleaned)
Top five condition census coins from last 10 years of auction and sale records (O-125a):
01/08 Heritage (FUN-Orlando) PCGS AU58 (Semi-Prooflike)
03/09 B&M (ANA-Portland) AU55 det (lightly cleaned, few scrapes obv)
07/08 Heritage (ANA-baltimore) NCS AU50 (Pair of heavy scratches obv, light clean)
11/19 Stack's-B (Baltimore) PCGS (S) F12
01/18 Heritage (Internet) PCGS F12 Det (cleaned)