1806 O-108 R7 Draped Bust Half Dollar
Obverse: 4
Reverse: F
7-8 Known. An XF40 leads the way with this marriage being pretty much impossible to obtain in any condition. The reverse die broke up early in its life, or perhaps a large quantity of these were sent someplace together and lost to history.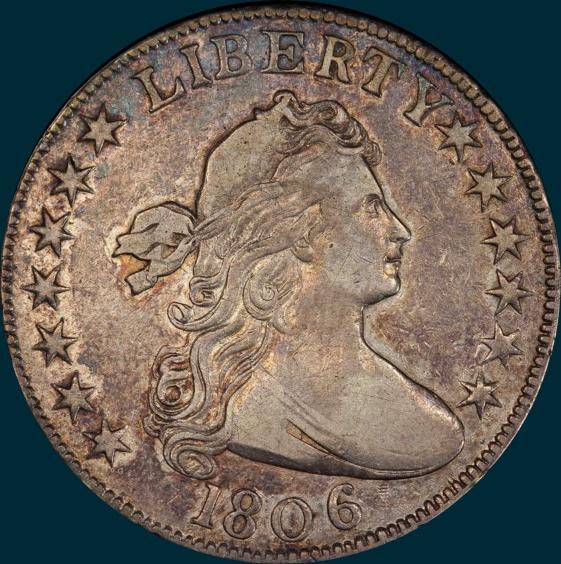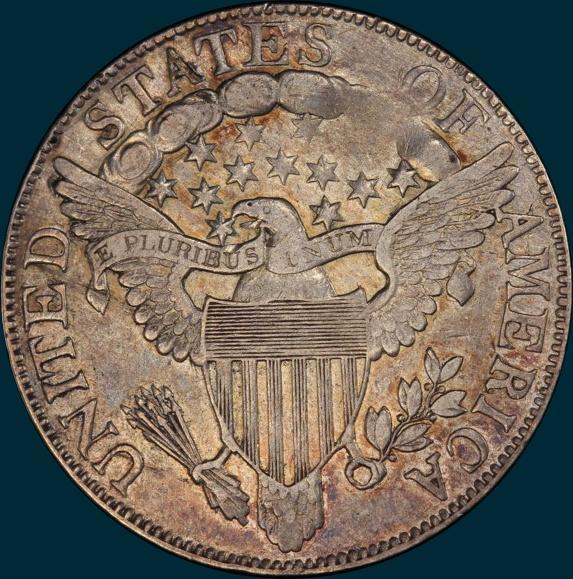 Variety Attribution: Obverse-Sharp pointed small stars are clear of milling. Star 7 is 1 1/2 mm. from L and star 13 is a close 1/4 mm. to bust. Date is 9 mm., evenly spaced and high, I nearly touching curl, 6 is rather high and slender, with a taller and more open top than most of the knobbed variety. Center dot in hair. Some specimens show a wavy die crack from stars around top of LIBERTY to star 11.

Reverse-Olive stem does not extend through eagle's claw. The only knobbed 6 variety found with this type reverse. 5 berries, 3 below the branch, the lowest of which has a very short stem and the two upper ones long stems. Leaf points to right base of I. AME touch or nearly so at base. Serif of A embedded in third feather but clear of fourth feather. A die crack joins top of UNITED which on late die states develops a cud. Weak spot in clouds below OF.
1806 Leaman-Gunnet Emission Sequence Number for O-108: 1
Top five condition census coins from last 10 years of auction and sale records:
05/15 Stack's-B (Pogue-New York) PCGS XF40
​​​​​​​11/19 Stack's-B (Baltimore) PCGS (S) VF35 (OGH)

01/18 Heritage (FUN-Tampa) PCGS VF20 Det (Cleaned)
02/18 Heritage (Long Beach)
PCGS F12
08/17 Downey MBS 45 (ANA-Denver) PCGS VG8 ("a" model with cud top UNITE)