1805/4 (5 over 4) O-103 R5+ Draped Bust Half Dollar
Obverse 2
Reverse C (Second Marriage)
O-103 R5+ below, O-103a R5+ at bottom, O-103b R6 (break complete, may not exist) pics needed

Perhaps the most pronounced of the overdates in the Bust Half world. Not many were produced prior to the die breaking up, but with the look of that 5/4, if you get one of these you will be hard pressed to give it up! The finest known are just a couple of AU55's.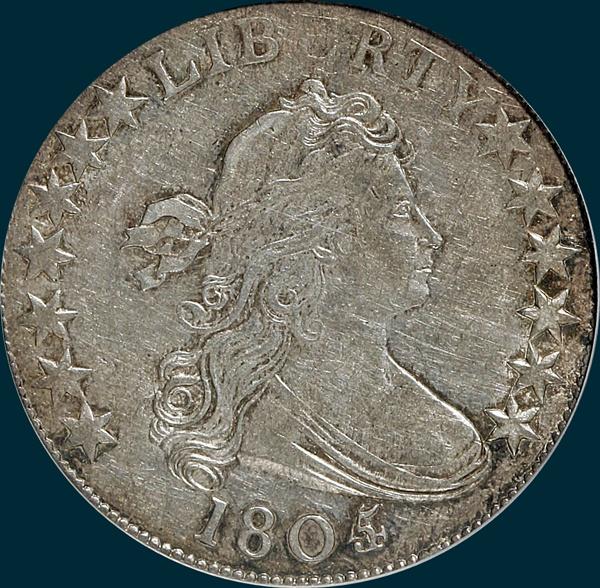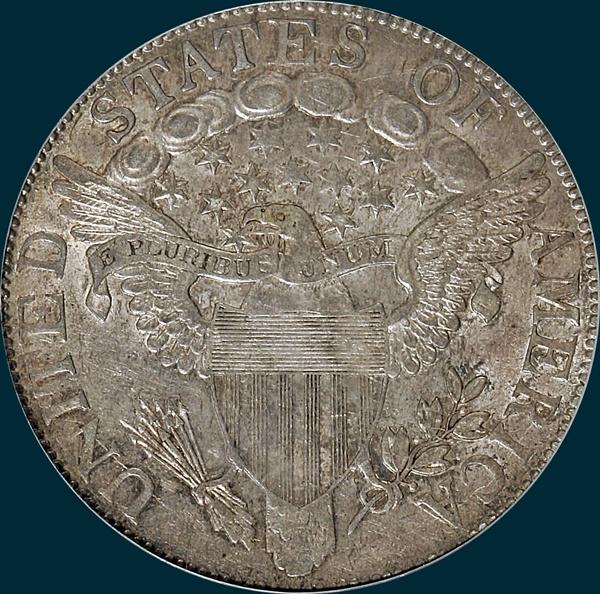 Variety Attribution O-103: Obverse- Point of star 13 is close to upper edge of bust near fold of drapery. Stars are flat and BE in LIBERTY weak. Date a wide 9 1/2 mm. from 1 to crossbar of 4. This over-date easily recognized because 1 does not touch lower curl, or star 1 star 1 second curl as they do on obverse 1. A faint die crack from nose extends upward to edge between Y and star 8.
O-103a: The die crack from nose becomes heavier and extends from edge to nose and across bust to curls and splits to form a triangular break from a loosening flake on the die, from the edge below star 1 covering all of star 1 and 3/4 of star 2 and converging to an apex at the curls. this flake causing all of star 1 and the covered portion of star 2 to be weak.
O-103b: The triangular flake has now broken entirely out of the die, completely oblitering star 1 and all but rwo upper points of star 2.


Reverse-4 berries on olive breanch, three below have long stems and one above no stem. 13 arrows, second arrowhead below right stand of N, ME joined at base. Eagle's beak comes down on upper side of star point. Right base of F missing. Leaf nearly touches base of I just right of center.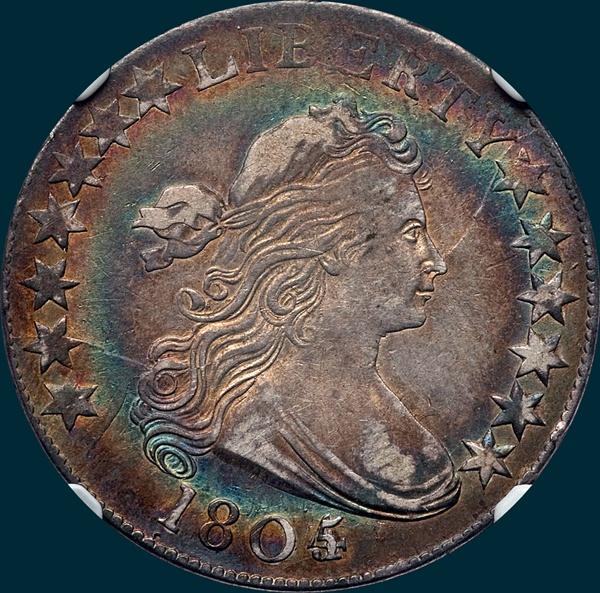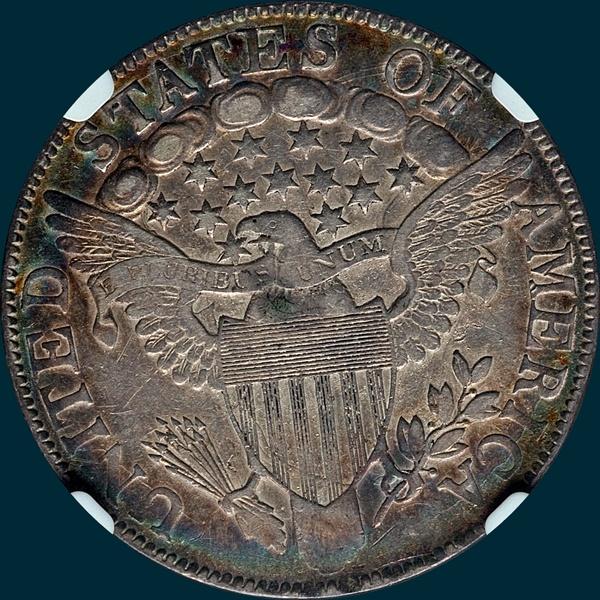 1805 Emission Sequence Number for O-103: 11 (based on O-114 being 8th)
Top five condition census coins from last 10 years of auction and sale records (O-103):
01/19 Heritage (FUN-Orlando) NGC XF40 (Scattered small marks)
11/08 B&M (Gladstone-Baltimore) NGC XF40
01/18 Heritage (FUN-Tampa) PCGS VF35
08/09 B&M (ANA-Los Angeles) PCGS VF25
07/08 Downey FPL (ANA-Meyer) PCGS VF20
Top five condition census coins from last 10 years of auction and sale records (O-103a):
11/13 Heritage (Newman-New York) NGC AU55 CAC
03/16 Stack's-B (Baltimore Rarities) PCGS XF40
09/10 Stack's (Americana-Philadelphia) XF40 det (small areas tooling obv, rev)
11/19 Stack's-B (Nov Baltimore) PCGS (S) VF20
11/19 Stack's-B (Baltimore) PCGS (S) VF20 det (Edge damage)
​
Top five condition census coins from last 10 years of auction and sale records (O-103b, complete break):
07/08 Downey FPL (ANA-Meyer) PCGS VF10
05/06 Stack's (May Sale) VG10 det (Old light clean)
08/13 Stack's-B (ANA-Chicago) PCGS VG08
11/19 Stack's-B (Baltimore) PCGS (S) G04