1806 O-103 6 over 5 R? Draped Bust Half Dollar
Obverse 1 (Third Marriage)
Reverse C
O-103a (Late die state with both cracks) is below, with the O-103 early die state at bottom. There is an IDS as well with only an obverse crack.
NGC Graded VF35. This Die State is listed as an R2, yet it rarely appears for sale or in auctions. My thinking is that it is more of an R5, as there seem to be a countable number of these available. The below coin seems to be the 2nd best example to appear in the last 10 years. The pics exaggerate the orange whatever it is. The black on the reverse appears to be some sort of substance on the coins surface. There is a temptation to give this one an acetone bath, but who knows what would happen, and as is the coin has a story all its own. Neat heavy cracks at the curls obverse and at the star field reverse through the cloud. Another interesting note about this coin is its illegible edge, and the O-101 posted and minted just before this one also has an illegible edge.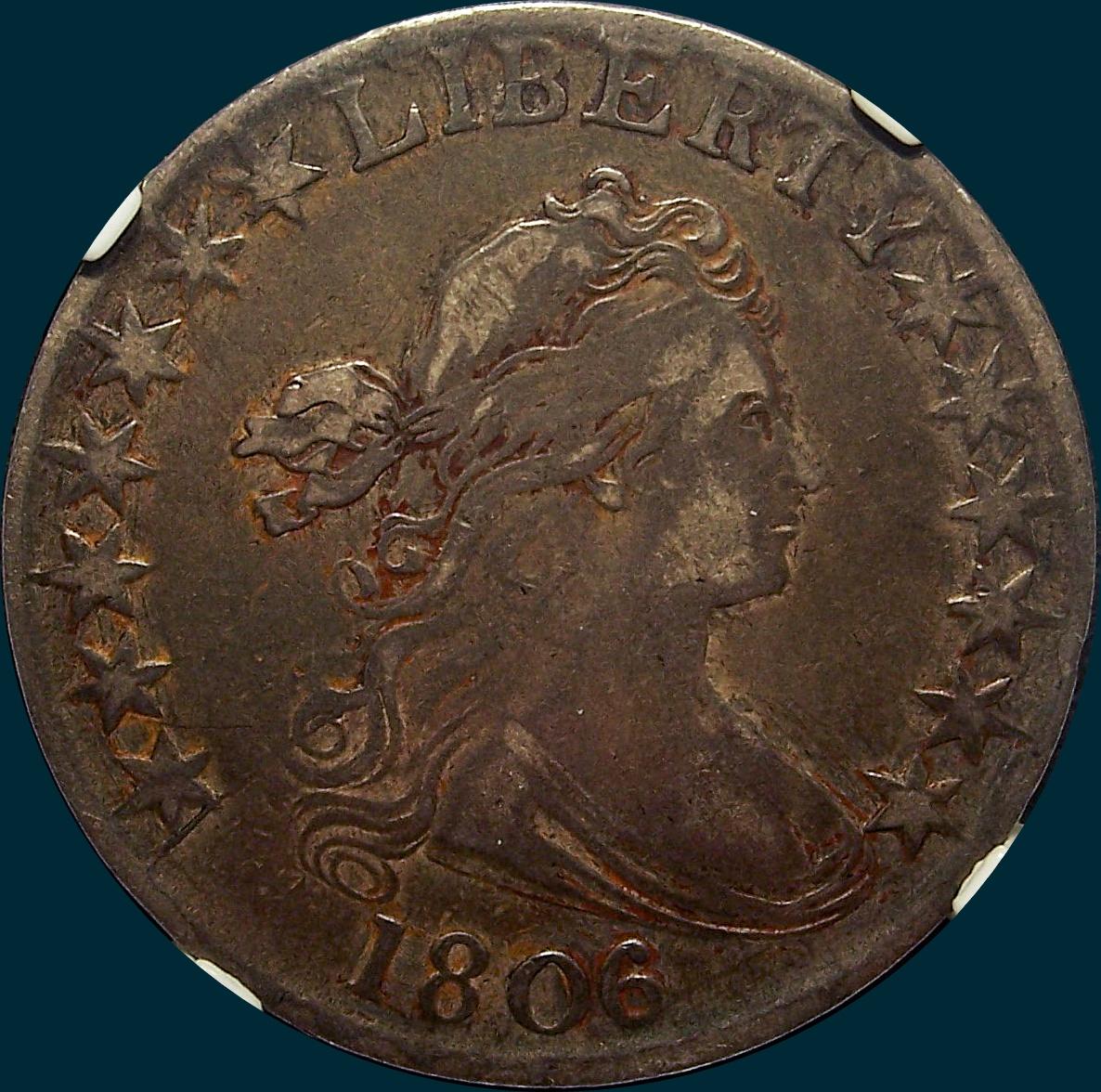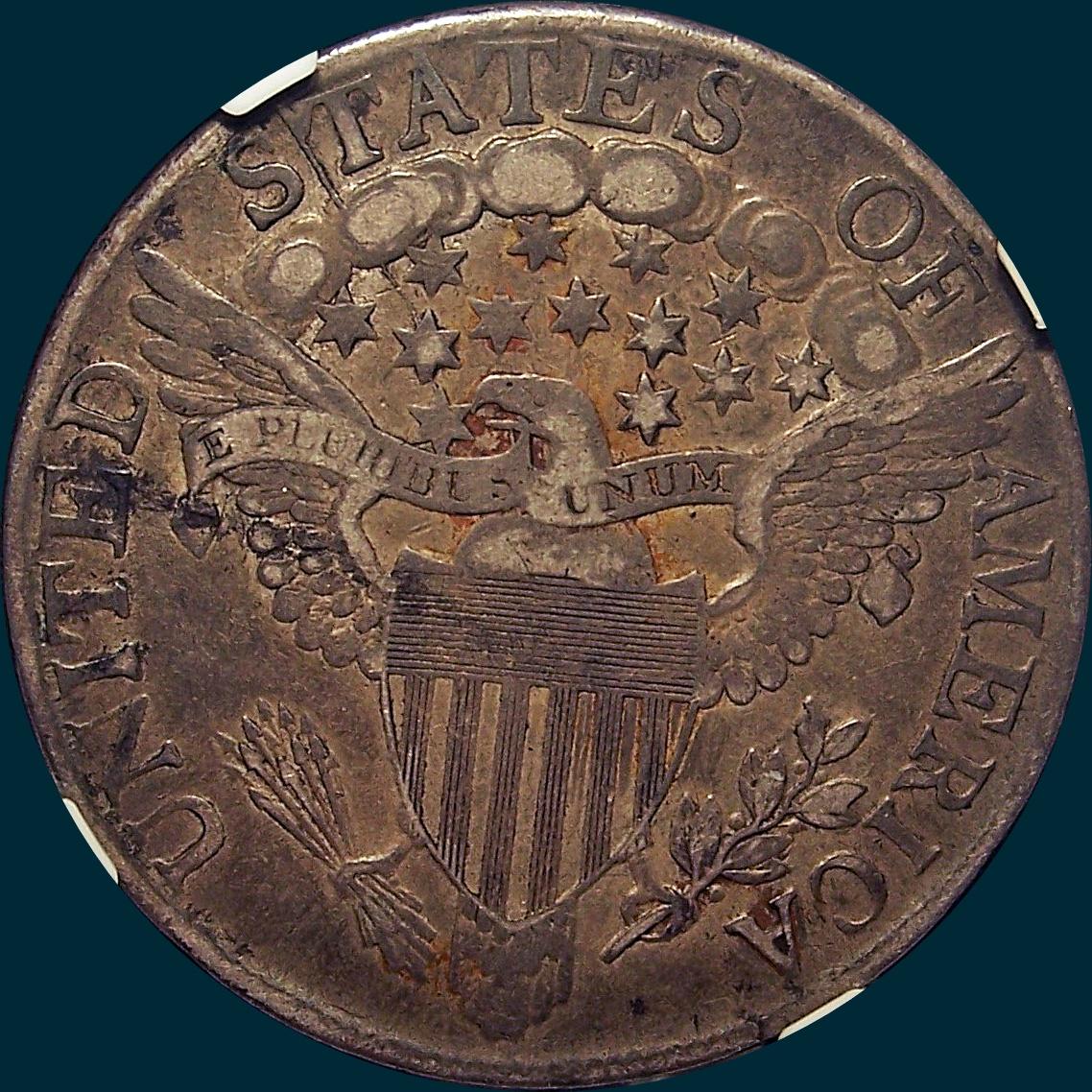 Variety Attribution: Obverse-1806 over 5. Stars are large and star 12 is recut with a broken point near highest point of star 13. Date is 9 mm. with 06 very close and 0 recut. Top of 5 visible near top of 6. Most specimens show a die crack from edge above Y to top of T and from edge above L to star 7. Star 13 joined to bust. Some specimens in the marriage show little or no milling and there is now a heavy die crack from rim through star 1 to curls.

Reverse-O-103: Narrow milling. Point of star attached to beak. 5 berries, only the lower two below branch have stems. Point of leaf vert close to lower right base of I practically touching same. Right base of F missing. Die lump under right side of R in AMERICA.

O-103a: Straight crack from rim between ST to middle star at left.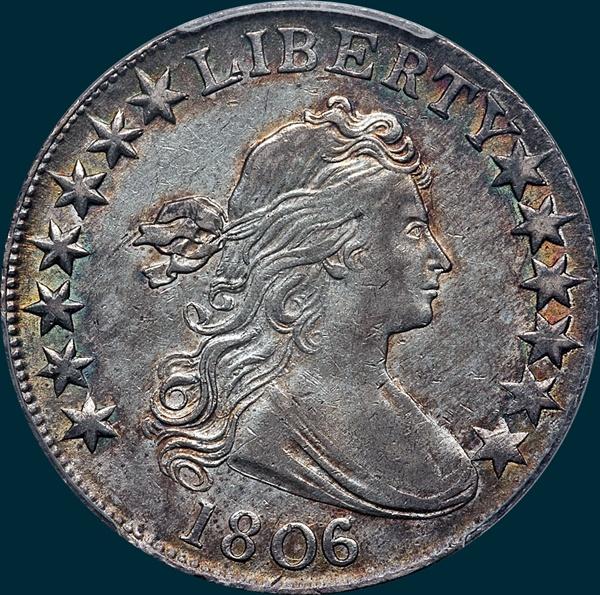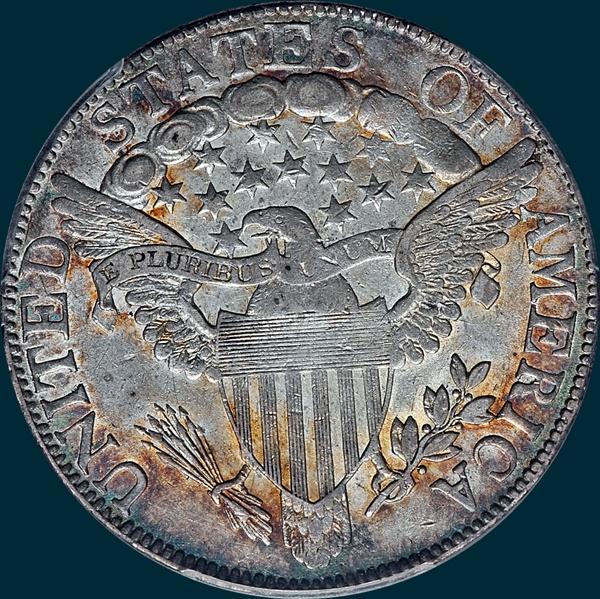 The edge (from the O-103a at top):





1806 Leaman-Gunnet Emission Sequence Number for O-103: 8
Top five condition census coins from last 10 years of auction and sale records (O-103):
03/10 DLRC (Picky Collection) NGC MS62
06/19 Heritage (FUN-Orlando) PCGS (S) MS61 ( Friend)
​​​​​​​06/19 Heritage (Legend Regency XXXIII) PCGS (S) AU58 CAC
01/16 Heritage (FUN-Tampa) NGC AU58
02/14 Heritage (Atlanta) NGC AU58 CAC
Top five condition census coins from last 10 years of auction and sale records (O-103a):
08/19 Downey (MBS 49) PCGS AU55
02/19 Stack's-B (Baltimore) PCGS (S) XF details (Repaired)
01/14 Heritage (FUN-Orlando) NGC VF35 (Above coin, Unattributed)
​​​​​​​01/20 Heritage (Downey MBS 50) PCGS VF30

02/18 Heritage (Long Beach)
PCGS (S) VF30