1810 O-106 R3 Capped Bust Half Dollar
Reverse: 5
Obverse: F
O-106 (Prime) R4 is below, O-106a R3 at bottom.
My count for problem free AU and MS appearances total 11 for the past 10 years. The Eliasberg example is finest at MS66 (now ten years since it appeared). This one does make my toughest R3 list.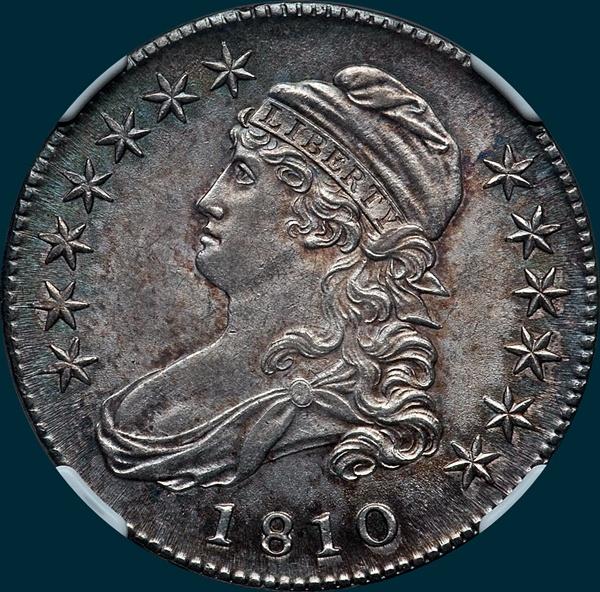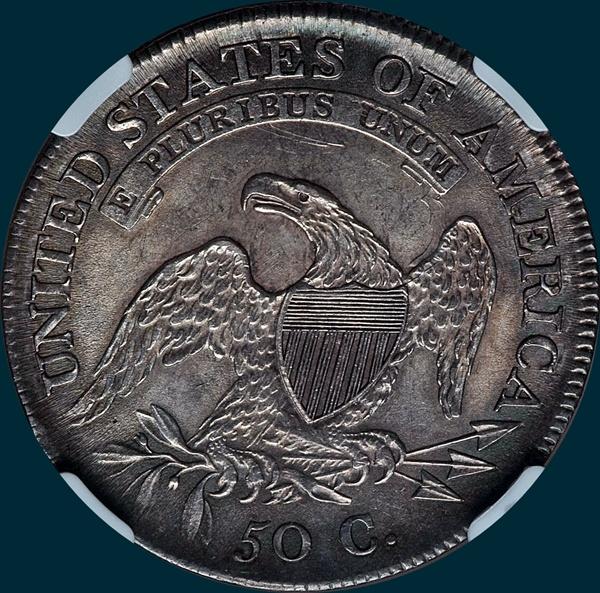 Variety Attribution O-106: Obverse- Stars large, Star 1 is 1 1/4 mm. from Drapery upper forecurl stands clear of headband. mouth broad and open. Date is 9 3/4 mm. with small figures, wide spaced and well centered. 18 wider than 810.

O-106a: Rim now flattened. This happened in the minting process, apparently something lodged in the die and, whatever it was, it moved, as the rim flattening appears in several different positions. It has been observed near stars 1, 5-6, 6-7, 11-12-13 and it no doubt occurs in other positions. Some specialists and reasearchers believe that this problem with flattened areas on the obverse and reverse rims or segment areas of the coin was caused by the edge lettering machinery. A subject worthy of further research.

O-106 Reverse-50. C. is 1 1/2 mm. Arrow to A is 1/2 mm. A long die line slants straight up into right wing, from corner of shield. the two inner leaves, of the two center pairs, are missing except for a thin line of each.

O-106a: Flat rim areas have been observed near leaves, oF, TED, CA.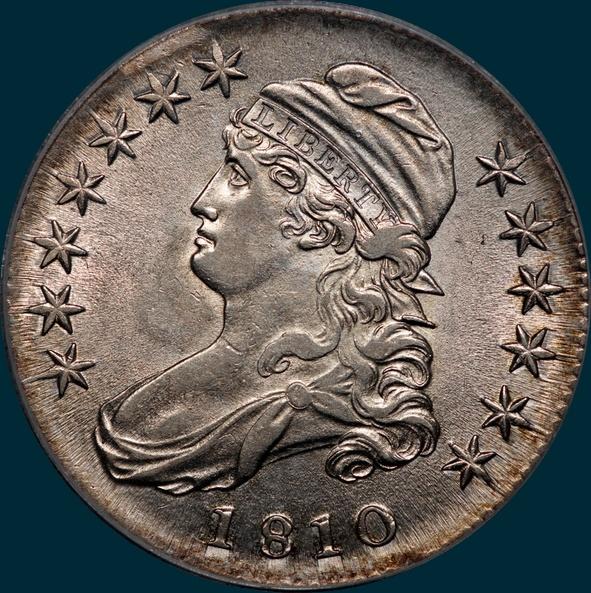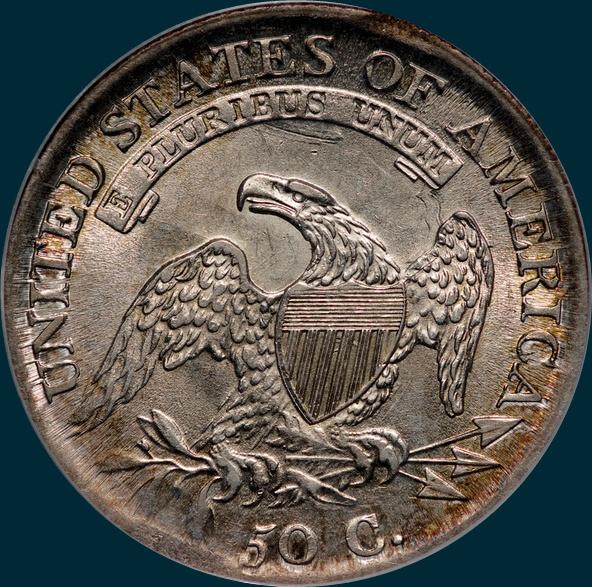 1810 Leaman-Gunnet Emission Sequence Number for O-106: 5
Overall Number: 34
Top five condition census coins from last 10 years of auction and sale records (O-106):
09/13 Heritage (Long Beach) NGC MS62
11/11 Heritage (Beverly Hills) NGC AU55
08/09 Downey MBS34 (Meyer-Bakke) PCGS AU55 Det cleaned
​08/18 Downey MBS47 (ANA-Philly) PCGS AU53 (Cape Cod)
01/20 Heritage (Downey MBS 50) PCGS AU50 CAC
Top five condition census coins from last 10 years of auction and sale records (O-106a):
06/08 Heritage (FUN-W Palm Beach) NGC MS66
04/17 Heritage (Dallas) PCGS MS63
04/17 Heritage (Dallas) PCGS AU58
01/14 Downey MBS 38 (Davignon) PCGS AU58
06/18 Heritage (Lo9ng Beach) PCGS AU55