1806 O-118 R3 Draped Bust Half Dollar
Obverse: 10
Reverse: N
O-118 R3 is below, O-118a R3 is at bottom

At a glance, I would say that the 118a is a bit more common than the 118 early die state. There is a group of higher grade examples of each state though, and I would not be surprised if either the 118 die state was R4 or overall the rarity rating was an R2. The recent appearance (or re-appearance if you would) of the Eliasberg MS65 from the Pogue collection represents the finest of the lot.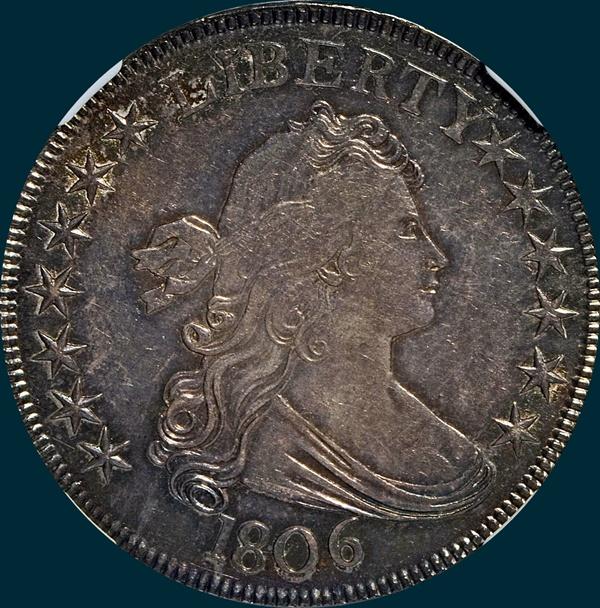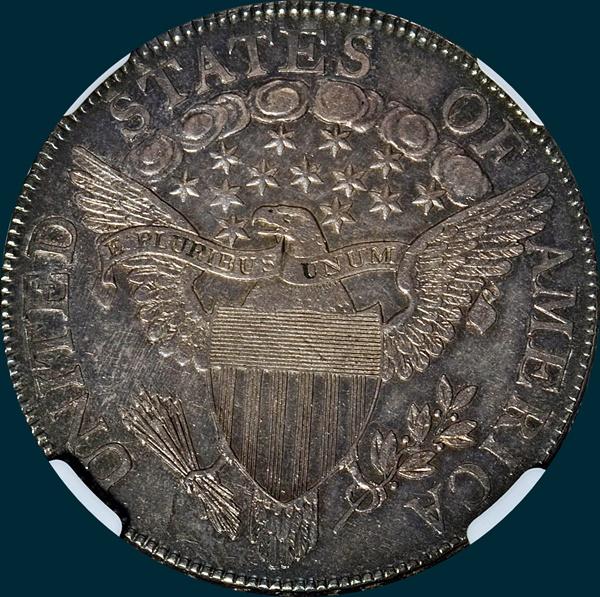 Variety Attribution: Obverse-All stars have sharp points. S7 is 1 mm. from L. Star 8 is only 1/2 mm.from Y and Star 13 is 1/2 mm from bust. Date is a close 7 3/4 mm. and high. 1 and 6 nearly touch curl and bust. Y recut at left side.


O-118: Reverse-5 berries, all with stems, the four upper ones quite long and loest one short. Leaf point under right base of I. Star point is close to front of eagle's beak. AM joined at base. Left base of A is close to third feather but does not touch it or the fourth feather. Some show a light crack from edge through O.

O-118a: Die is badly broken. The die crack through O is much heavier with a patch broken out inside of O and extends across clouds to stars. Another from 2 stars crosses eafle's neck, shield, arrows and to milling below left claw. Two or three other cracks in stars and across arrow shafts. Another crack from milling above N connects ITED at top, crosses tip of wing, joins STAT and to milling above E. A small piece broken from die at top of I and short lines top of T in UNITED and milling.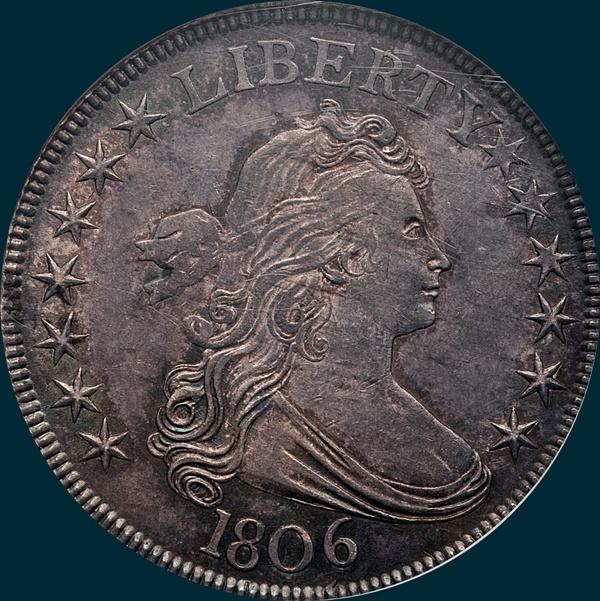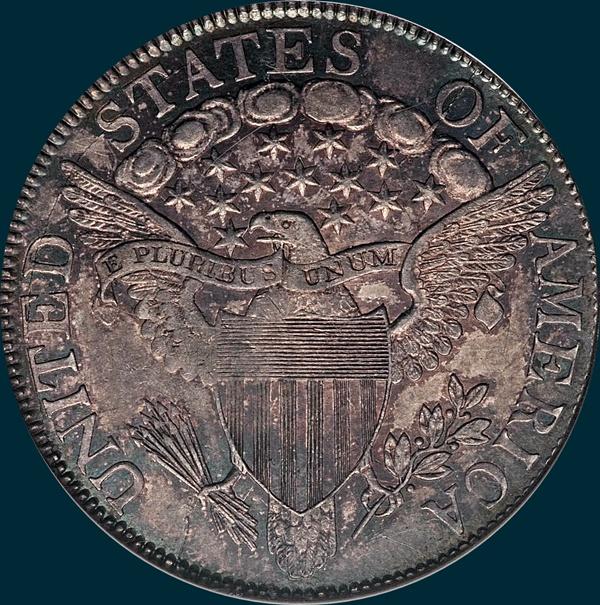 1806 Leaman-Gunnet Emission Sequence Number for O-118: 21
Top five condition census coins from last 10 years of auction and sale records (O-118):
11/19 Stack's-B (Baltimore Rarities PCGS (S) MS62
01/10 Heritage (FUN-Orlando) NGC MS62
09/08 Downey FPL (ANA-Meyer) PCGS AU58
02/12 Heritage (Long Beach) NGC AU50 (Very old Fattie holder)
06/17 Heritage (Long Beach) PCGS XF45
Top five condition census coins from last 10 years of auction and sale records (O-118a):
01/19 Heritage (FUN-Orlando) PCGS (S) MS65 CAC (Eliasberg, Pogue, Friend)
09/14 Goldberg (Pre-Long Beach) NGC MS64
​​​​​​​04/20 Heritage (CNST-Dallas) PCGS MS62

​09/18 Heritage (Long Beach) PCGS (S) MS62
06/16 Heritage (Long Beach) ANACS MS61