1828 O-105 R5, Curl Base No Knob 2, Capped Bust Half Dollar
Obverse: 2 (Third Marriage)
Reverse: F (Second Marriage)

A handful of higher grade examples led by an MS62 top the census, but this one rarely appears for sale and commands a healthy premium. Look for specimens to appear on specialist fixed price lists...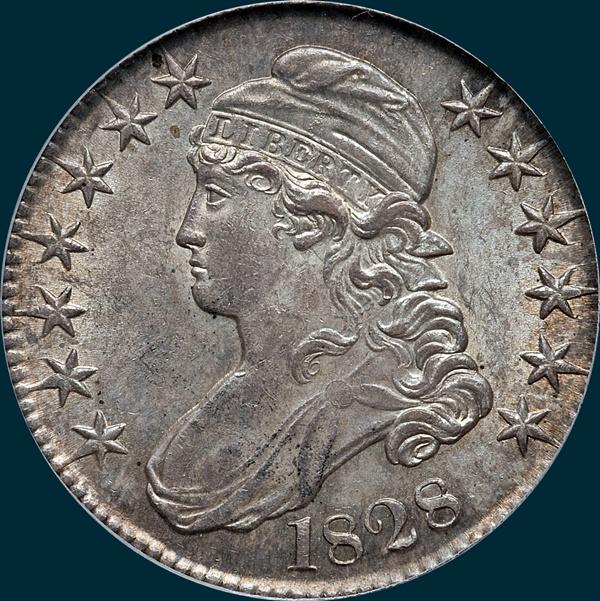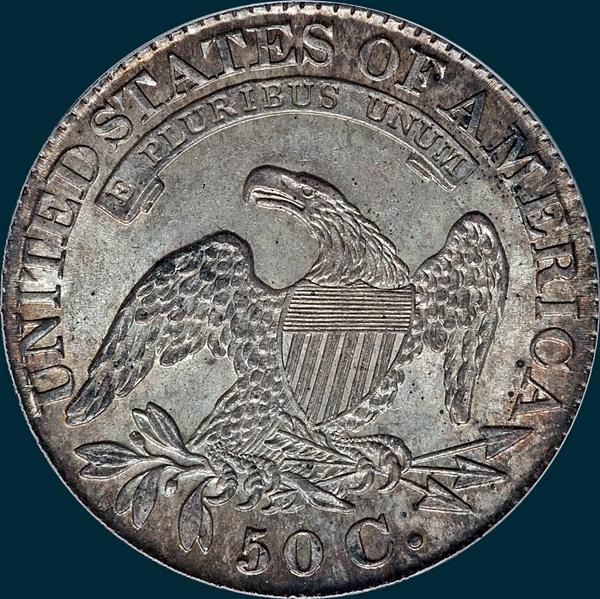 Variety Attribution: Obverse-Stars are large, star 13 is 1/4 mm. from curl. Date is 9 mm, and a shade high. Curled 2 and large 8's with slender lines (thinner than previously used on Obverse 1.) 2 has a large open curl. Die beginning to show wear, stars drawn to edge.
Reverse- 50 C. is 1 1/4 mm. and high. Arrow to A is 1/4 mm. Right side of T and left side of I in line. he center line of stripe 2 and fist 2 lines of stripe 6 extend distinctly to crossbar 2. A few other lines penetrate left under olive leaves, U in UNITED recut and very close, 1/4 mm., to left wing. Centerline of stripe 3 extends below shield.
1828 Leaman-Gunnet Emission Sequence Number for O-105: 6
Overall Number: 275
Top five condition census coins from last 10 years of auction and sale records:
08/10 Heritage (Witham-Boston) PCGS MS62

​10/18 Heritage (Chicago) PCGS AU58

01/17 Downey MBS 44 PCGS AU58 CAC
01/17 Downey MBS 44 PCGS AU55 CAC
08/15 Downey MBS 41 PCGS AU55 CAC