1827 O-112 R3 Capped Bust Half Dollar
Obverse: 8
Reverse: K (Second Marriage)

O-112 R3 below, O-112a R4 at bottom

There is a decent group of AU and MS coins available, with the 112a die state being much less common. The finest is an MS66.

NGC Graded XF45. Another nice old barn find. Crusty and original, and someone tried removing a spot on the reverse to see what was under it and found untoned silver!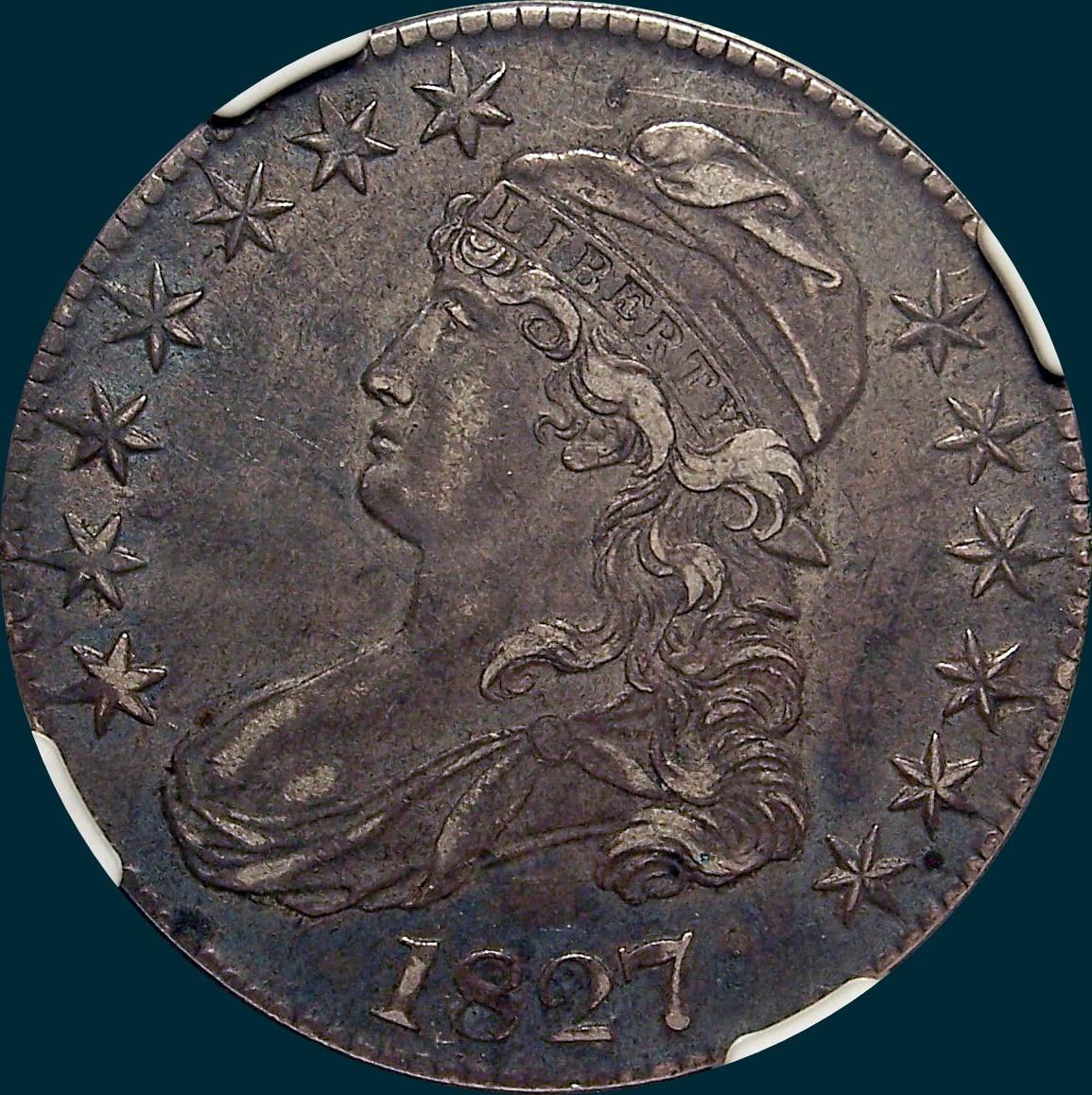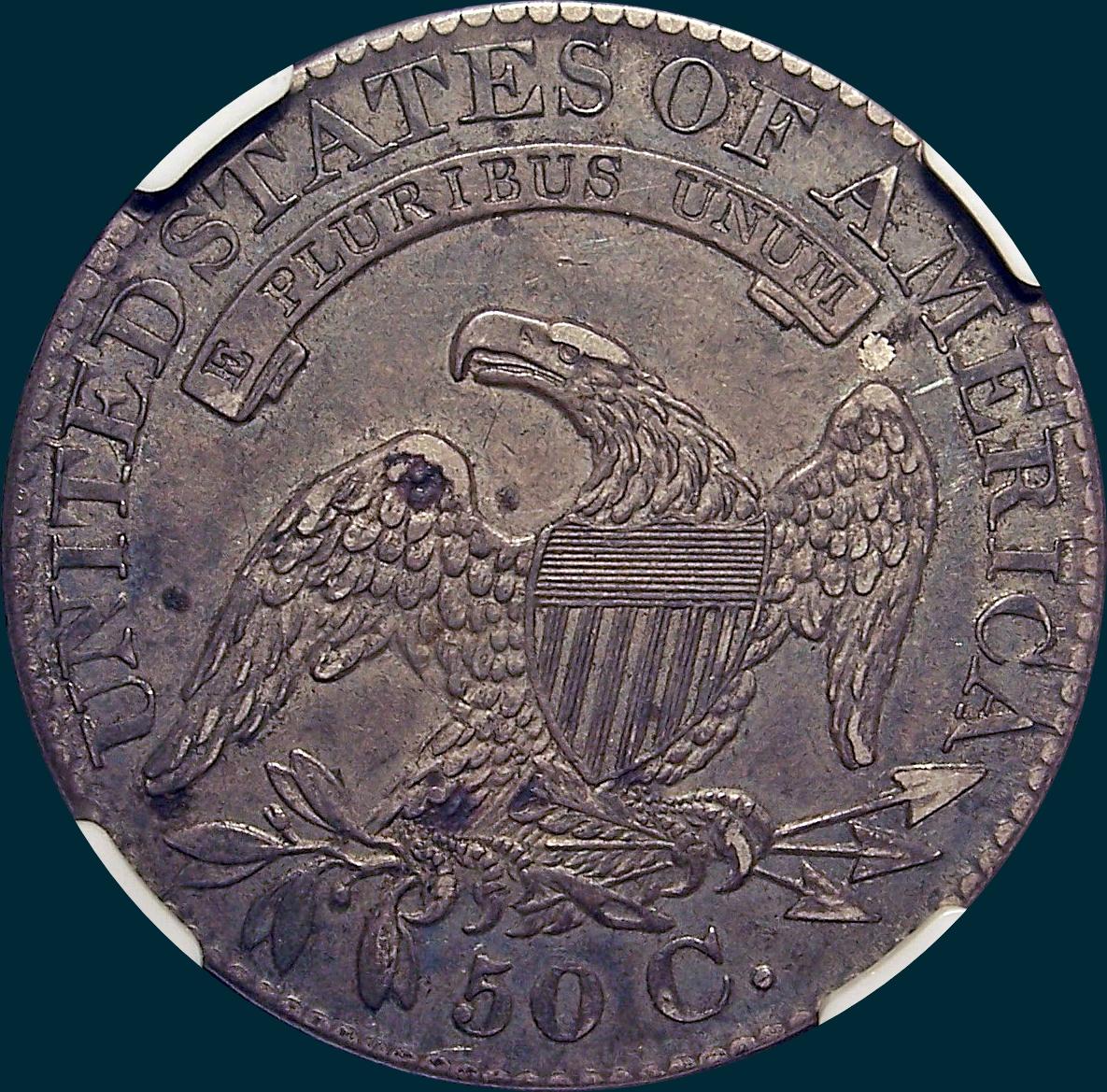 Variety Attribution: Obverse-Star 13 3/4 mm. from Curl. Stars are close to milling and those on right are sharper than the ones on left. Date is 8 1/4mm, and well centered.Mouth Slightly open.

O-112a: There are two vertical die cracks, one from edge below date, that runs up between 82 into the bust, the other from edge between 7 and star 13 runs up into the curls.

Reverse- AT joined at base, ED very close. 50 C. is 1 1/4 mm. and high, with a very large C. Arrow to A is slightly less than 1/2 mm. Right side of T and left side of I in line. A fine extra crossbar shows as a horizontal tool mark to right of the center apex of shield. Several lines of stripes 1 through 5 extend into crossbars with line 1 of stripe 5 penetrating to crossbar 5. First s in STATES is recut over a first attempt that was higher and further to the right.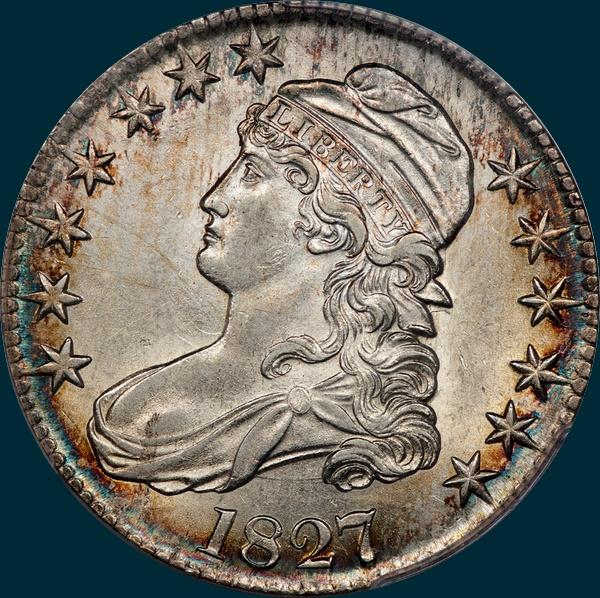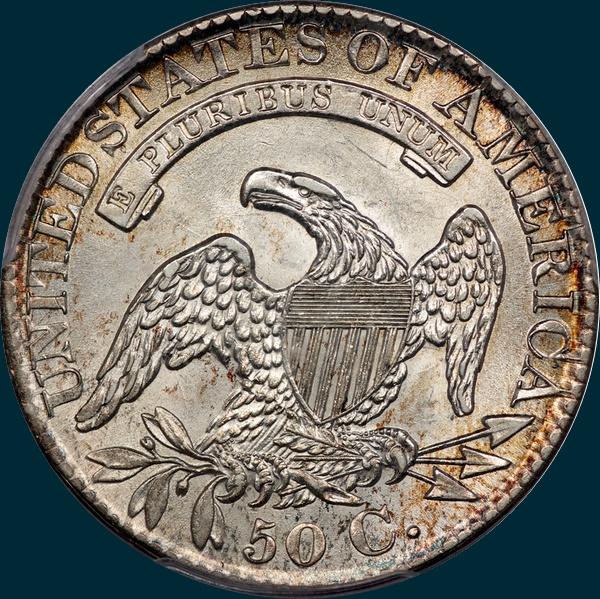 1827 Leaman-Gunnet Emission Sequence Number for O-112: 43
Overall Number: 264
Top five condition census coins from last 10 years of auction and sale records O-112:
01/11 B&M (Rarities-Tampa Bay) PCGS MS65 (Prooflike)
05/19 Stack's-B (Baltimore) PCGS (S) MS64
04/12 Downey MB #35 (CSNS-Bluegrass) PCGSMS64+ (Friend)
01/20 Heritage (FUN-Orlando) PCGS (S) MS63 (Link)
01/17 Heritage (FUN-Lauderdale) PCGS MS63 (former NGC MS62 mis attibuted as O-149
Top five condition census coins from last 10 years of auction and sale records O-112a:
06/14 Goldberg (Pre-Long Beach) PCGS MS64 CAC (former NGC MS64)
11/13 Heritage (New York) PCGS MS64
​​​​​​​02/20 Heritage (Long Beach) PCGS (S) MS62 (Link)

03/11 Heritage (ANA-Sacratomato) PCGS MS61

01/14 Downey MBS 38 (Davignon) PCGS AU55