1827 O-135 R3 Capped Bust Half Dollar
Obverse: 22
Reverse: AA

This die marriage is obtainable in grades up to MS64. There are two phases that can be found, the first early die state with crisp details and full milling, then the obverse was used on O-124, then brought back to strike a few more 135's with heavily worn dies.

NGC Graded XF45. This one is best described by the MBS 37 catalog, where Sheridan Downey writes:
Here is another top end XF 45. Don't let the weak rims and drawn stars fool you. The coin saw little time in circulation. A full cartwheel rolls under the nifty toning. If it were raw I'd
be hard pressed not to call the coin AU. A slightly lower grade O.135 served as the 2nd, 3rd and 4th edition plate coin. It is part of the Overton consignment and will be priced and offered during the upcoming ANA. The obverse die was later used on the O.124. See comments at lot 115, above. The tipoff that the 124 and 135 share an obverse die came in the early 1980's when Elton Dosier spotted an isolated curl under the I in LIBERTY. It is missing from all other obverse dies dated 1827. The curl quickly became known as "the ED curl." Look for it when trying to cherry the R.5+ 1827 O.124.
For sake of continuity, here is what Sheridan said after lot 115:
Overton missed the fact that his obverses 17 (O.124) and 22 (O.135) were equal. Parsley chose not to alter Overton's die numbers for the two marriages in his revisions. He notes their equivalency in an Index of Multiple Year Use Dies, p. 740 of the 4th Edition.
Images courtesy of Lance Keigwin.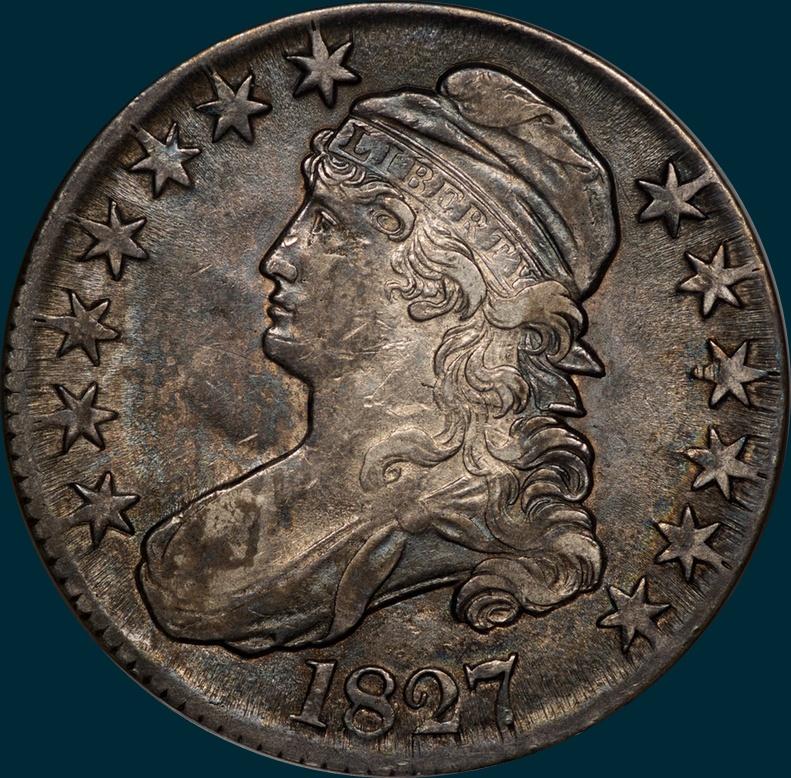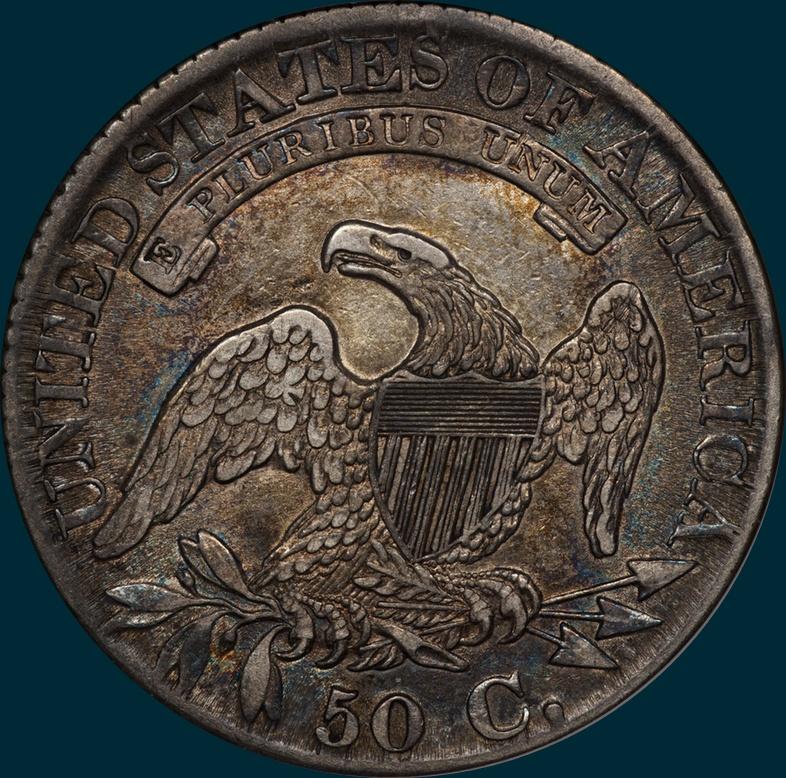 Variety Attribution: Obverse-Stars large and close to milling. Star 13 is 1/2 mm. from curl. Star 1 only 1/2 mm. from Drapery. Date is 8 mm, and medium high. Late die states show little milling and all stars and numbers in date are drawn to edge.
Reverse- 50 C. is 2 mm. and well centered. Arrow to A is 1/2 mm. A in STATES is slightly higher at base than first T, but well below second T. Left side of I is centered under T. Cossbar 2 extends left of shield. Late states show light milling and all letters drawn to edge.
1827 Leaman-Gunnet Emission Sequence Number for O-135: 19
Overall Number: 240
Top five condition census coins from last 10 years of auction and sale records:
05/19 Legend (Regency 32) PCGS MS64 CAC

08/17 Heritage (ANA-Denver) PCGS MS64
01/17 Heritage (FUN-Ft Lauderdale) PCGS MS64 CAC
09/15 Heritage (Long Beach) PCGS MS64
08/12 Heritage (Philadelphia) PCGS MS63