1829 O-114 R3 Capped Bust Half Dollar
Obverse: 8 (Second Marriage)
Reverse: K
O-114 Prime R7? (Pics needed, A's not filled) and O-114 R3 below

This one is less available in grades over XF than the R3 would indicate, with just a small handful of AU's appearing, though there are several MS coins out there. The prime state is very rare indeed.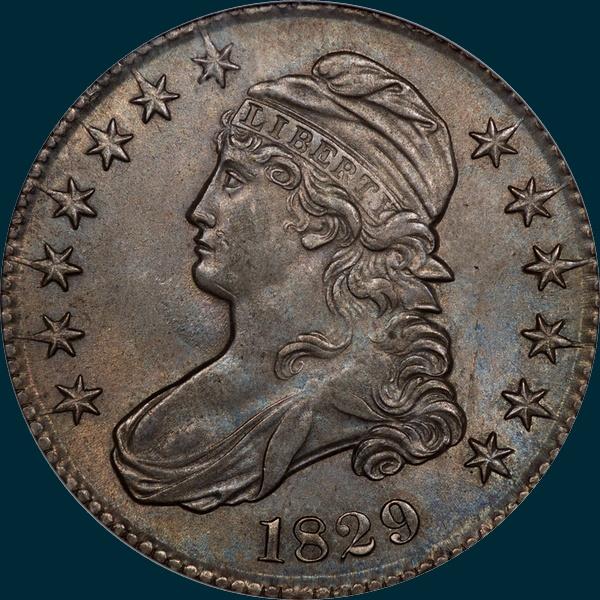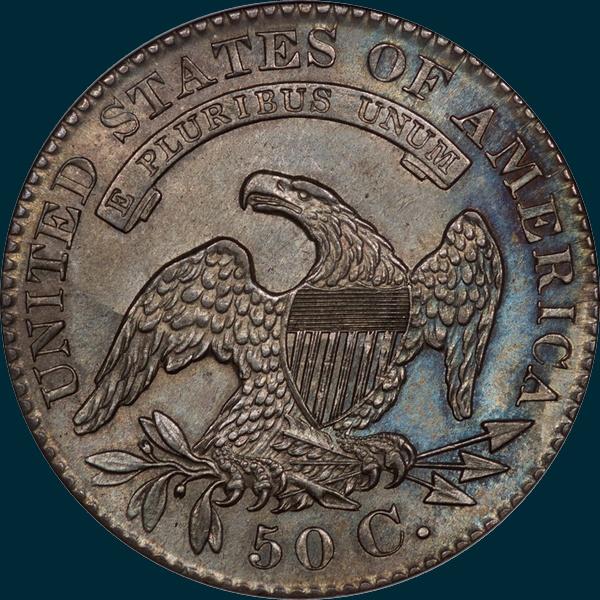 Variety Attribution: Obverse-Star 13 close, less than 1/4 mm. to curl. Date is 8 mm. and well centered.
Reverse- 50 C. is 1 1/2 mm. and high with a very large C. only 1/2 mm. from end of olive stem. Arrowheads well separated. Arrow to A is 3/4 mm. I is centered under left side of T. Line 3 os stripe 3 penetrates boldly to crossbar 2 and lightly to crossbar 5. Several other lines to crossbar 2. Early die states exist without A2 and A3 filled.

1829 Leaman-Gunnet Emission Sequence Number for O-114: 5
Overall Number: 299
Top five condition census coins from last 10 years of auction and sale records (O-114', A's not filled):
08/07 Downey MBS 33 (Rutherford) PCGS AU55
08/13 Downey MBS 37 (Nomura-Hilgard) PCGS AU50
Top five condition census coins from last 10 years of auction and sale records (O-114):
10/16 Heritage (Dallas) PCGS MS65
05/13 Stack's-B (ANA-New Orleans PCGSMS63
01/09 Alpine Numismatics FPL PCGS MS63
09/17 Downey FPL PCGS MS62
08/16 Heritage (ANA-Anaheim) PCGS MS62