1832 O-108 R3 Capped Bust Half Dollar
Obverse: 5 (Second Marriage)
Reverse: G
O-108 R3 below, O-108a R3 at bottom.
The difference between O-108 and 108a is difficult to determine.
This die marriage is near the top of my list of toughest to obtain R3's, as there have only been 4 MS problem free examples appearing the last ten years, and 1 AU. A couple of AU's appeared in the Reiver sale in January, 2006, a very long time ago! I believe that each die state is likely at least a mid to high R4 or scarcer. Because lower grade examples may trade with a greater frequency it is tough to truly get a grasp on how many are out there. Many lower grades may not be attributed, and because this marriage is not considered rare, no one even notices how tough it is.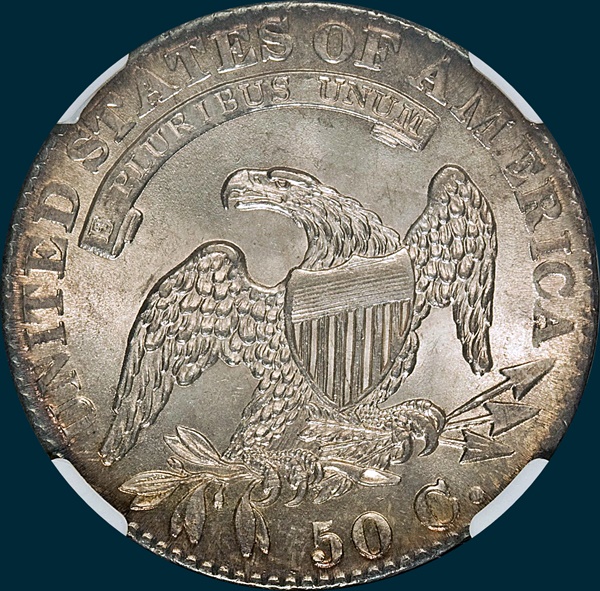 Variety Attribution: Obverse- O-108: Star 13 is 1/2 mm. from curl. Date is 7 3/4 mm., close, well centered, with 2 high. Mouth slightly open and dimpled at corner. Top of 2 just a shade over 1 mm. from curl.

O-108a: No milling or at best a trace. Stars mostly flat and all are drawn to edge. Mouth is well open.

Reverse- 50 C. is 1 1/2 mm. Arrow to A is 3/4 mm. Arrowheads large and close. Left side of T and right side of I in line. Stripes 4, 5, and 6 are partially filled as is upper portion of the crossbars. Line 3 of stripe 4 extends below the shield. One line from most stripes to crossbar 2. A in STATES distinctly recut at base.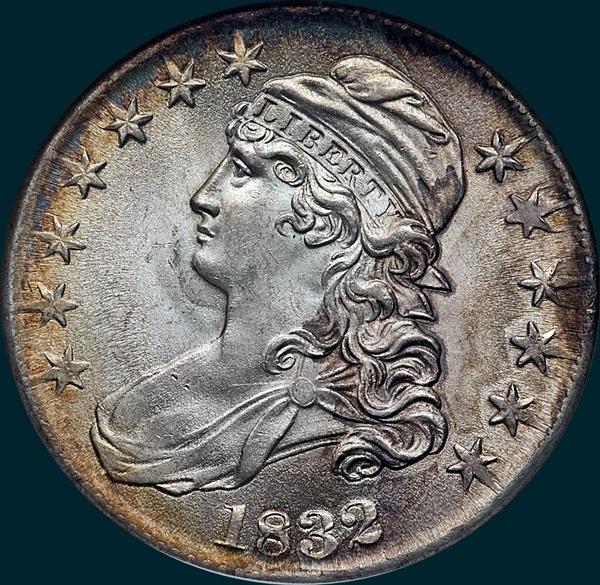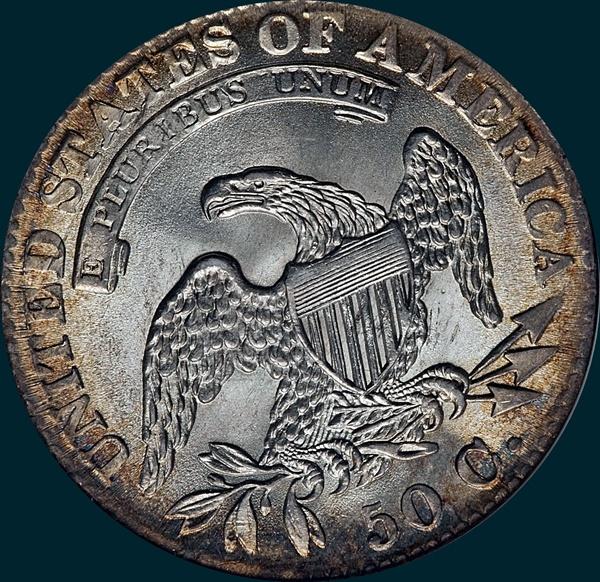 1832 Leaman-Gunnet Emission Sequence Number for O-108: 5
Overall Number: 363
Top five condition census coins from last 10 years of auction and sale records (O-108):
09/19 Downey MBS 49 PCGS MS62 (Link)
02/18 Heritage (Long Beach)
PCGS MS62
​03/18 Stacks-B (Baltimore) PCGS AU55
01/15 Heritage (Houston) NGC AU50 det (cleaned)
03/18 Heritage (Internet) PCGS XF45
Top five condition census coins from last 10 years of auction and sale records (O-108a):
06/17 Stack's-B (Baltimore) NGC MS65
08/15 Heritage (ANA-Chicago) PCGS MS64 CAC (dipped, former NGC fattie pre-hologram MS64 CAC)
04/10 Heritage (Frederick-CSNS) PCGS AU50 det cleaned
10/10 Heritage (Internet) ANACS XF40
01/12 Heritage (Sunday-Internet) ANACS VF25