1806/5 O-104 R4 Draped Bust Half Dollar
Obverse 2 (Third Marriage, re-purposed from 1805, O-105 and O-106)
Reverse D
O-104 R4 below, O-104a R5 at middle, O-104b R7 at bottom

The prize of the 1806/5 overdates, with a more clear overdate than O-101 thru O-103, though less common. A small handful of AU and MS examples are out there, but most examples are XF and below.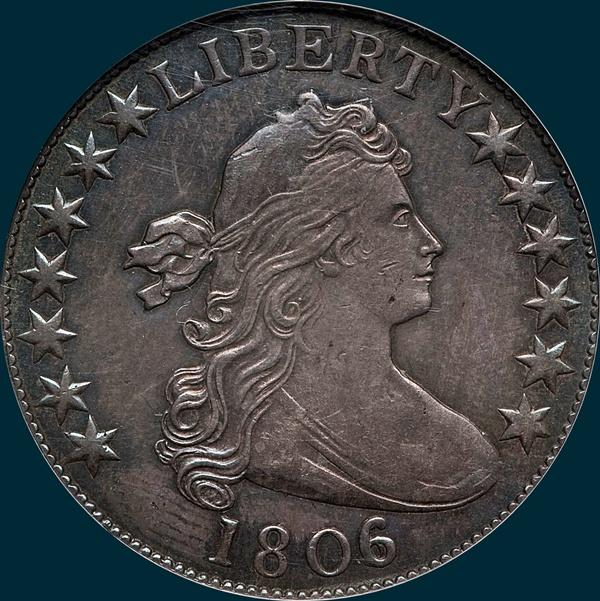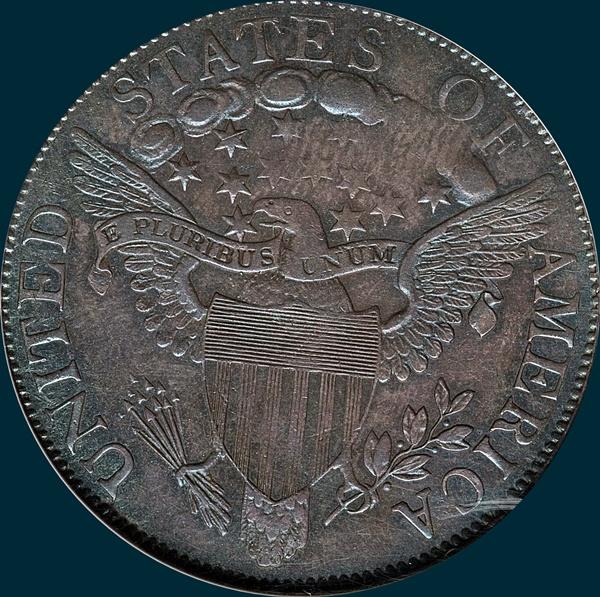 Variety Attribution O-104: Obverse-Stars 7-8-13 each 1/2 mm. from L. Y, and bust. Stars are large and close together, especially on the right, with 2 points of stars 8 and 9 nearly touching. Narrlow milling. Date is 9 1/4 mm. with 06 is much closer than 180. Late die states have a die crack joining the outer points of the last 3 stars to end of bust. This die is from 1805, O-105 and O-106.
O-104a: Break is often heavier around the end of bust and to rim below.
O-104b: Die crack is 1/4 mm in width and extends along end of bust to edge. A cud is forming at star 11.

O-104: Reverse-4 berries, the highest and lowest without stems. Only 12 arrows are visible. Star and beak joined solid point to point.point of leaf close to right base of I. AM nearly touch at base and M is higher. A die crack from edge below left claws to top of UNITE, another at top of AME.
O-104a: Break above UNITE is much heavier and rougher, with a large solid patch broken out from top of U to rim. An additional from the U into field to right of tail feathers.

O-104b: A cud has developed over entire top of U to parting over N and another over top of ITE, crack at tail feathers is heavier.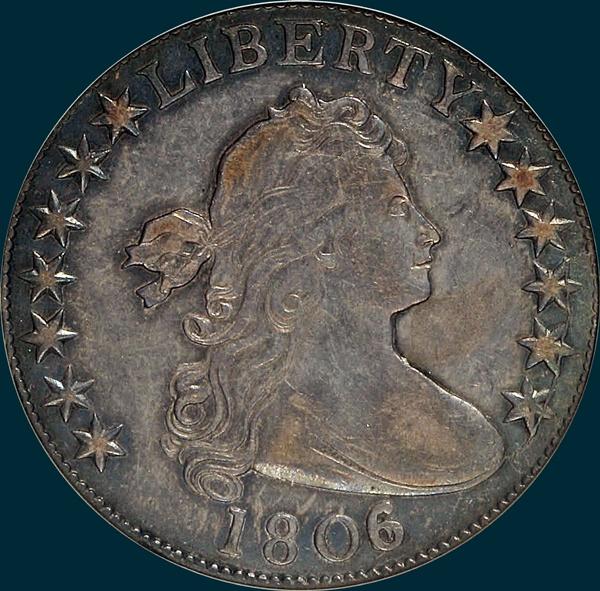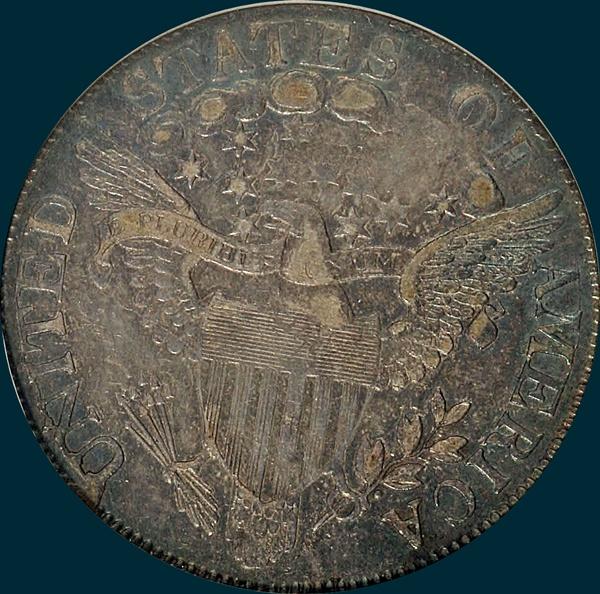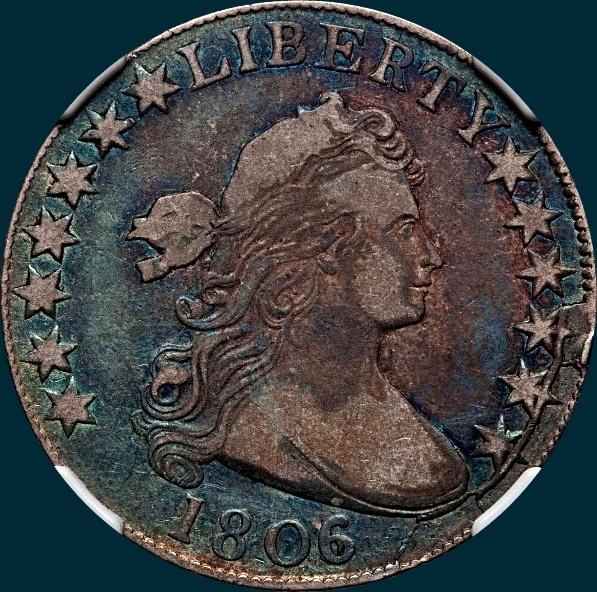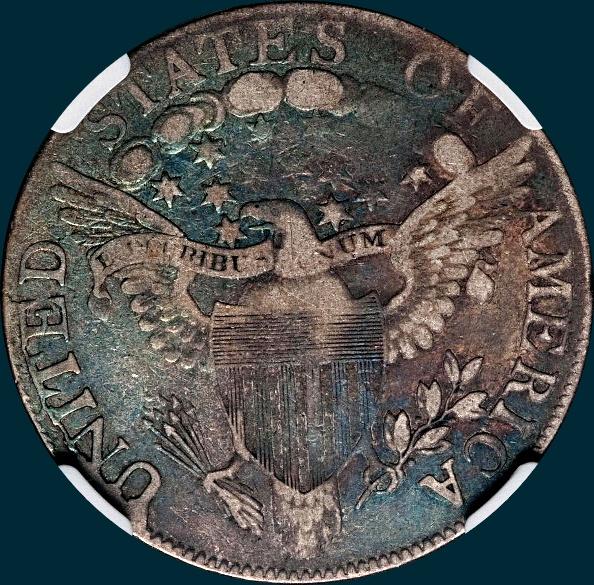 1806 Emission Sequence Number for O-104: 3
Top five condition census coins from last 10 years of auction and sale records (O-104):
05/15 Heritage (Gardner III-New York) NGC MS63
11/13 Heritage (Newman) NGC MS61
03/11 Stack's-B (Baltimore) NGC XF45 (old light clean, luster)
06/09 B&M (Baltimore) NGC XF45
11/19 Stack's-B (Baltimore) PCGS (S) XF40
Top five condition census coins from last 10 years of auction and sale records (O-104a):
01/08 Heritage (FUN-Orlando) NGC AU55
08/09 Downey MBS 34 (Meyer/bakke) PCGS XF45 det (polished)
01/09 Heritage (FUN-Orlando) NGC XF45
07/08 Heritage (ANA-Baltimore) NGC XF45
05/07 Heritage (CSNS-St. Louis) ANACS XF45 det (old clean, corroded)
Top five condition census coins from last 10 years of auction and sale records (O-104b):
09/18 Heritage (Long Beach) PCGS XF40
04/15 Heritage (CSNS-chicago) NGC VF30
11/08 Stack's (Keusch/Snow-Baltimore) NGC F15 (Reiver, adj marks)