1819 O-105 R2 Capped Bust Half Dollar
Obverse: 4
Reverse: E
I wonder about this die marriage as it appears to be more difficult than R2. There may be but 4 MS examples, and rather few AU's making appearances. In fact, as I review this NON-Overdate, I am placing it on my toughest R2 list with only 3 MS and 6 AU problem free examples showing up in the last 10 years. The numbers suggest that this may be either a tough R3 or an R4.
Another fun fact/tip with the overdates of 1819: Look at the 1's. The style below was used in 1819, where the style on the other overdates from 1819, the 1's are of the style of 1818.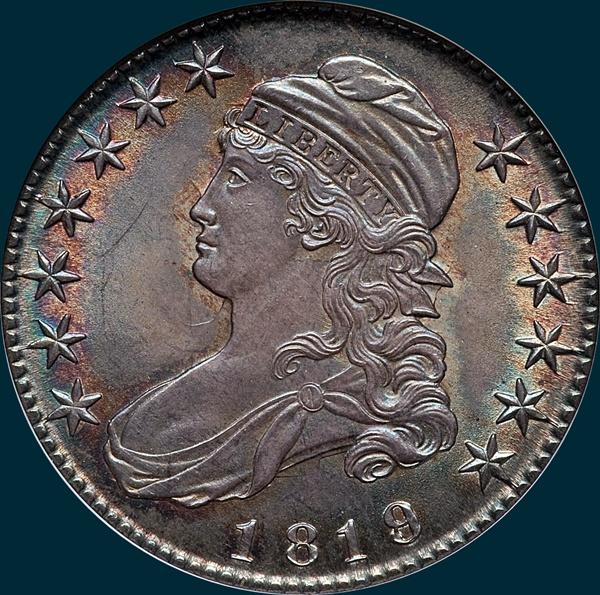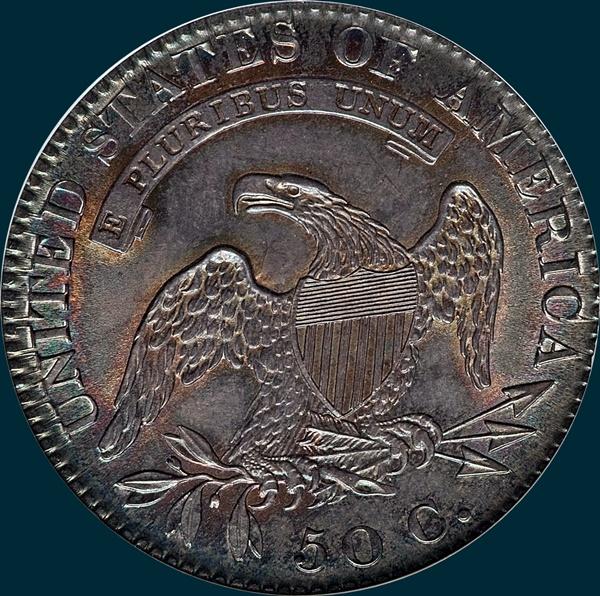 Variety Attribution: Obverse-Stars large, well formed and close to milling. Stars 1 and 13 each about 1/2 mm. from drapery and curl. Date is wide 9 3/4 mm.with large straight backed 9 easily recognized by a die crack connecting the tail and loop of the 9.
Reverse-50 C. is 1 3/4 mm. and rather low. Arrowheads separated, arrow to A is 3/4 mm. notch at right base of A's. Right sides of T-I in line.
1819 Leaman-Gunnet Emission Sequence Number for O-105: 14
Overall Number: 124
Top five condition census coins from last 10 years of auction and sale records:
01/12 Heritage (FUN-Orlando) NGC MS66
08/16 Heritage (ANA-Anaheim) NGC MS64 CAC
01/11 Heritage (FUN-Tampa) PCGS MS61 CAC (Meyer)
09/17 Heritage (Long Beach) PCGS AU58
06/16 Heritage (Long Beach) NGC AU58 CAC