1807 O-103 R3 Draped Bust Half Dollar
Obverse: 2 (Second Marriage)
Reverse: B (Second Marriage)
O-103 R3 is below, O-103a R3 is at bottom, though combined they are supposed to be R3, so each individually may be R4. There is a pretty decent group of AU's that have made appearances, but maybe only one MS example.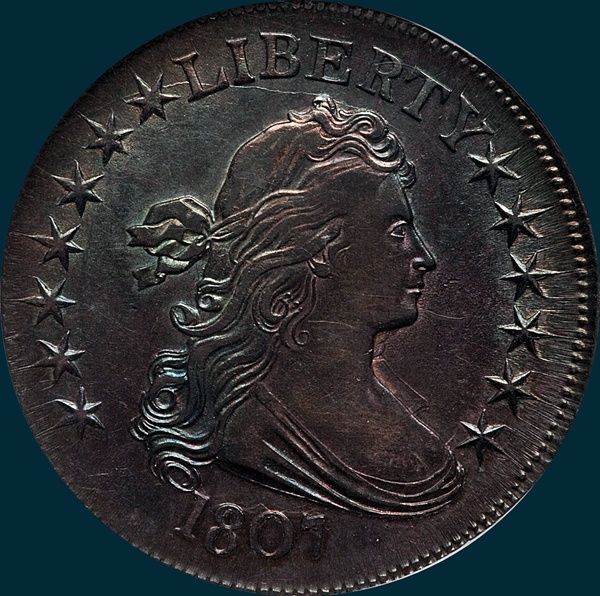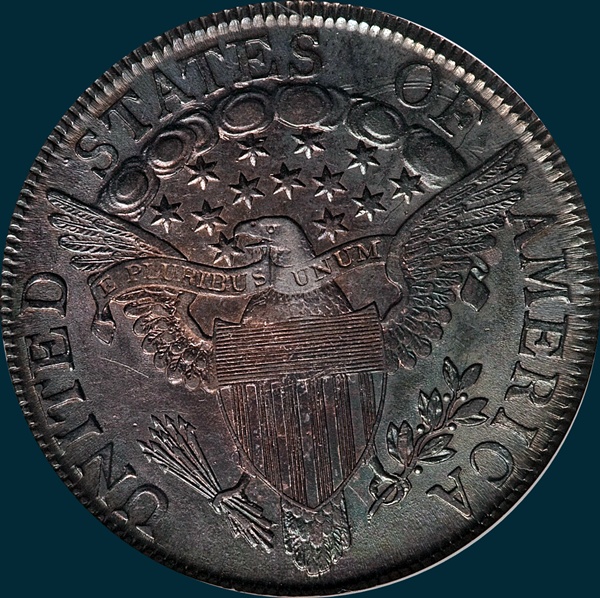 Variety Attribution: Obverse-narrow Milling. Stars 7, 8 and 13 are all less than 1/2 mm. from L, Y and bust. Star 13 points to upper fold of drapery. Left serif of Y points to well above top of T. Date is 7 1/4 mm. and high, with large 180 and small 7. 1 nearly touches and sometimes is lightly joined to curl. A chipping of the die begins with a small lump inside upper loop of 8 and progresses until the upper insides of 807 are all rough. A fine die crack is usually visible from edge near star 6 curving through star 7 and L to top curl.

Reverse-O-103: 5 berries and all have stems but upper berry below has longest stem. Beak attached to upper side of star point, and this star is clear of scroll. Bases of AME separated and A2 is close but does not touch third feather and is well above end of fourth feather. Point of leaf below right half of base of I. A small sharp die defect lump just left of the top of first S in STATES is visible on most specimens.

O-103a: There are die cracks from edge above F, across tip of right wing, through AMERICA to right claw and top of UNITED STA to edge above E.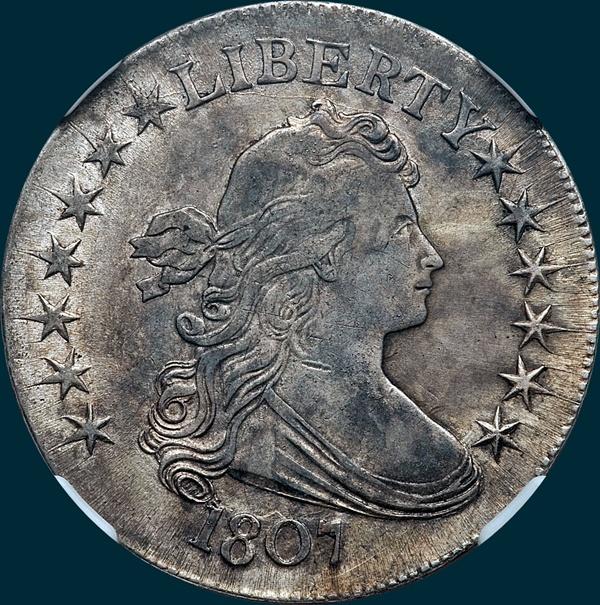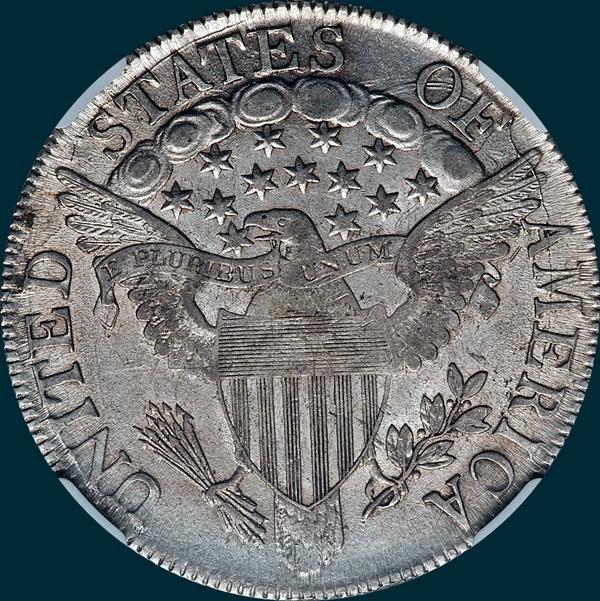 1807 Leaman-Gunnet Emission Sequence Number for O-103: 10
Top five condition census coins from last 10 years of auction and sale records (O-103):
04/20 Heritage (CNST-Dallas) PCGS (S) AU58+
11/18 Legend (Regency 29) NGC AU58 (possibly Queller)
01/13 Heritage (FUN Orlando) NGC AU55
09/10 Heritage (Long Beach) NGC AU55
03/18 Stacks-B (Baltimore) PCGS AU53
Top five condition census coins from last 10 years of auction and sale records (O-103a):
08/18 Stacks-B (ANA-Philly) PCGS MS60 CAC Gold
04/18 Heritage (Dallas) PCGS (S) AU55
05/17 Legend (Regency XXI New Orleans) PCGS AU55
04/12 Heritage (CSNS-Schaumburg) NGC VF35
​06/18 Heritage (Long Beach) PCGS VF30