1812 O-108 R2 Capped Bust Half Dollar
Obverse: 6 (Second Marriage)
Reverse: G
O-108 (Prime) R2 below, O-108a R2 bottom.
This ranks as my #2 toughest R2 with only 12 problem free AU and MS apearances from both die states the last 10 years. There is a small handful of problem free AU and MS examples as survivors making this one tough in grades above XF. Some of these recent appearances came out of prominent collections (Bust Nuts or the equivilent) so do not be fooled!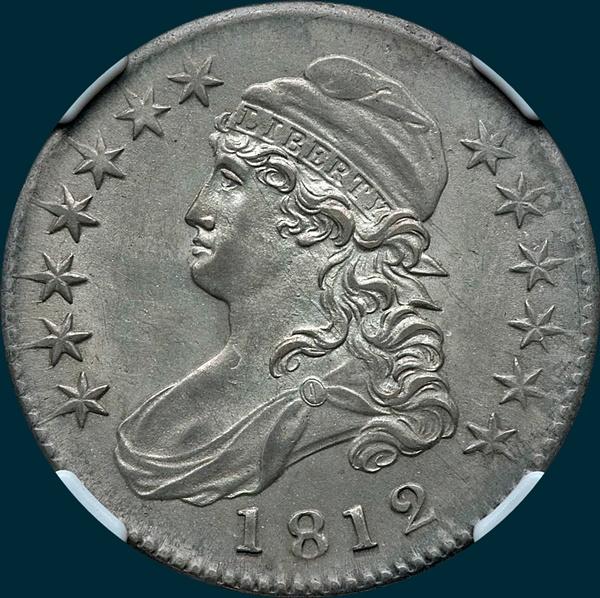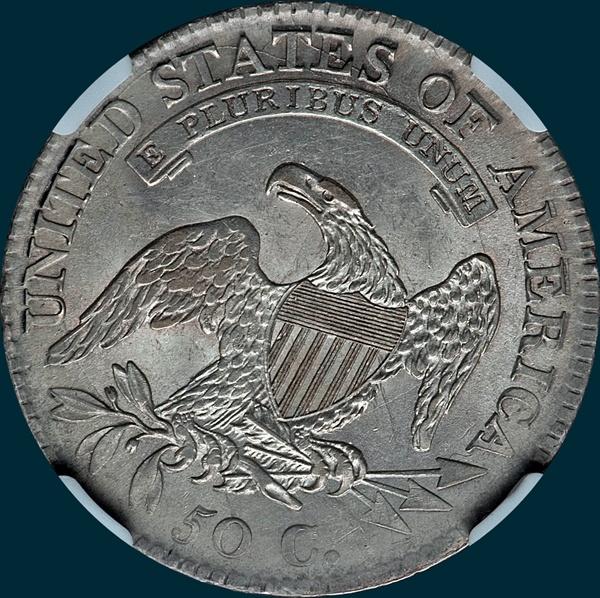 Variety Attribution O-108: Obverse-Date is 10 mm. with first 1 much higher than 812, the top of same only 3/4 mm. from drapery. 81 is closer than 18 or 12. All figures lean left. Mouth closed and lips curved. Tiny center dot on neck.
O-108a: Die crack at date and no milling.


O-108: Reverse-50 C. is 1 1/2 mm. Arrow to A is 3/4 mm. Center dot between crossbars 4 and 5. AM and CA appear to the naked eye appear to touch but not quite. base of A is higher than M. There are several die cracks. One from olive lleaves across tip of wing to base of U. Another from milling joins unITEd sTAT. A third from edge through TES crosses scroll to right wing.

O-108a: Addictional die crack at 50 c. and another across eagles head and little or no milling.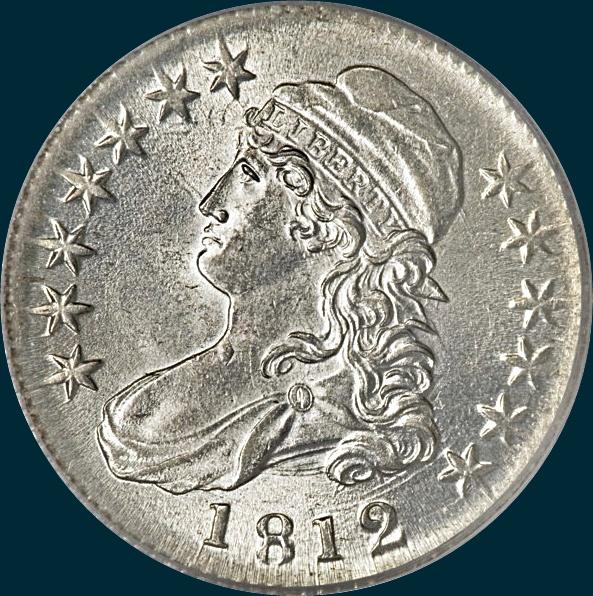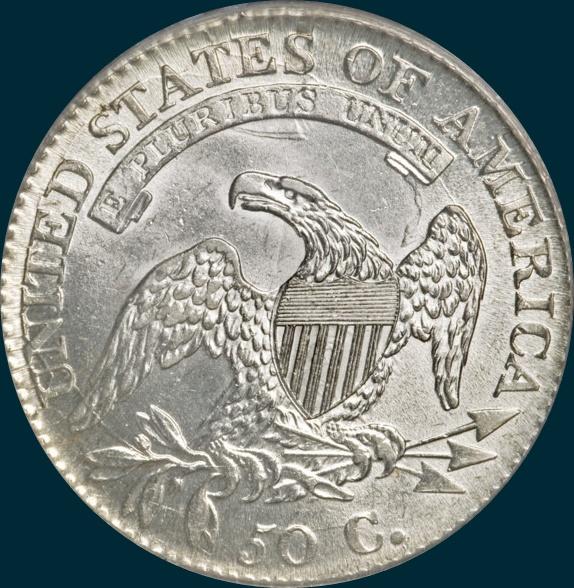 1812 Leaman-Gunnet Emission Sequence Number for O-108: 8
Overall Number: 60
Top five condition census coins from last 10 years of auction and sale records (O-108):
01/09 Heritage (FUN-Orlando) PCGS MS62
08/16 Heritage (ANA-Anaheim) PCGS AU58
03/15 Heritage (Dallas) NGC AU58
01/11 Heritage (FUN-Tampa) PCGS AU58
04/12 Downey MBS 35 PCGS AU55
Top five condition census coins from last 10 years of auction and sale records(O-108a):
03/09 Heritage (Baltimore) PCGS MS63
​05/15 Heritage (Gardner III-New York) NGC MS61* CAC
08/17 Heritage (ANA-Denver) PCGS AU55
10/16 Heritage (Dallas) PCGS AU55 (Link)
05/12 Heritage (Long Beach) NGC AU55