1819 O-103 R4 Large 9 over 8 Capped Bust Half Dollar
Obverse: 2
Reverse: B
O-103 R5 below, O-103a R4 at bottom.

The toughest or second toughest 1819 overdate. There may be 4 or so MS examples, but they have been out of circulation for the most part. There is also a small handful of AU's, making this die marriage highly sought in problem free higher grade holders. Watch bidders fight over this marriage when it makes an auction appearance!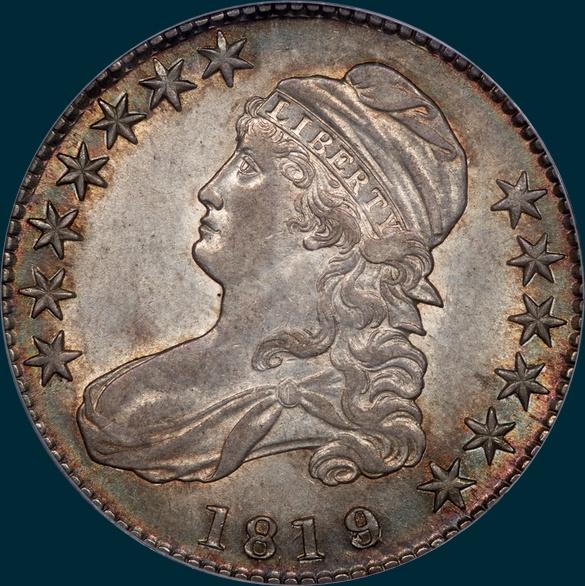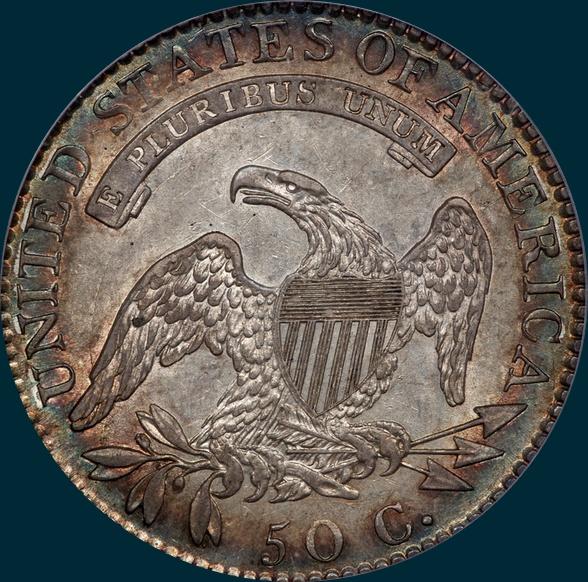 Variety Attribution: Obverse-1819 over 18, Large 9. Stars are large and close to milling. Date is 9 mm. and 19 is wider than 181. The 8 under the 9 joins the tail and loop of same. This 9 is about 1 3/4 mm. wide as compared to a scant 1 1/2 mm. for the small 9.

O-103: Reverse-50 C. is 2 mm. with an upright 5, not canted like preceding reverses. Arrow to A is 3/4 mm. Left side of D over stand of E.
O-103a: Numerous die cracks. One from edge above E in AMERICA, crosses E, right wing, shield and upper pair of leaves. nother from edge below leaves, runs up across tip of left wing curves below and crosses scroll at UNUM. A third crack from above E passes down through RICA, across arrowheads and C to edge below 5. A fourth joins 5 and 3 lower pair of leaves.
Notes:
According to Edgar Souders, he estimates that the projected mintage for this overdate is approximately 833,200. Get his book Bust Half Fever and read all about overdates and how he came up with the number! This number would include five Overton varieties, O-101, O-102, O-103 O-104, and O-106. O-105 is not included as it is not a true overdate.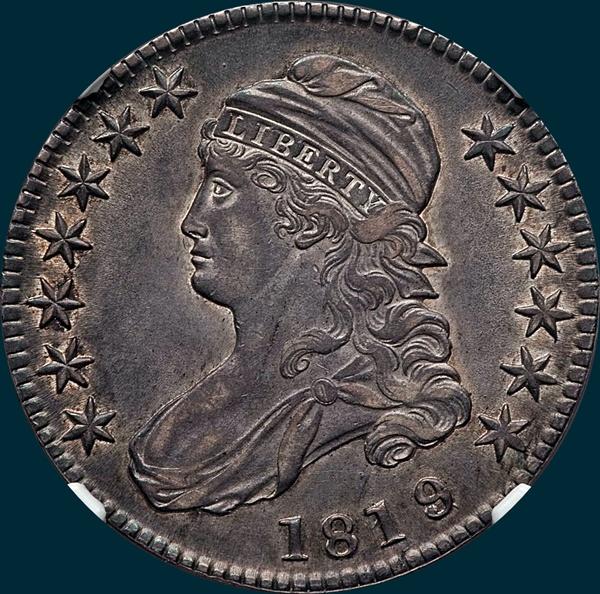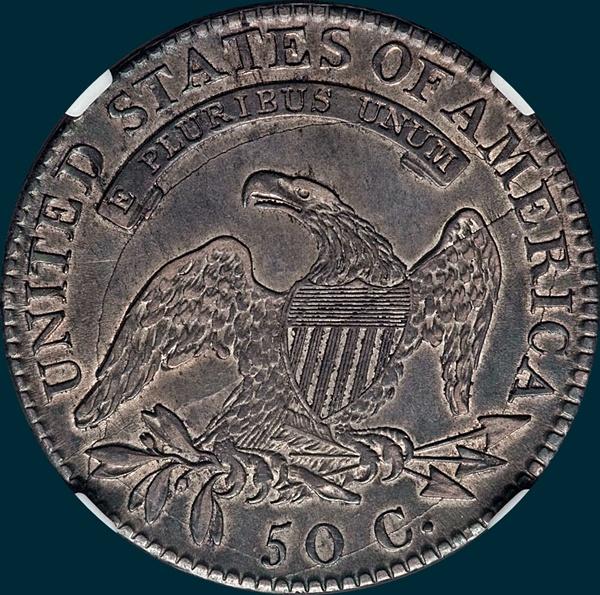 1819 Leaman-Gunnet Emission Sequence Number for O-103: 2
Overall Number: 112
Top five condition census coins from last 10 years of auction and sale records (O-103):
09/08 Heritage (Long Beach) NGC MS62
01/14 Downey MBS 38 (Davignon) PCGS AU55
02/13 Teletrade NGC AU55
03/12 Alpine Numismatics FPL PCGS AU55
01/13 Downey FPL (FUN-Graham) PCGS AU50
Top five condition census coins from last 10 years of auction and sale records (O-103a):
09/19 Downey MBS 49 PCGS MS62 (Link)

08/16 Stack's-B (ANA-Anaheim) PCGS AU58
08/15 Heritage (ANA-Chicago) PCGS AU58 CAC
03/15 Heritage (Dallas) NGC AU55
01/13 Stack's-B (Americana) PCGS AU55