1807 O-105 R1 Draped Bust Half Dollar
Obverse: 4
Reverse: C
O-105 R1 below, O-105a R4 is at bottom. There are even a few gems at the top of the condition census including Garrett specimen recently sold as part of the Pogue collection in 2015 (MS66) which likely is finest.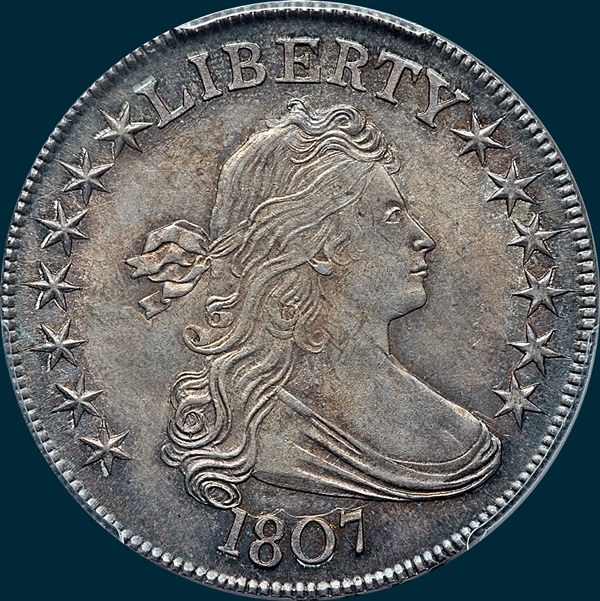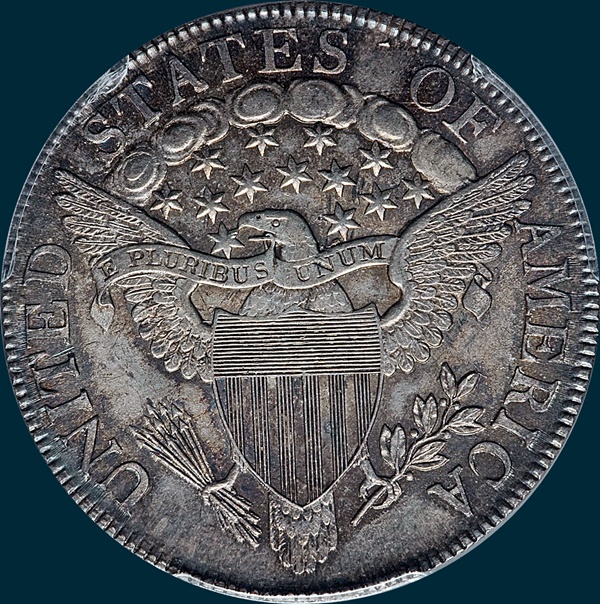 Variety Attribution: Obverse-O-105: Close date is 7 1/4 mm., 1 solidly joined to curl and 8 is low. Stars 7 and 13 each are 1/2 mm. from L and bust. Some of these later specimens show a die crack joining stars on the left.

O-105a: In addiction to the die crack joining stars on the left, one joins base of date and to milling at left, a short vertical crack joins the end of same to the extended crack from stars. Another from outer point of star 7 to top of LIB. Still another from B to forward wave of hair.


Reverse-O-105: 5 berries on branch and all have stems. The two above branch have longest stems. Eagle's beak joined to star point. End of leaf points to extreme right base of I. AM very close at base. A small lump from chip in die usually shows near milling between S of STATES and O of OF. On some a crack joins STATES OF at top.

O-105a:
In addition to a crack joins STATES OF at top, there is a break from edge that forms a large lump between ED. Another from first S down through Ta to base of second T and clounds. Another crack from the lump at ED circles right across wing to clouds. Break disfigures F.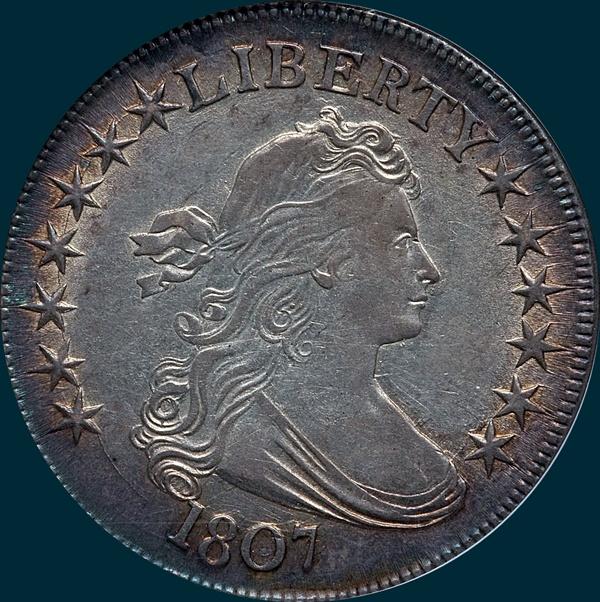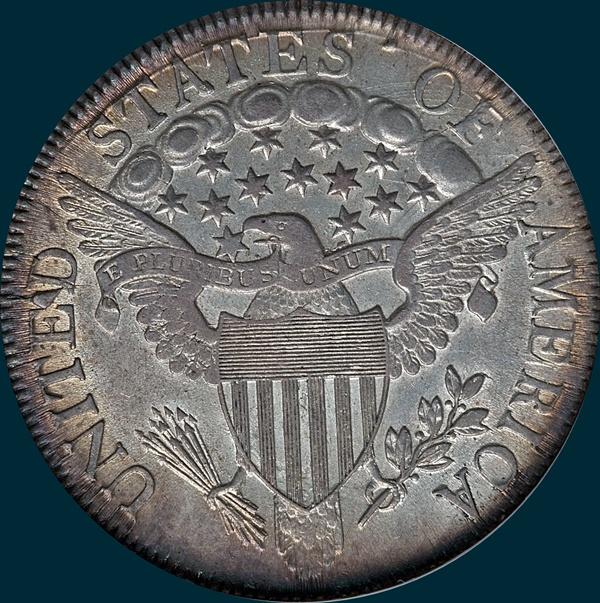 1807 Leaman-Gunnet Emission Sequence Number for O-105: 4
Top five condition census coins from last 10 years of auction and sale records (O-105):
05/15 Stack's-B (Pogue-New York) PCGS MS66 (Garrett-Foxfire)
04/19 Heritage (CSNS-Chicago) PCGS MS65+ CAC
01/17 Heritage (FUN-Ft Lauderdale) PCGS (S) MS64
01/13 Heritage (FUN-Orlando) NGC MS64+
01/19 Heritage (FUN-Orlando) PCGS (S) MS63+ (Friend)
Top five condition census coins from last 10 years of auction and sale records (O-105a):
08/16 Heritage (ANA-Anaheim) PCGS MS63 CAC
06/16 Heritage (Long Beach-McClure) NGC MS61
08/09 B&M (ANA-Los Angeles) NGC MS61
04/18 Heritage (CSNS-Chicago) PCGS AU58
08/16 Downey MBS 43 (ANA-Anahem) PCGS AU58+ CAC